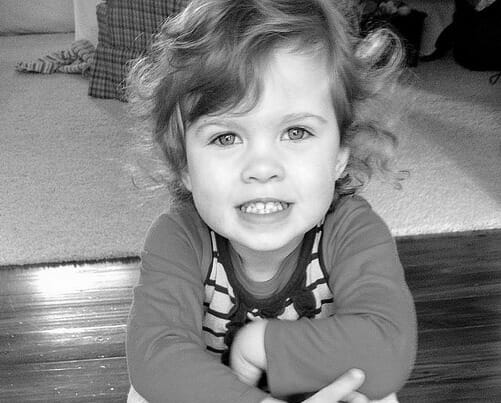 Exactly one year ago today, this tired, stressed-out mama and her overly-anxious little girl walked through the doors of our second round of food therapy.
Our first therapy attempt had failed miserably… and at 18 months, my little girl wasn't eating any solid foods other than tiny amounts of mashed potatoes, a few bites of yogurt, and a little cheese. She also refused all bottles and any type of sippy cups.
Fast forward one year.
I'm sitting at our dining room table with that same little girl (and her brother) while she scarfs down pancakes, sausages, a whole orange, a whole banana, grapes, frozen blueberries (a.k.a. blueberry ice-cubes)… and yes, cheese!
What a difference one year can make!
In some ways, this past year went by SO quickly — but at the same time, when I re-read the very first post I shared about Nora's eating and sensory issues, I can hardly remember those crazy, stress-filled days of no eating and refusing to sleep unless I held her.
Nora will be 2 1/2 tomorrow, and I can honestly say that when it comes to eating and trying new foods, she is possibly above average with the amount and variety of foods she will eat (although she still won't drink anything but water).
We've had a few play dates with neighbors and friends lately, and I was more than surprised by how much Nora ate in comparison to the other kids. Not that the other kids were picky or not eating well, Nora just eats A LOT.
She will almost always try anything I make, and usually exclaims, "Mom, you're a good cooker!" after she's finished shoveling her food in as fast as she can. In fact, if I make something she really loves (like lasagna or any type of pasta) she'll usually eat as much as I do!
She eats a huge variety of fruits and veggies, she's tried and enjoyed mildly spicy Mexican food, and she even eats most meats! When necessary, she takes liquid medicine without much of a stink, and she eagerly takes a daily Flintstone vitamin (our attempt to boost her iron levels).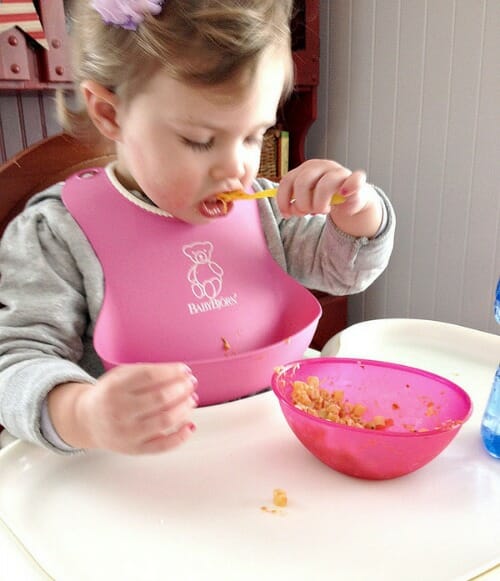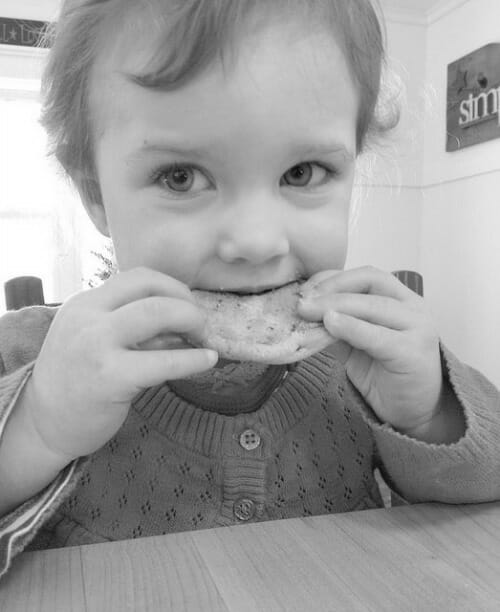 Even with the addition of a new baby, my life is SOOOOO much less stressful now that I no longer need to worry about Nora's eating issues.
She can easily spend a full day away from me and I don't have to worry about her starving. In fact, since she is willing to eat a large variety of foods, I don't even stress over packing all the food she'll need to eat while she's gone because we can easily find something she'll enjoy eating no matter where we are.
Side note: Since Simon is taking bottles almost 100% of the time (and he will take formula), I am no longer a necessity for either of my children's feeding needs.

I can not tell you how freeing that is for me after so many months of feeding Nora (and then Simon) every 2-3 hours all day and night. We've got one happy, stress-free mama over here!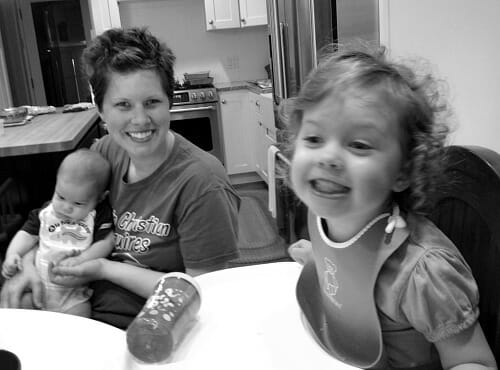 We are still struggling with the sleep part of her "high needs" personality — but I've found that I can deal with sleep issues much easier than with eating issues. After all, Dave can share the sleeplessness with me 🙂
.
If you'd like to read more about our journey with Nora's eating issues and food therapy, you should first read this post, and then this follow-up post.
It's a pretty amazing story and I'm beyond thrilled to have such positive updates to share! However, I also realize that my positive updates are just salt in the wounds of many other parents struggling to get their children to eat (or sleep). I know I would have been discouraged to read this type of post last year at this time… I also know how annoying it is to read about other kids who are eating everything in sight and sleeping through the night at 4 weeks old. I KNOW… it gets old really quickly!
If you are where we were last year, I hope our story offers more encouragement than envy or despair. I honestly can't believe how far we've come with Nora in just one year… now our next project is potty training!