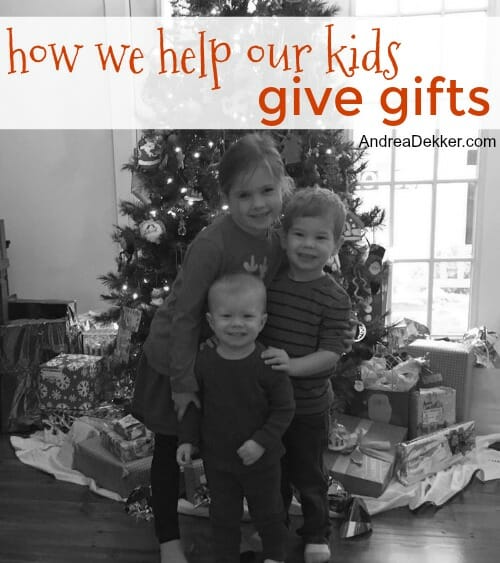 Believe it or not, I'm finished shopping for our kids this Christmas!!
I honestly didn't realize how many gift items I had accumulated over the past year; but as I was going through things last weekend, I was reminded of several emails I've gotten recently — asking how we help our kids give gifts to others.
Do we let them pick whatever they want, even if it's not an appropriate gift for the recipient?
Do we just buy the gifts for them?
Do we have a rule of thumb for how many gifts the kids give each other or give us?
Do we have a budget for the kids?
Like I say in almost all these types of posts — I've "only" had 6 years of experience with kids and gift-giving, so I am most certainly NOT an expert. However, we currently have a fairly simple system that works well for our family (and has worked well for a few years already) so I figure it's worth sharing!
And as with most aspects of my life, I take a middle-of-the-road approach to this topic.
On one hand, I'm not a fan of letting kids pick out whatever they want (especially young children) because they almost always pick something THEY would like, and I feel there's really no point in spending money on a gift that won't be useful or appreciated by the recipient.
However, I also don't want to make all the decisions for my children. I want them to be able to have some input in the gifts they give to others.
My solution…
I offer several suggestions and ideas and let my kids pick one of the options for each person.
For example:
When it comes to giving gifts to their cousins, I might suggest a handful of options for each cousin (often I even have the items purchased ahead of time so they can see and touch them). Then each of my kids can pick one gift for each cousin. They are all very frugal items, but still age and gender appropriate for each cousin. My kids love feeling like they gave the "perfect" gift!
For Grandparents, I take a similar approach, but also offer the opportunity for my kids to make a craft, ornament, photo card, or some other homemade item for each Grandparent. Sometimes we'll put gift cards in a box and then let the kids paint the box, we almost always do a picture calendar for each set of Grandparents, and (as much as possible) we try to find useful gifts that are also fun for our kids to give.
Nora is now old enough to do the Love Bazaar at school — she picks out small gifts for Dave, me, and her siblings. This means Simon and James want to give HER a gift — so I basically use the same approach and let the boys pick a small gift for Nora from a selection of things I have in the house (chapstick, favorite candy, hair accessories, nail polish, a craft item, etc.)
How we handle kids giving US gifts:
Before we had kids, Dave and I never really exchanged gifts. Neither one of us are big gift givers so we honestly never did anything for birthdays, Christmas, Valentines, or even our anniversary.
However, now that our kids are old enough to understand gift giving, they want to give both of us gifts — so sweet 🙂
Since I do 99.9% of all the shopping in our family, I will often take the kids shopping to buy a few things for Dave — some useful and some just for fun. We'll buy his favorite candy, some funny socks, a new shirt or sweater, a yard tool, etc. etc.
I usually just order or buy myself a few things I want and let Dave wrap them with the kids. They usually also pick out some candy or a few other small things for me and that's it.
The kids LOOOOOOOOVE watching us open our gifts, and you better believe we act really surprised!
I use this same approach any time my kids need or want to give a gift throughout the entire year — like birthday gifts for friends and family, teacher gifts, etc. etc.
I give them a handful of options to choose from and let them pick, wrap, and present the gift.
This way, I know the gift is appropriate and useful for the recipient, but my kids still have the fun of "choosing" the perfect gift for their favorite person.
I'm certain I will change my approach as my children get older (Nora is already starting to do a really great job coming up with gift ideas) but for now, this method works well for our family!
How do you young handle kids giving gifts?