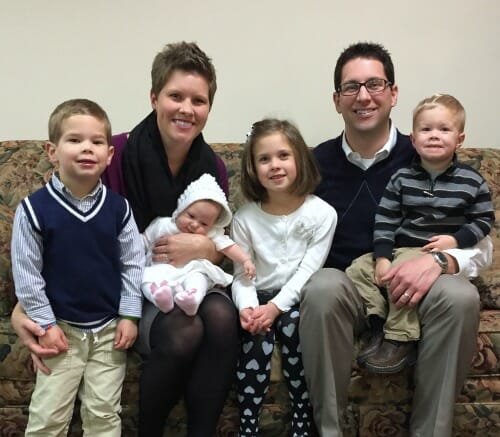 Our family had a VERY FULL holiday weekend… including (but not limited to):
multiple Thanksgiving parties
special meals with out-of-town family
celebrating Nora's birthday
celebrating my sister's birthday
celebrating Clara's baptism
a combined baptism lunch and 6th birthday party after church on Sunday
making lots and lots and lots of food for all the different parties and gatherings
We saw lots of friends and family, ate tons of food, took so many pictures, laughed a lot, and went to bed way too late. I'm certainly glad all our weekends aren't that busy, but it was fun for a change.
Plus, our kids thought it was SO fun to stay out late (a.k.a. past 7:00)!
We kicked off our holiday weekend with Nora's 6th birthday.
I made special tie-dye pancakes for breakfast, along with their favorite eggs, sausage, and fruit. Nora didn't get any birthday gifts on her birthday… but we did give her a card with six $1 bills. She was SO excited!
We surprised Nora by inviting both sets of her grandparents to join us for lunch at Culver's. And then I took the older 3 kids to the mall (yes, we went to the mall the day before Thanksgiving!) because the one thing Nora has been begging me to do for months and months is go on the carousel at the mall.
The day must have worn our kids out because they were all totally cashed out by 6:30pm!
Miss Clara had a big weekend too!
She was a trooper and thoroughly enjoyed taking almost all her naps in the arms of aunts, uncles, and grandparents as we were out and about for the majority of the weekend.
She is learning to like her carseat more and no longer screams for the entire drive!
She did cry for a bit during the baptism, but nothing crazy. She slept through most of the service — I joke with our pastor that he puts her right to sleep with his sermons 🙂
ƒ
Clara had a very special baptism dress — it was the same dress Dave's Mom's Dad (Clarence) wore for his baptism almost 90 years ago!
I had no knowledge of this baptism outfit until a few weeks before Clara was born. Dave's mom randomly mentioned it to me when we were talking about other sentimental items she had from her parents and grandparents… I was so excited I almost blurted out our baby name right then and there!
Of the few things Dave's mom saved, I just can't believe her dad's baptism outfit was one of them — and how fitting that we realized this right before Clara was born. A perfect dress for the great-granddaughter who is named after him!
We ended the long weekend with a combined party for Clara's baptism and Nora's birthday.
Although it was a busy weekend, it was nice to be able to include some of our out-of-town relatives in a combined celebration of Clara's baptism and Nora's birthday.
We had a simple lunch at church after the baptism — I planned foods that could all be made ahead (pulled pork, broccoli/cauliflower salad, fruit salad, and cupcakes). Then Nora opened her gifts, we took a few more pictures, and went home.
Nora wanted a Little Mermaid party, but I wasn't feeling extremely ambitious or creative, so her Mermaid party consisted of Mermaid plates and napkins and purple frosted cupcakes with "sea" colored sprinkles!
Not my best work — but good enough considering everything else we had going on last weekend!
Nora received so many fun crafts and books, and we gave her a "new" bike!
I actually found the bike several months ago at our local thrift store and we've been storing it in the basement ever since. I found a matching pink wicker basket to go with it and Dave's parents got her a pink bell!
Such a special weekend for our 2 very special girls!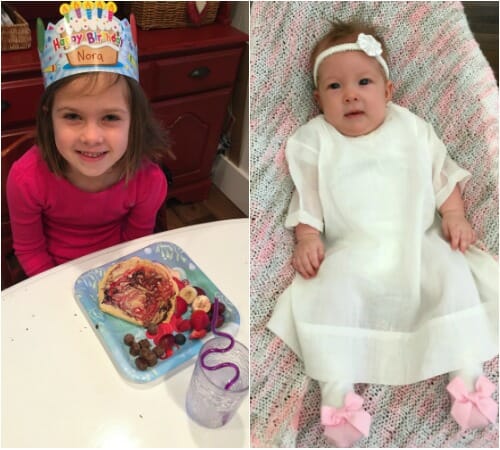 Our weekends are fairly full from now through the New Year… which will be fun, but draining at the same time. At least we can look forward to Dave being home the week between Christmas and New Year's!