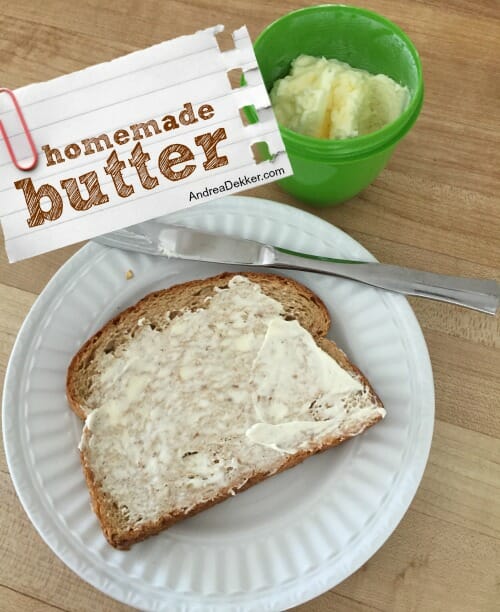 As I've mentioned a few times already, Nora and I have been thoroughly enjoying reading through so many of the American Girl Books (we're taking a break from the original series and reading about Kit now!)
So far, I think Kirsten is Nora's favorite character — and I'd be lying if I didn't say she was my 'favorite' as well 🙂 I think this is probably because Kirsten is a pioneer girl growing up during roughly the same time period as Laura Ingalls Wilder in the Little House on the Prairie Books (and we both LOVED reading those books last year).
Anyway, in both the Little House books and the Kirsten books, there is a significant amount of attention given towards making their own butter from the cream they skim off of the cow's milk. Ever since reading these books, Nora has been fascinated with the idea of making our own butter. It was always one of those things we would do "someday" when I got around to it, but since I almost never buy or have heavy cream, we never made butter.
The a couple weeks ago, I found some American Girl Cookbooks and Craft Books at our library, and wouldn't you know, Nora opened it right up to the page about making your own butter.
I bought heavy cream 2 days later, and without much effort at all, we were eating our own homemade butter for dinner that night (and we used the buttermilk to make buttermilk pancakes for breakfast the next morning!)
The whole process was extremely simple, it gave the kids something to do (shake the jar for 30 minutes) and it really was pretty cool to see the transformation process. Plus, it's always more fun to eat food you helped make!
Now certainly, there are easier ways of making butter than shaking a jar for 30 minutes — so if all you want to accomplish is homemade butter, I'd suggest using your food processor and following this recipe.
However, if you want to do something fun in the kitchen with your kids or grandkids, making butter in a jar is definitely the way to go!
Homemade Butter
Makes about 1 c. butter and 1 c. buttermilk
INGREDIENTS:
1 pint (2 c.) Heavy Cream (or Heavy Whipping Cream)
a clean jar or container with a tight-fitting lid (something that will hold 4 cups worth of liquid so you can shake the cream well. Also, it's more fun if the jar is clear so you can see the transformation happen!)
a clean marble or smooth stone
small strainer and bowl
DIRECTIONS:
Put the heavy cream, jar, and marble in the refrigerator to get everything very cold.
Pour the cream into the jar and add in the marble. Make sure the lid is on very securely.
Have your child shake the jar up and down, side-to-side, etc. for about 20-30 minutes, or until the lump of butter separates from the buttermilk (see additional notes below).
Pour the butter + buttermilk mixture into a strainer over a bowl to strain off the buttermilk.
Pour the buttermilk into another container and refrigerate for later.
Rinse out the buttermilk bowl, then dump the lump of butter from the strainer into the bowl.
Pour cold water over the butter to rinse off the extra buttermilk, then dump into the strainer again (do not save this water).
Continue rinsing a few more times until the water is clear (you don't want buttermilk to stay in the butter otherwise it won't last as long)
Once the rinsing water is clear, you can press the butter to the sides of the bowl to see if any other liquid is pressed out (drain that liquid).
Put butter into a butter mold or food storage container and refrigerate for 1 hour so it can firm up a bit. Then store in the refrigerator or at room temperature.
NOTE:

When shaking the cream, it will most likely start to get really thick after 10-15 minutes — at this point, you probably won't be able to hear or see the marble anymore as the jar will be fully coated with thick, cream. Just keep shaking… and all of a sudden, the thick cream will turn to liquid buttermilk with a nice big lump of butter in the middle (it was really cook how quickly it changed over!)

The butter will probably look a little like lumpy cottage cheese when it's sitting in the buttermilk, but once you strain off the liquid, it should look, feel, and taste just like normal butter you buy from the store.
See, told you it was simple… and oh so fun!
A Few Flavor Variations:
If you want to try a flavored butter, you might want to add in a bit of honey, brown sugar and cinnamon, dill, garlic, pumpkin spice, berries, bacon, mustard, roasted peppers, or even just a little salt.
If you're looking for a few unique flavored butter recipes, this post offers 29 options — they all look SO yummy. Plus, if you package them up nicely, some of these homemade flavored butters would make a fabulous holiday gift idea!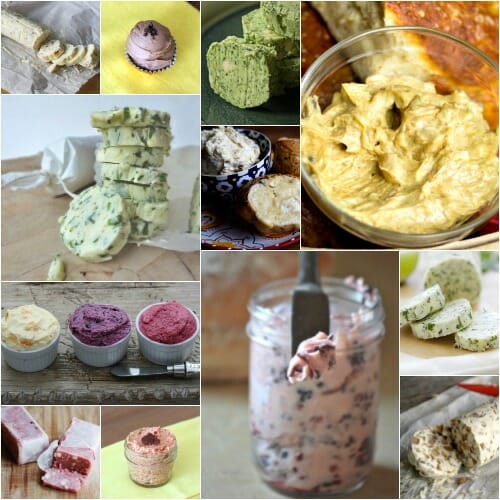 I really don't know if making homemade butter was very cost effective (at least not if you have to buy your cream!) but it sure was fun — and extremely easy!
Nora said it was "the best butter she ever tasted" and everyone gave my buttermilk pancakes two thumbs up the next morning 🙂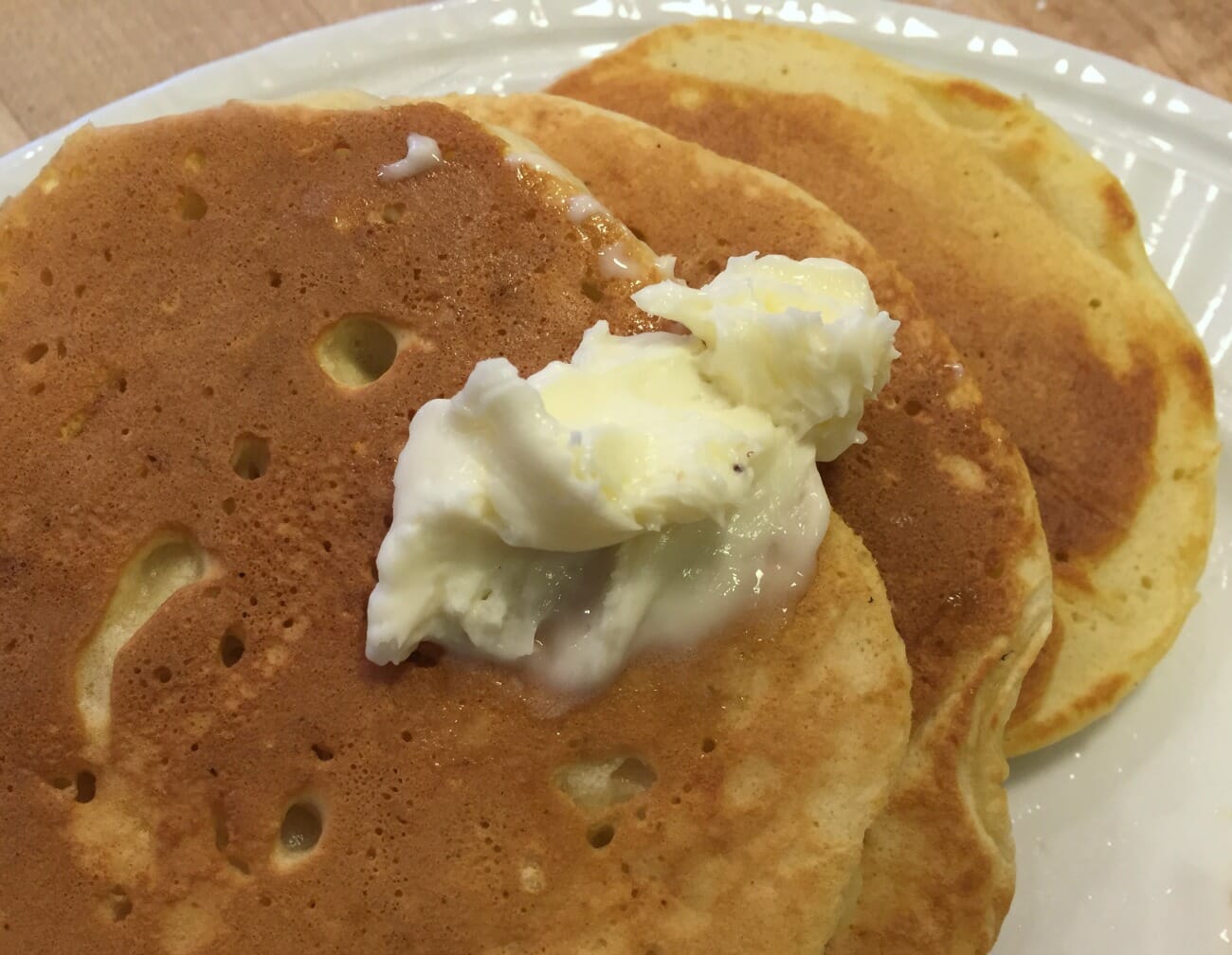 Have you ever made your own butter?
Visit my virtual recipe box for more simple, delicious, family friendly recipes!