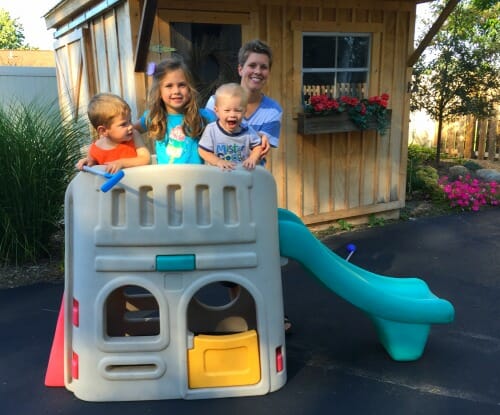 Last week was a very full week for our family. Believe it or not, I actually went out of the house with ALL 3 kids in tow at least once every single day… and it wasn't horrible. We had no major meltdowns, we didn't arrive late to any of our events or appointments, I didn't forget anything, and everyone was relatively happy, agreeable, and obedient on each trip.
Seriously, this parenting thing is SO much easier now that they are all another year older!
.
Nora officially started school last week and apparently had "a really fun time".
The first day was just 1 hour and a parent had to stay with the kids the whole time. The 2nd day she was "on her own"! She learned a new song, she liked the snack, and she told me she made a new friend but doesn't know her name because she was too shy to ask!
She will be in preschool 2 mornings a week and she is VERY excited about it!
We had story hour at the library for Simon and James (while Nora was in school), a fun monthly playgroup meet-up at a local early childhood center, a playdate at the park, speech therapy for Simon, and we started attending the weekly Coffee Break program at our church. There is a Bible study for the adults, story hour for Nora, and nursery for the boys.
We also had a "family fun night" for all the preschool families at Nora's school — they had dinner, games, prizes, tattoos, and even a bounce house!
.
On Tuesday, I went to the Just Between Friends pre-sale and basically finished my Christmas shopping for the kids (more on that later this week!) I also snatched up these super cute dressup outfits for Nora and Simon for $3 each!
I found several other dress-up clothes that we will give them for upcoming birthday and Christmas gifts, but we decided to give them each one outfit now so they can wear it for Halloween and enjoy it right away.
The best deal I found, however, was this Joovy Ultralight sit and stand stroller for $30 (it's normally over $200)!!!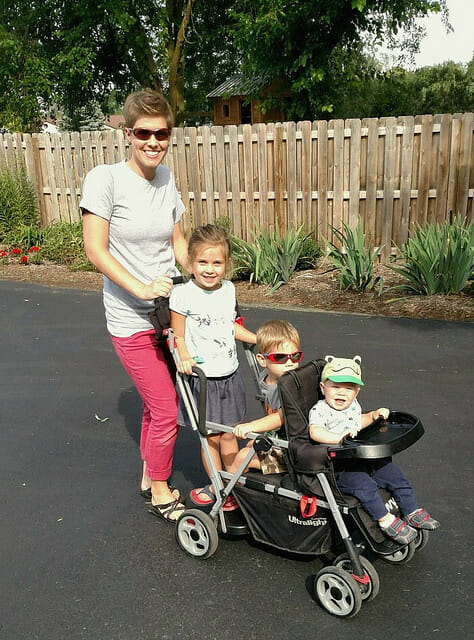 A couple of our neighbors have this stroller and I was just telling Dave that I wanted to look for one on Craigslist because I think it would fit our current stroller needs very well.
Yes, I realize we already have a single stroller, a double stroller, and a bike trailer (all of which we still love and use regularly), BUT more and more, I've felt like we could really use something more versatile right now.
Specifically, I wanted the ability to have one child hop on and off when they wanted (and not be buckled in or need me to lift them in and out). I also wanted something really lightweight and portable so I could keep it in the car or take it with us on trips (but not an umbrella stroller because I don't like those).
After "testing out" our neighbor's Joovy sit 'n stand stroller, I decided it would be a good fit for us right now — but then I realized that even the used strollers were selling for $100 or more. So when I found this one for $30 at the Just Between Friends sale, I knew I had to snatch it up. After all, I'm sure I can always sell it for more if we decide we don't love it.
The Joovy is SUPER lightweight and comes with a nice large canopy; however, Nora decided that if we removed the canopy, there would be enough room for James to sit up front, for Simon to sit on the back "bench seat" and for her to stand on the platform.
It's somewhat heavy to push around like this, but it works for short trips and is a great option if Nora gets tired of walking and if Simon wants to get in and out (like he does so often)! I'm super excited about this new addition to our stroller lineup — especially if I'm just taking Simon and James with me while Nora is in school.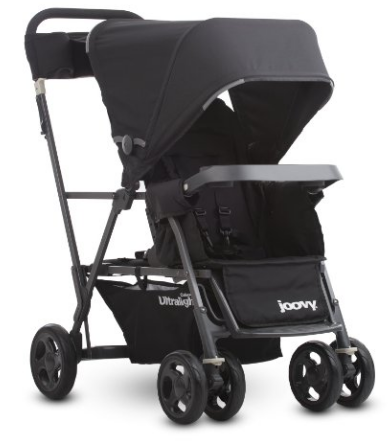 .
As much as I know Nora will enjoy her time at school, I think Simon and James will enjoy their time without Nora just as much. They love their big sister, but she is very bossy and she basically talks NON STOP when they play together.
With just Simon and James together for a few hours every week, things are much quieter and much less "dramatic". Plus, it's so sweet to see Simon be the big brother and try to help and protect James.
Speaking of Simon and James, I was able to get a little one-on-one time with each of them this past week (something that doesn't always happen as much as I'd like it to).
Simon came with me to run a few quick errands after Dave got home from school on Friday and our grocery store just so happened to be giving away HUGE pumpkin sugar cookies that day — he was just a little bit excited (and no, he did not eat his dinner well that night) 🙂
James stayed home with me one afternoon when Dave took Nora and Simon out for a bit after the boys' naps.
One of James' favorite thing to do outside is push random balls around in Nora's old doll stroller. Usually Simon takes the balls from him or Nora snatched the stroller away, but when they were both gone, James was in his glory with no one to take anything away from him!
My Projects:
In addition to all our fun outings last week, we FINALLY replaced the big picture window in our living room with a window that actually opens (after 5 years of saying "we should replace that window"). I love how the new window looks, and it is fabulous to be able to have some air-flow through the living room and office areas.
You can see the new window in the picture above — and the old window below.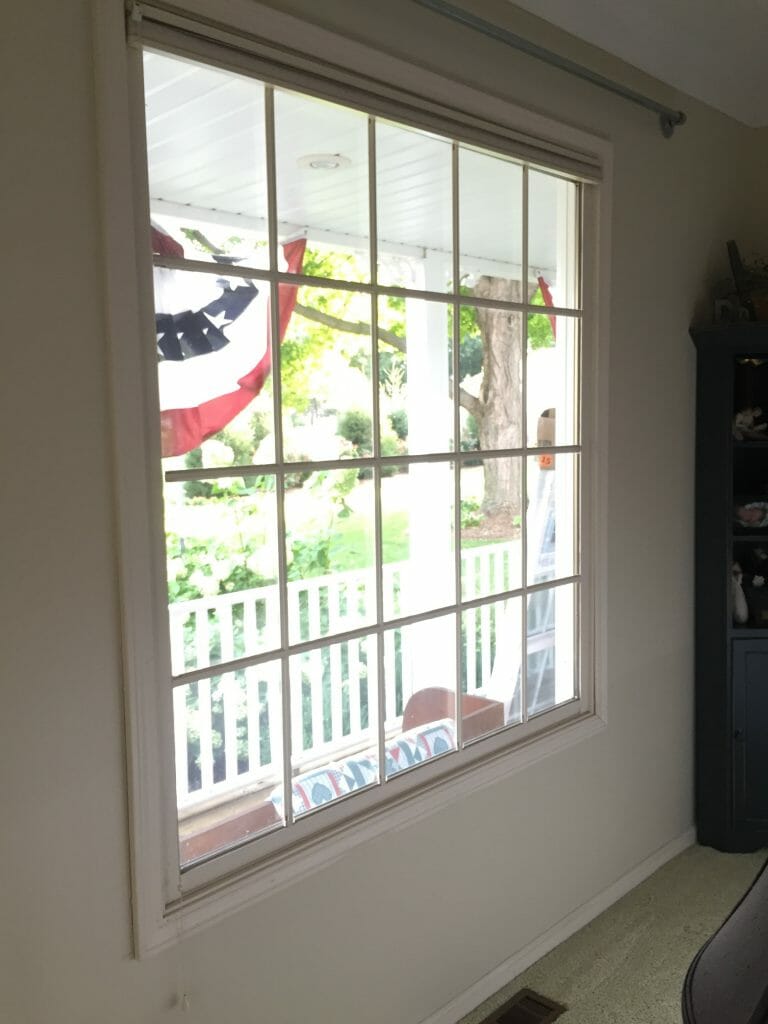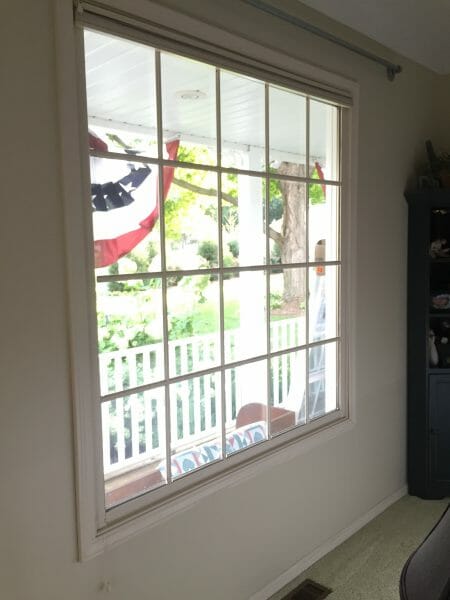 We haven't finished the trim around the window yet — my dad will do this for us in the next couple of weeks. Then I might repaint the entire living room (something that has been on my "to-do-someday list" for a while now). Nothing super crazy, but I'd like to change things up just a little 🙂
I promptly sold our old window on Craigslist — as well as a couple other items I found when cleaning out the mudroom.
Even though it's only the middle of September, I started the process of putting the summer things in the back of the mudroom closet and bringing out the fall and winter items.
I had the kids try on all the winter things to see what I still need to buy — and wow, Nora and Simon grew a TON since last year! I have new-to-us snow gear for Simon and James, but I still need to find something for Nora. She has gloves and boots that still fit (as well as a light-weight Fall jacket) but I need to get snow pants and a warm coat for my ever-growing tall and lanky girl!
I'll actually be sharing more about our mudroom tomorrow, but here's a sneak peek at the closet area!
The last little project I tackled last week was cleaning up all the strollers, bike trailer, and other "outdoor fabric kid things".
I use Oxyclean and hot water with a scrub brush to get get the items clean, then I rinse them with a hose and put them in the sun to dry. I shared more about this process a couple years ago, but I'm always amazed how nice and clean everything looks again after a long summer of use and abuse!
Of course, the kids had fun "helping" — or rather splashing and playing in the water!
.
Our Weekly Meal Plan
SUNDAY:
Beef stew with leftover meat, potatoes, and veggies from a roast I made the week before
Fresh rolls
MONDAY:
Brats and hotdogs on the grill
Fruit
TUESDAY:
Green beans
Potato chips
Fresh fruit
Ice cream sundaes
WEDNESDAY:
THURSDAY:
FRIDAY:
Ham (I purchased a whole ham several months ago and divided it into smaller portions in the freezer)
Mashed potatoes and gravy
Broccoli and cauliflower
Chocolate brownies
SATURDAY:
James just had fun eating the brownies and cookies!