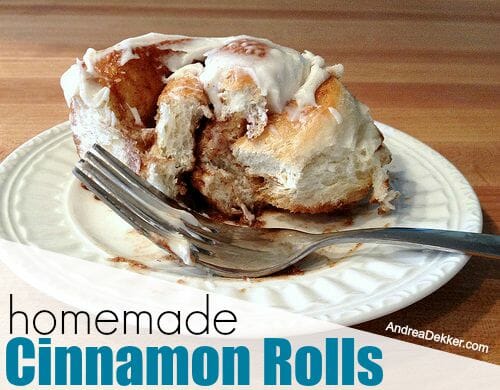 Over the past several years, I've tried my hand at making homemade cinnamon rolls SO many times.
Every time, they turn out tasting "pretty good" (they are cinnamon rolls after all) but there's always something missing. Either it's too sweet, not sweet enough, too tough, too sticky, etc. etc.
I will say that I'm pretty picky when it comes to cinnamon rolls — and Dave has spoiled his whole life because his mom makes really good homemade cinnamon rolls… so maybe we both had kind of high standards.
Another part of the problem is that I'm not willing to make homemade cinnamon rolls if they take all day or require 35 different ingredients.
Well, after numerous cinnamon roll conversations with Dave's mom, searching the internet for various different recipes and tips, and lots of trial and error, I feel like I'm finally starting to find my groove when it comes to making homemade cinnamon rolls.
I have a super simple recipe that starts with a loaf of frozen bread dough, uses ingredients you most likely already have on hand, and tastes pretty darn good!
Best of all, you can easily make these rolls the night before so breakfast is ready when you wake up!
Recipe for Homemade Cinnamon Rolls
Makes 12 rolls
INGREDIENTS:
1 loaf frozen bread dough (or make your own dough)
3 T. butter or margarine
3 T. flour
1/2 c. brown sugar
2 T. cinnamon
frosting (buy or make your favorite type)
DIRECTIONS:
Defrost 1 loaf of frozen bread dough per package instructions
When the dough is defrosted, spread it out to a large rectangle (I try to get mine roughly 10″ x 16″)
Spread butter over dough
Sprinkle flour over butter
Mix brown sugar and cinnamon and spread generously over flour and butter
Roll dough from the long end so you have a long skinny roll
Slice into 12 rolls and place into greased 9″ x 13″ pan
Cover with plastic wrap and let rise until the rolls fill the entire pan
Bake uncovered at 350*F for 18 to 20 minutes
Frost, serve, enjoy!
One tip I have is to try and handle the dough as little as possible. I think over handling it make the finished product a bit tough.
Cinnamon rolls are one of those things that often requires a few tries until you find the best method for you — but the good thing about that is I'm pretty sure you won't have difficulties finding volunteer taste testers for your goodies 🙂
What are your tips for yummy homemade cinnamon rolls?
Visit my virtual recipe box for more simple, delicious, family friendly recipes!