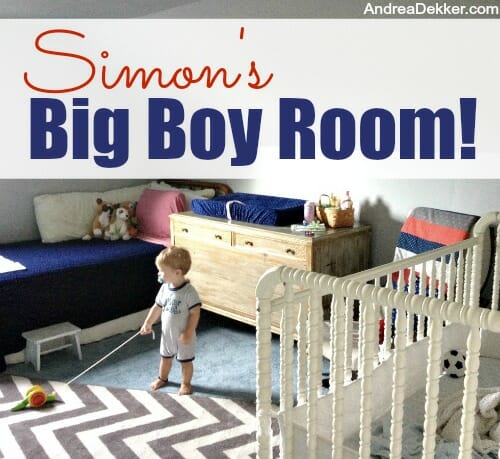 We officially moved Simon upstairs to his big boy room about a month ago. It was actually several weeks after I hoped to have him moved upstairs, but still with a couple weeks before my due date.
One of the main reasons it took us a little longer to get him moved upstairs is because it took ME a little longer to finish his room. You see, when we first found out we were having baby #3 (way back last fall) our original plan was to have Simon share a room with Nora.
Nora's room is HUGE and had the perfect spot for a crib and changing table on the opposite side of the room from her bed. I've always liked the ideas of kids sharing a room since both Dave and I shared bedrooms with our siblings growing up. And if they shared a room, we could have kept our guest bedroom set up for when my sister and her husband visit.
However, as the time got closer and closer for them to share a room (and after a not-so-great room-sharing experience over our spring break vacation) Dave and I decided that it probably wasn't worth keeping the guest bedroom if it meant both Nora and Simon wouldn't sleep well at night.
Right now, Simon goes to bed earlier than Nora and sleeps later in the morning. And although Nora is doing a lot better at sleeping through the night, there are still MANY nights that she wakes up 1 or 2 times — and sometimes she has a fit when we try to bring her back to bed. She can also tend to be really crabby in the morning and whine a lot when she wakes up. In all of those situations, she would end up needlessly waking Simon up.
Also, Simon makes lots of noise in his sleep and babbles / plays in his crib for a long time in the morning… all of which would definitely wake Nora up since she's a very light sleeper.
So yeah, we just decided to kick my sister and her husband out and give all 3 of our kids their own spaces! Don't feel too badly for my sister and her husband though — they've had free "room and board" with us the past 3 years and can easily stay with my parents or with her in-laws — both of whom live a few miles from us, but don't have the draw of cute kiddos to play with 🙂
So since Simon was taking over the former guest bedroom, that meant that I had to (more like "got to") renovate it a bit to make it cute for a little boy!!
Simon's new room is one room in our house that we actually need to do a major overhaul in because the walls are crooked, the drywall is buckling, and it desperately needs new carpeting and trim. However, since I knew we wouldn't have time for all of that before the baby arrived, we opted for a mini-makeover that suits Simon just fine for now.
Once he and Nora are a bit older (maybe next summer), we'll put them together for a couple of months while we do the major renovation to Simon's room… but for now, this is as good as it's going to get!
We are not using the actual closet for this room. It's a huge walk-in closet, but we just have a few storage items in there right now. Simon's clothes are all in the white armoire (see above) or the dresser.
And if you're wondering what the polka-dot curtains are all about, that's just a little "tent/cave" area for the kids to play. It used to be a built-in desk, and we will eventually turn it into another storage closet, but for now, they enjoy playing in there and pretending to sleep!
As you can see, I tried to work with the BLUE carpeting and do a grey, white, and blue color scheme — with a bit of red thrown in for good measure (you know how much I love decorating with patriotic colors!)
This also goes PERFECTLY with the quilt Dave's mom made for Simon. The quilt is a little too warm to use during the summer months, but it should keep Simon nice and cozy for the coming Fall and Winter.
Oh, and you'll notice there's a twin bed in this room… just like in the nursery. That's because I have 2 matching Jenny Lind twin beds (that match our 2 Jenny Lind cribs).
Eventually both boys will sleep in twin beds up in Simon's new room — but for now, we just have 1 twin bed in each room so we don't need to store them, and because our kids love playing on beds!
.
I'm honestly really happy with how the room turned out considering I only spent about $150 on the transformation (1 gallon of paint, room darkening shades, and some fabric to make the curtains, valance, crib skirt, and pillow)!
Although the pictures look darker than I would like, his room is actually very full of light and quite cheery.
I think Simon approves!
The very first night we put him to bed in his new crib, he cried and cried. I felt so bad — especially because it was a scared cry… like, "why are you leaving me up here in this strange place?"
However, after a couple extra snuggles from mom (I basically rocked him to sleep), he ended up sleeping all night long, and we haven't had any issues with naps or nighttime since!
In fact, I think he likes being upstairs now because his room is right off the playroom, and that means he can play with all his toys right after waking up!
His room (and Nora's room) are also all on the same level with the "kids bathroom" that we recently renovated… so they go straight from the bath to their bedrooms for PJ's every night. After they are bathed and in clean PJ's, we go downstairs for a snack and some books, and then Simon goes to bed (with Nora to follow a little later on).
It's been a really slick system and I hope it will keep working well for us.
It's also nice having them both sleeping upstairs as we don't have to worry about middle-of-the-night baby cries waking up the other 2 kids!
Here are a few Before/After Photos:
Not too bad for a little paint, a VERY thorough carpet cleaning, a bit of fabric, and some decorations!
At least Simon seems to like it 🙂
Where We Got What:
Since I know I'll get 101 questions about where we got everything in this room, I'll try to list most of that here:
Paint ($20) = Silver Bullet from Behr (with a rebate!)
Room Darkening Shades ($55) = Levolor brand from Lowe's (they are custom cut to fit your window)
Crib = Borrowed from a friend
Crib Mattress and Bedding = Mattress and most of the bedding are what he was using downstairs. I did buy 2 new sheets from Target (with coupons and a gift card).
Chair = IKEA Poäng chair that we already had.
Dresser/Changing Table = Craigslist find before we were even married. I love it and have used it in so many different rooms!
Twin Bed = Craigslist… and something we already had.
Twin Bedding = Random blankets and pillows we already had (this bed is more for "playing" right now than actually sleeping).
Rug ($40) = An amazing clearance find at Meijer.
Armoire = Taken from our living room and painted white. We swapped it out with a smaller cabinet that used to be in the guest bedroom and the smaller corner cabinet looks fabulous in our living room (see pictures if you scroll down in this post).
Polka-dot Fabric ($25) = I ordered extra long, extra wide curtains from a Target clearance (they are no longer available online). I first cut the fabric to fit the new "tent" area, and then used the remaining fabric to make a crib skirt, window valance, and decorative pillow.
Wall Decals = a gift from this online shop.
All toys and decorations = things we already had in the house.
So… what do you think?
It's better than the bright blue sponge paint, right? 🙂