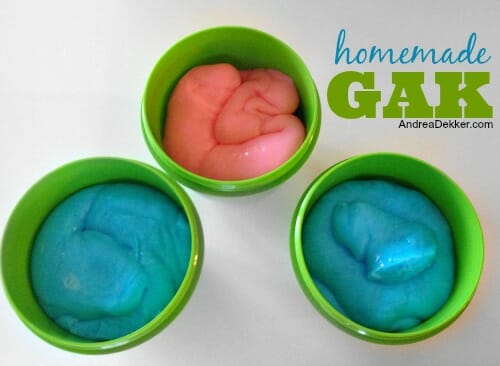 Several weeks ago, my mom gave Nora some gak (it's kind of like super slimy playdoh).
I was somewhat grossed out by it and figured it would make a huge mess, but Nora was THRILLED. She literally played with it for hours and hours and hours (by herself) which were hours and hours and hours I didn't have to entertain her!
A couple weeks later, when I was talking with Nora about what we could get certain people for Christmas, her main suggestion was gak. I steered her away from gak for grownups, but we decided that gak would be a good gift for a couple of her cousins.
I set off to look for gak — and to my amazement, I couldn't find it anywhere. Not in our grocery super-store, not at Target, not even at 2 of our local craft stores. I did find some on Amazon.com… but it was almost $20 for one tub of gak! I don't think so!
After little success finding reasonably priced gak anywhere around, I headed to Pinterest to look for a homemade gak recipe. Within 2 seconds I had hundreds of posts pop up — all with very similar recipes. I figured if THAT many people are making their own gak, it had to work.
I'm happy to say that our gak experiment turned out perfectly the very first time!
It took less than 10 minutes to make (even with me taking pictures), it hardly required any cleanup, and it cost less than $2 to make large balls of gak for Nora and her 2 cousins.
I know many of you are looking for simple, frugal gift ideas for small people — or maybe just something to entertain your small people when they are home from school on Christmas break!
If either one of those scenarios describes your current situation, I would highly recommend taking a few minutes out of your day to make some gak — and yes, kids can help!
Recipe for Homemade Gak
INGREDIENTS:
one 7oz. or 8oz. bottle Elmer's glue (you may try other brands of paper glue, but Elmer's really does work best)
7oz. or 8oz. water (I usually just fill up the empty glue bottle with water)
1 teasp. Borax powder
additional 1/2 c. warm water
spoons and small bowls for mixing
food coloring (optional)
storage containers (or zip top bags) to store the finished gak
DIRECTIONS:
Dump all of the glue into a small bowl or dish
Fill glue bottle with water, shake, and pour water into glue
Add food coloring if desired and stir until well combined
In a separate small dish or cup, mix 1 tsp. Borax powder with 1/2 cup warm water. Stir until dissolved.
Pour Borax/water solution into glue solution and mix (it will immediately start clumping together and getting thick)
Keep stirring (or kneading with your hands) until all the liquid is absorbed and the gak is one large lump.
Store in an air-tight container or zip-top bag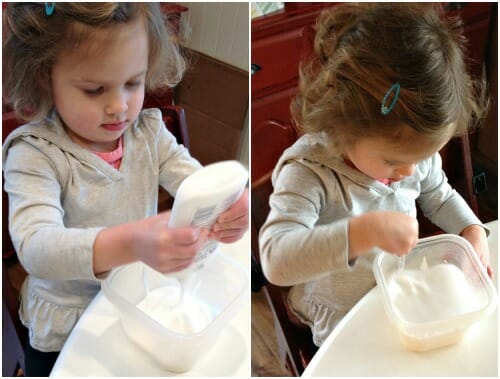 That's it!
I was honestly worried this little DIY experiment would make a huge mess of my kitchen — after all, I let my 3-year-old play with a whole bottle of glue! However, once the Borax powder comes into contact with the glue mixture, it instantly gels together and requires almost no cleanup.
I used disposable food storage containers and plastic spoons/cups to do my mixing — so I just tossed them when we were finished. But honestly, it would have been very easy to wash them out if I had used my regular kitchen bowls.
Oh, and in case you still have no idea what gak is, it's a super stretchy, super slimy, putty-like substance that sticks to itself and rarely breaks off or crumbles (like PlayDoh). In my opinion, it's the perfect craft medium for small hands!
So who's making gak over Christmas break??