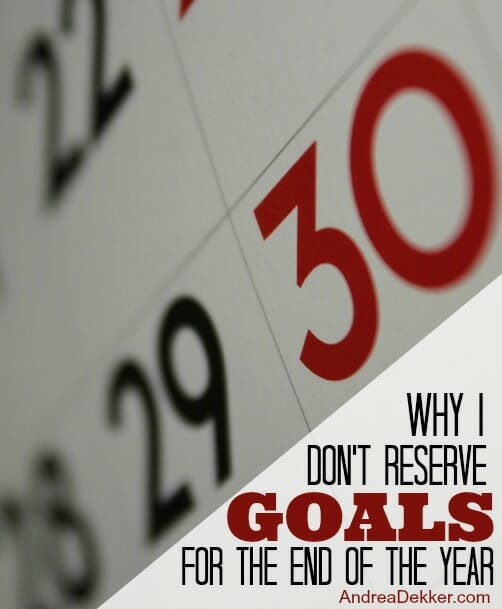 The New Year is only a few days away… and since I'll be taking my regular blogging break from Christmas through New Year's Day, I wanted to talk about something that I feel is super important this time of year (and all year long).
I know many of you will be setting some type of goal or resolution over the next 2 weeks — yes, I'll be right there with you. I love setting goals, planning for the future, and thinking about what might happen over the next year. However, I don't just reserve this activity for the end of December.
I set goals all year long — in fact, depending on how you define "goals", I set goals every single day.
For me, a goal is simply something I want (or need) to accomplish within a set period of time.
This could be as simple as making sure the kids nails are finally trimmed, working on a blog project, doing some freezer cooking, or stuffing and mailing our Christmas cards (watch for them on the blog later this week!)
.
Now, if you're anything like me, you could easily make a mile-long list of all the little things you need and want to do EVERY SINGLE DAY. And that list probably won't even include all those bigger goals and ideas you have to improve your home, yourself, your family, your job, your finances, etc.
But don't do that!
The point of this post is not to make you feel completely overwhelmed by all those thing you need to do. Instead, I'd simply like to encourage you to be aware of the many goals you want to accomplish — but then pick a handful to really focus on during one specific period of time.
In my opinion, one of the main reasons we fail to complete our goals (no matter how big or small they are) is because we don't focus enough attention on them for a long enough period of time. After all, it's very easy to REALIZE that something needs to change… however, DOING anything to bring that change about is another story!
I've experienced my share of failed goals over the course of my life, and in (almost) every situation, it was because I didn't devote enough focused time and energy to complete the goal. Sometimes, it was a conscious decision on my part as I didn't feel that particular goal was important enough anymore. However, there have been times when it's simply because I completely over-estimated the amount of time and energy I had to devote to one particular goal.
Can anyone relate?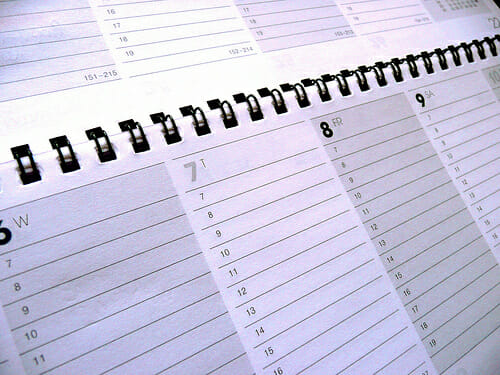 I find that I function the best, and am the most productive, when I have anywhere from 3-8 smaller goals or tasks to think about and focus on at any given time. If I have less than that, I feel bored and underutilized. If I have more than that, I start feeling anxious and stressed.
For this reason, I'm a HUGE advocate of creating a Top 5 List every night before I go to bed. This gives me just the right amount of things to focus on throughout the day, and I have a sense of accomplishment when everything on my list is crossed off.
Here's an example of what one of my daily goals list might look like:
Clean out the dishwasher
Make dinner (if it's not coming out of the freezer and is anything that can be made ahead, I do it right away in the morning)
Sweep and vacuum the floors
Bake cookies or do a craft with Nora
Walk to the bank, post office, and swing by the grocery store for bananas
Give Simon a hair cut
Catch up on email and schedule social media posts
As you can see, this list is nothing too complicated and very "home-centric". Even though Simon is a good napper, I've found that it is increasingly difficult to get much blogging or other work-related responsibilities crossed off during the day (because I just don't have the ability to focus long enough). So instead, I focus on simpler household goals during the day, and save my blogging goals for later.
Since Nora is going to bed much earlier (usually sleeping by 8:00 every night!!) I now have plenty of time to accomplish my work-related tasks when Dave gets home from school, after the kids are in bed, and before they wake up in the morning.
.
Yes, I still make bigger, more long-term goals each year (and sometimes half-way through the year) but I firmly believe that setting a few smaller goals for myself on a daily and weekly basis helps me to focus more on what's important to me in that particularly moment… and it drastically improves my productivity!
Of course, your daily to-do lists might look VERY different than mine — the point is that you're actually thinking about what needs to be done, how you'll do it, when you'll do it, etc. on a very regular basis (not just when you flip the calendar over to a new year).
Also, if you have a huge goal for the year, I'd suggest breaking it down into tiny pieces and give yourself a few small tasks each week. You might just be surprised how quickly you accomplish those huge goals!
What are your thoughts on goals? Do you set them daily, weekly, monthly, or yearly?