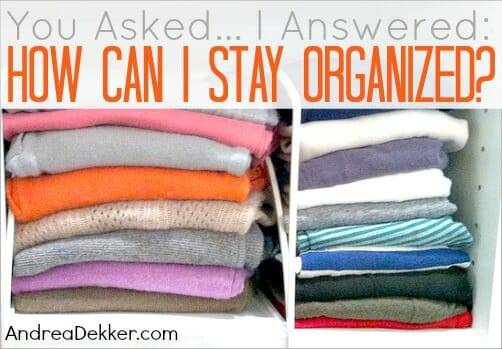 Without a doubt, the most common organizational question I receive (quite regularly) from readers, friends, and family is…
How can I stay organized?
One of the more recent emails I received on this topic stated many examples of how she had organized different areas of her home only to find those spaces would be disorganized again in just a few days. Her email ended by asking:
How can we organize our space so we can actually do something ONCE and not over and over again?
I'm sure many of us (myself included) have been frustrated with similar situations at some point in our lives — especially those of us with multiple other people living in our homes who might not be as neat and tidy as we are 🙂
Below is the email I sent back to her — omitting some information for privacy reasons.
Hey Jane (fake name),

Thanks so much for your email and for your kind words about my blog. So glad you're a long-time reader.

Regarding your question… unfortunately, I don't have a great answer!

In a way, the answer is that you DO have to do it over and over again — because constant and continual maintenance is the #1 key to an organized home and life.

I'm a pretty strong advocate for regular maintenance and being willing to switch up or change a system if the current one isn't working well. I rarely expect to do something once and then never again (except hopefully renovating our kitchen!)

Yes, maybe you'll only need to do the full-blown organizing project once, but then every day, every week, and every month, there will almost always be something you need to do to keep things in order to prevent you from needing another full-blown organizing project again.

These little things are what most disorganized people neglect to do — and that's why I almost ALWAYS need to return to a client's home over and over again — just because they don't do the little things that take less than a minute to do.

For example, if you set up a system for your school papers, newspapers, and coupons, you will still need to maintain that system on a regular basis. You'll need to weed through and recycle school papers and newspapers on a weekly basis. You'll need to go through your expired coupons monthly and clean out your coupon organizer. You'll need to file your coupons on a weekly basis so you can actually find them, etc. etc. If you don't, your paper clutter will quickly spiral out of control once again.

Organization is unfortunately NOT a "once and done" type of thing — and that's the main reason it's so frustrating for people. There is also nothing I can personally do to help people with this. I can TELL others what to do (or what I would do) until I'm blue in the face, but it's up to them to actually buckle down and do it — because we rarely ever WANT to do these things!

I like to tell people that organization is like eating and personal hygiene. You wouldn't expect to eat a big huge meal once and then not be hungry again for another year. And you certainly wouldn't expect to take a shower or brush your teeth once and then not again for 6 months. You do these things daily — even multiple times each day.

The same goes for organizing. I pick up toys, hang up clothes, put away papers, throw out trash, wash dishes, manage my emails, etc. on a DAILY basis because otherwise they would get out of control after only a few days. I don't necessarily love doing these things every day, but I know that doing them daily is so much easier, less overwhelming, and less time-consuming than letting them pile up for weeks at a time.

Daily and weekly maintenance makes my life so much easier, so much simpler, and so much more organized — and because of that, I'm just in the habit of always "doing it now" as much as I possibly can.

I realize this might not be the quick-fix answer you were hoping for (sorry!) but it's really the best and most honest answer I can give you.

And if you're wondering what my tips for daily maintenance might be — you can read this post.

Thanks again for your question and happy organizing!

Andrea
So what do you think?
Do you agree with my answers? Do you have anything else to add?
I know first hand how discouraging it can be to complete a huge organizing project and then feel like everything is messed up the very next day (or the next hour). Sometimes it's enough to make even me feel like giving up!
However, I also know that regular maintenance really isn't all that bad if you can just get in the habit of doing it… similar to how we are all in the habit of eating, showering, and brushing our teeth.
If you're in the same boat with Jane, don't expect to magically change your habits (and your family's habits) over night. But over time and with continual effort, you might just be surprised how quickly a few daily maintenance rituals will help to declutter your home and life!