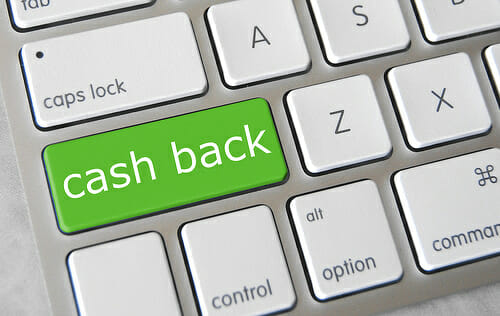 It's Black Friday — and I promise that none of you will see me in any stores today. In fact, I probably won't even leave my house today!
I'm at home canning applesauce with my mom and grandma, waiting for a few good Cyber Monday deals so I can shop from the comfort of my home while my kids are sleeping (awwwww, isn't he sweet!)
In general, I try to buy everything I can possibly buy online — and now that our local grocery store offers curbside pickup, I might never need to go into another store again 🙂
When it comes to online shopping, I've learned A LOT over the past 4-6 years. I've learned where, how, and when to find the best deals; I've learned how to almost always get free shipping on everything I buy; I've learned how and where to find the best coupon codes; and I've learned how to literally get cash back on almost everything I buy online!
Yup, that's right… CASH BACK!
Over the past few years, I've been using Ebates.com to get cash back on almost every online purchases I make (that's a lot of cash back!)
All I need to do is FIRST go to Ebates.com, then type whatever store or online website you want to shop at in the search bar (I'm using Kohl's as an example in this post ).
Once you find your store, click on it — and you should see several deals that you can choose from. For my purposes, I'm going to click on the 20% off site-wide + 6% cash back.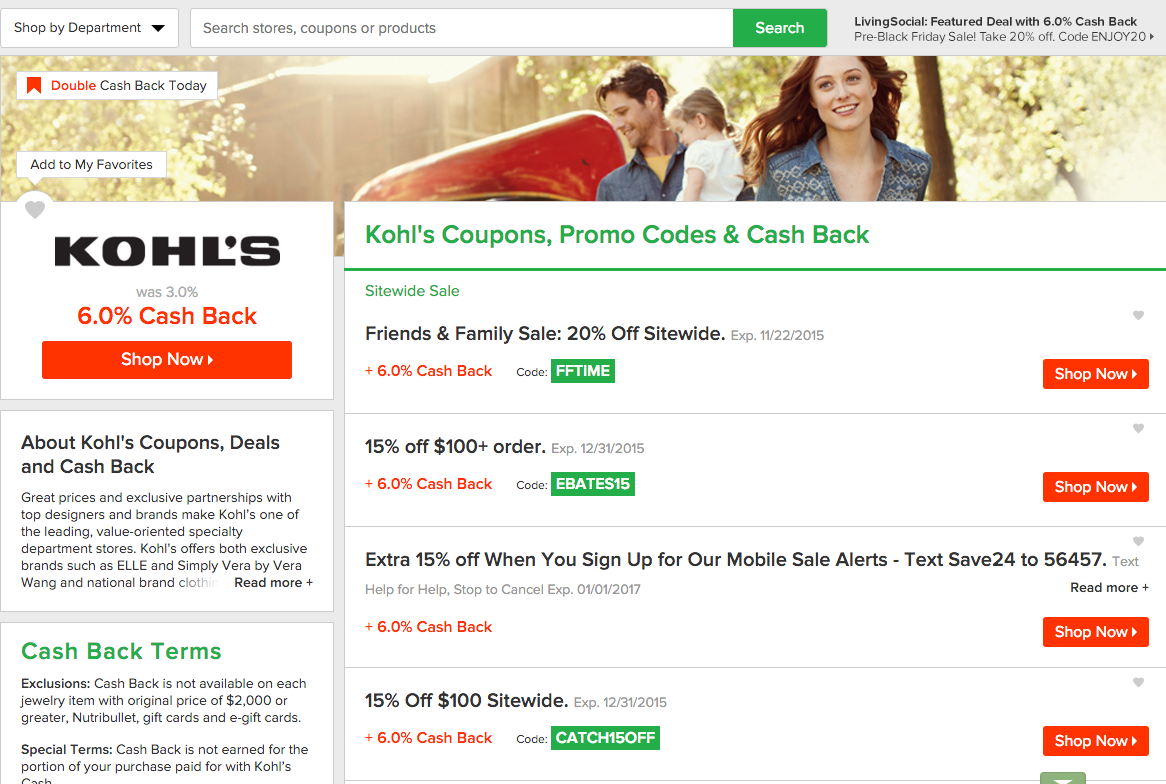 Then I'm directed to the Kohl's website where I can shop.
I can still use any gift cards or promo codes when I check out at Kohl's, and I still get my YesToo Rewards and Kohl's cash if I purchase the right amount of product. The only difference is that I'm ALSO getting that 6% cash back on everything I spend at Kohl's.
A quick example of how this works:
Earlier this week, I made a list of a few items I wanted to get from Kohl's since they were having an amazing online sale.

Black shoes for Dave
Black "booties" for me
Tan dress socks for Dave
White t-shirts for Dave
A couple tunic tops for me
A pair of black skinny jeans for me
Leggings for Nora
Fleece pj's for Simon and James

I went to the Kohl's website and found everything I wanted and put it in my shopping cart.

Then I went back to Ebates.com, searched for Kohl's, and clicked back to the Kohl's website via the 20% off + 6% cashback link on the Ebates website.

Once I was back at the Kohl's website, I simply clicked on my shopping cart (which was already full of the items I wanted to purchase) and I added the promo code to get 20% off.

I made sure that after the 20% off I was still over $150 so that I would get all 3 of my $15 Kohl's Cash credits and then I checked out.

My total purchase was $151.89, but I paid for part of that with a gift card. Then I got $45 back in Kohl's Cash, $5 in YesToo rewards, and $9.11 back in cash thanks to Ebates. That means that after my $50 gift card, the Kohl's cash, the YesToo rewards, and the Ebates cash back, I only spent $42.78 for ALL that stuff (it was originally almost $400 worth of merchandise)!
Pretty slick, huh?
When I first started using Ebates several years ago, it took me many months to remember to first go to Ebates.com and then search for the store I wanted to shop at… but now it's just second nature.
Over the past month I have made purchases from Walmart, Bed Bath and Beyond, Target, Amazon, Thredup, Macy's, Minted.com, and Kohl's… and I ended up getting over $32 cashback through Ebates (plus extra bonuses like Kohl's cash, coupon discounts, and free shipping on top of that!)
And while I realize $32 isn't a ton, it's better than nothing — especially since it literally only takes me 3 extra seconds to visit Ebates.com before clicking through to the actual store website.
.
I realize this might sound too good to be true to some of you — but as far as I can tell, there really are no gimmicks or hidden fees, or anything else to rope you into something you're not comfortable with. I don't get massive amounts of junk mail from Ebates, and the 2 times I had to use their customer service, I had very positive results.
Ebates.com is completely free, it's very reputable, and after years of regular use, I honestly have nothing bad to say about them (no, this post is NOT sponsored).
.
Oh, and to make this deal even sweeter, Ebates.com is currently offering DOUBLE cash back for almost all their stores as part of a holiday promotion!

And one more thing… if you know 3 other people who might like to get cash back on their online purchases, simply share your Ebates.com referral link with them (you'll get your referral link once you create an account) and you could get up to $100 bonus cash back just for helping your friends and family save!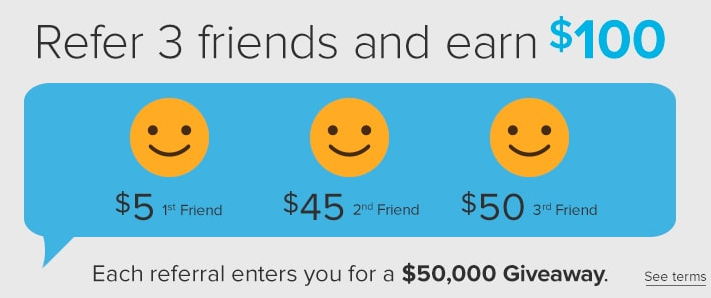 So as you potentially prepare to do lots of online shopping this coming Monday (and all throughout the holiday season) remember to go through Ebates.com and enjoy a little extra savings!
Do you use Ebates? Or any other service like it?
top photo source
This post contains affiliate links.