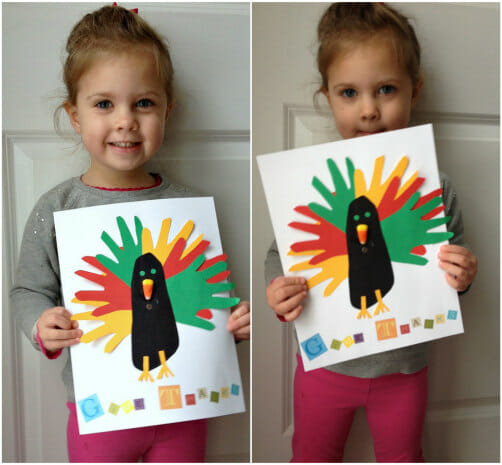 This is Dave and my 10th Thanksgiving as a married couple, and although I've made all the traditional Thanksgiving foods many times before, this is our first time hosting the big day at our house!
In the past, we've always done the "even year Thanksgivings" with my Mom's extended family at my aunt's house; and then the "odd year Thanksgivings" with Dave's family. However, this year, Dave's parents and his brother are going to visit Dave's sister's family and other extended relatives in Wisconsin, so we are "on our own".
We decided to invite my immediate family and my grandma over for Thanksgiving — so it will be a relatively small crowd for our first official hosting experience… but still another fun "first" for our family 🙂
Although I know it will be more work than letting someone else do all the cooking, it will also be nice to be at home all day and let our kids nap in their own beds. And as I'm sure you can imagine, I'm keeping things really simple — no need to go overboard trying to impress my parents!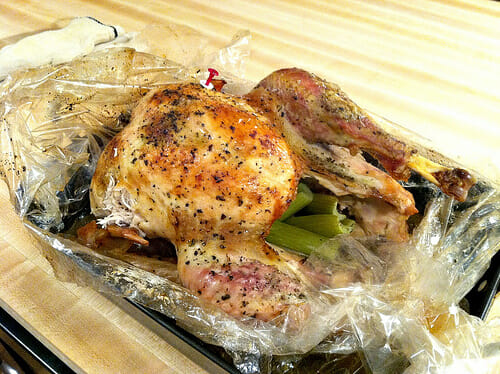 My Tips for Hosting Simple Holiday Gatherings:
In my experience, traditional holiday foods always seem to go over better for special occasions than something "new" (anyone remember Deborah's fish for Thanksgiving on Everybody Loves Raymond?) I would highly recommend making the food your guests are accustomed to on the special day.
Here are a few more tips if you're the one hosting this year.
Plan to make as much of your food in advance as possible (I'm sharing a bunch of make-ahead recipes at the end of this post). I would even suggest making your turkey the day before, cutting the meat off the bone, and then putting the juices and meat in the slow-cooker. The meat is SO juicy and it's much easier than trying to carve the turkey while your guests wait.
Stock up on paper products to make cleanup much easier.
Write down everything you're going to make, as well as all the ingredients you'll need. Then shop your pantry and freezer to see what you already have, as well as what you need to buy. This will hopefully prevent the need for any last-minute trips to the store.
Consider serving your guests "buffet style" to keep the tables more open and lower the likelihood someone will spill something while passing platters and bowls to others at the table.
Double or triple line your trash cans so you don't need to mess with putting a new bag in.
Don't worry about having your home perfectly clean. Instead, clean the bathrooms well and declutter the main living areas. Then, clean it really well after everyone leaves (maybe this is selfish, but it's what I always do!)
If you're short on time or cash, skip the cutesy place cards, party favors, and any extra decorations. Although these are often fun little "extras", I don't think many guests will care nearly as much about decorations or presentation as they do about the food and fellowship.
If you're hosting your first Thanksgiving dinner — or just looking for more tips to simplify the day — the Allstate blog has some good ideas in this post, as well as a fun infographic that explains how to plan your menu so everything is ready at the appropriate time.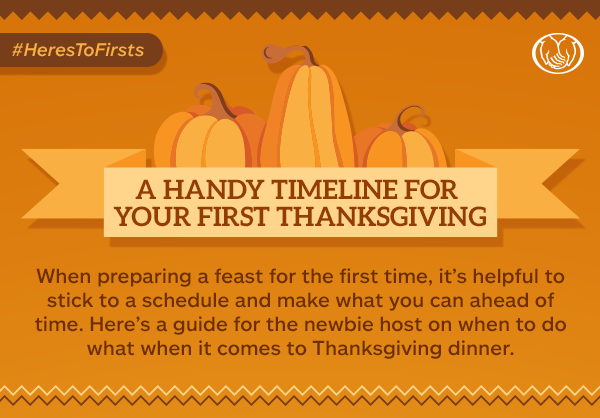 Thanksgiving Fun Facts:
The first thanksgiving was in the Fall of 1621 and included roughly 50 Pilgrims and 90 Wampanoag Indians. It was said to have lasted 3 full days, and apparently only 5 women were present as many of them were unable to survive the difficult first year.

There was no turkey on the first Thanksgiving — it was most likely venison, ducks, oysters, lobsters, eel and fish. They most likely DID eat pumpkins — but not as pie 🙂

Thanksgiving became a national US holiday in 1863, thanks to Sarah Josepha Hale (writer of the classic song, "Mary Had a Little Lamb") who apparently convinced President Lincoln after 17 years of faithfully writing letters campaigning for this to happen.

Thanksgiving is said to be the reason for the introduction of TV dinners in the 1950s. Apparently Swanson had over 260 tons of extra turkey in 1953, and a salesman suggested that they should package it into aluminum trays with other sides like sweet potatoes.

The whole "watch football on Thanksgiving Day" tradition started in the 1920's when the NFL started their Thanksgiving Classic games. Since then, the Detroit Lions and the Dallas Cowboys have hosted games on Thanksgiving Day.
NOTE: These "facts" are from our local Library — I don't have an exact source 🙂
.
My Favorite Thanksgiving Recipes:
And let's not forget about the desserts!
Oh, and if you're looking for a few fantastic ways to use up your Thanksgiving leftovers, check out this post.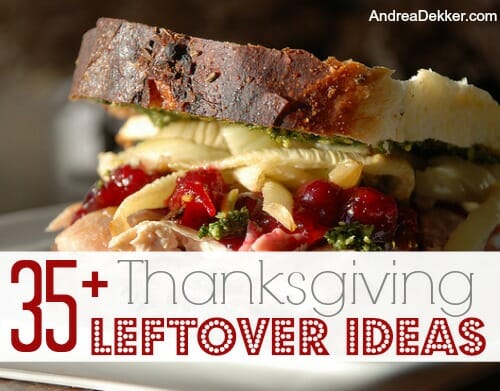 I'll be taking tomorrow off to enjoy time with family… but I'll be back on Friday with a simple way to make cash back on almost all your online purchases (just in time for all the Cyber Monday sales!)
Happy Thanksgiving!
This post was written as part of the Allstate Influencer Program and sponsored by Allstate. All opinions are mine. As the nation's largest publicly held personal lines insurer, Allstate is dedicated not only to protecting what matters most–but to guiding people to live the Good Life, every day.