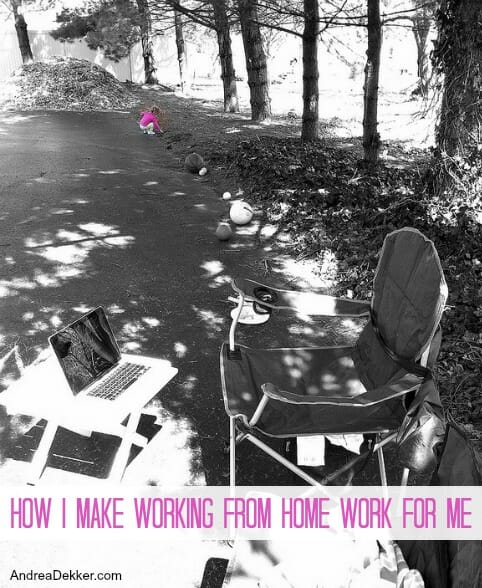 As many of you know from reading my posts, working from home has some huge advantages — like a more flexible schedule, saving on child care, no dress code, and no daily commute. However, working from home also has it's challenges (read this post!)
Not only is it difficult to separate home life and work life when you do both in the exact same place, it's even more difficult to separate FAMILY life from work life (at least in my opinion). After all, if Nora refuses to take a nap or is teething and fussy for days at a time, I don't have many options except to push my work back to when Dave is home or after Nora finally falls asleep.
We've tried having a couple different babysitters come to the house for a few hours a week, and that has worked wonderfully. But then those babysitters grow up, go to college, or get a "real job" and can't come anymore.
So while I love the idea of having super strict "work hours" when no one can bother me, that scenario just doesn't work for me at this point in my life.
I don't have anything against daycare, but I also don't feel I can justify sending Nora to daycare when I'm home all day — although I'd be lying if I said the thought hasn't crossed my mind a few times.
Yes, I work a full-time job just like many parents who send their children to daycare, but one of the reason I really wanted to work from home was so that I could "do it all" (and please don't take that the wrong way).
When I say "do it all" I simply mean that I want to pursue a career I love while still being present for the people I love. And because of that, I've had to make many sacrifices in other areas of my life (Dave has too).
We've quit many volunteer opportunities and committees, we've eliminated almost everything "extra" from our schedules (including fun things), we've limited time spent with friends outside of our "couple friends", and we rarely ever go on vacations because it's just too exhausting to try and work ahead before we leave and then play catch up when we get back.
I'm not complaining about any of these sacrifices. I choose to work from home because I love what I do — and just like any other full-time working parent, Dave and I are forced to make sacrifices. Dave and I have consciously decided that at this point in our lives, these are sacrifices we're willing to make.
We both feel blessed that we can make a living doing what we love, spend time with the people we love, and still have a little time left over to work on house and yard projects (our only hobby these days).
So how do I make working from home work for me?
Along with making sacrifices like I mentioned above, I think the key is to find a balance between planning ahead and being flexible enough to know that many things will NOT end up according to my plans.
Yes, I realize how ridiculous that sounds… but after trying many different methods of working from home, I've come to realize that I absolutely must have a plan, but I also need to be OK knowing that my plan will absolutely not happen the way I think they should!
Without a plan, I flounder and am unproductive (even during times when Nora is sleeping or when Dave is home to play with her).
However, without any sort of flexibility, I get overly-stressed and worked up because the day is not going according to my plans.
So every night, I faithfully sit down and look over my schedule for the next day. I make my Top 5 list, I defrost anything I'll need to make dinner, I "debrief" Dave on my schedule, he "debriefs" me on his schedule, and then I silently remind myself that there's a chance nothing will go as planned.
Then every morning, I wake up and do my best to accomplish everything on my list, knowing full-well that the day could be a total wash in terms of my work. There's always tomorrow right? 🙂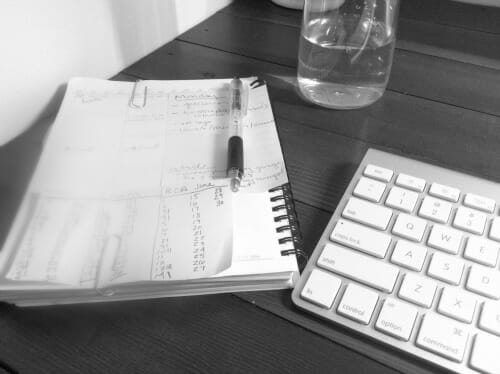 If you currently work from home, I'd love to hear your thoughts and ideas as to how you make it work for you and your family.
Also, if you've ever contemplated working from home, here's another post I wrote about how to make working from home work for you.