Last month, I posted all about our summer landscaping plans — and I mentioned that we're hoping to completely transform our 1-acre property over the next 2-3 summers.
Well, I'm happy to announce that we're making fabulous progress already, and with the help of our trusty landscaping team (the same company who designed our landscape) we've plowed through demolition, planted a bunch of new trees, and totally finished all the planting beds around the house and garage.
Here's a little sneak peek at one before + progress shot. More "after pictures" will come in a few weeks!
Now we're waiting (not so patiently) for the grass to grow 🙂
It is growing though!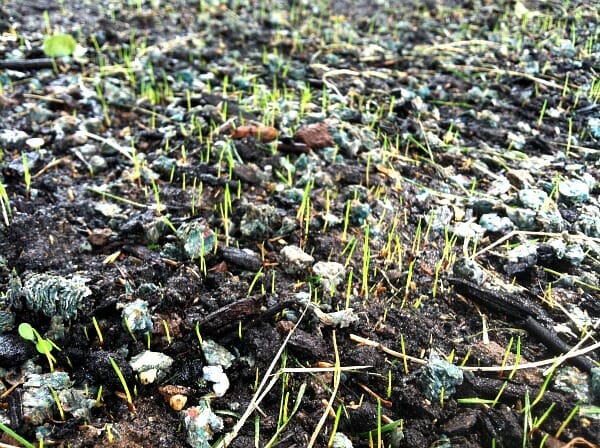 Over the last month, I've received many questions inquiring about the the expenses involved in re-landscaping a large yard. And the truth is, landscaping work IS quite expensive — especially since there were a bunch of things we could not do ourselves (cutting down trees, grinding out huge stumps, hauling away load after load after load of rocks, fixing irrigation issues, delivering and planting several larger trees, removing a 20′ x 20′ cement pad in the middle of our backyard, and delivering 35+ yards of mulch).
Thankfully, we've done enough yard work over the years that we know who to call when we have big projects like this — and sometimes those companies give us small discounts for being loyal customers. But for the rest of it, we write checks and try super hard to stay within our budget.
As we were coming closer and closer to our budgeted amount, Dave and I realized that there were still several more projects we wanted to do yet this summer… but we didn't want to go over budget. We thought about just waiting until next spring… but then we decided we could most likely do some of the projects for free (or really close to free) if we got creative.
That was about a week ago… and after a lot of manual labor on our parts, Dave and I managed to completely re-landscape a huge area along our back driveway and another large planting bed in the back corner of our yard — completely for free!
.
we re-landscaped all the way to the end of the vinyl fencing with no out-of-pocket costs!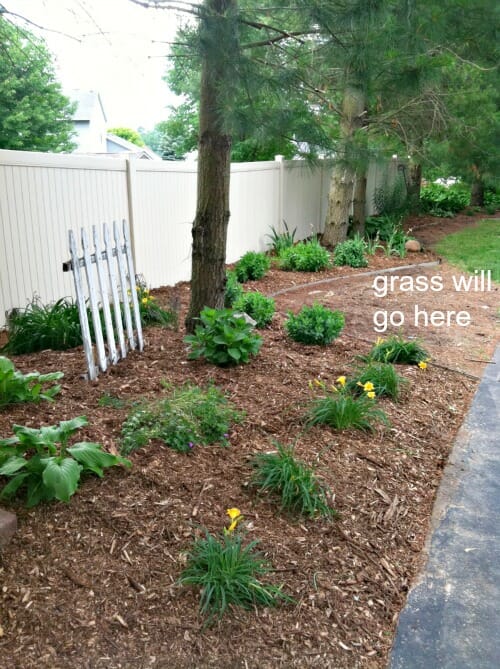 this is another view of that planting bed — along with the small pile of leftover (free) mulch
a cute little pathway behind our garage
lots of huge hostas lining the back corner of our property.
more of those same hostas with another path behind the garage. grass will be planted where the dirt is now.
.
Want to know how we did this all for free?
We used plants dug up from our previous landscape or plants I've gotten for free from friends and family (more about how I find free plants).
Nora and I carting plants home after splitting them from a friend
We used the old (but still professional grade) metal edging that we dug out from the former planting beds around the house. We had to spend some time pounding out the kinks, but it turned out just fine for these back corners of our property, and it would have otherwise been trashed if we didn't "recycle" it.
you can see our "used" edging still has some kinks… but it's good enough!
We used wood chips that were left over from when we got our trees cut down earlier this spring (we asked the company to leave us the chipped cedar mulch ahead of time). It was about 10 yards of mulch — which was plenty to cover both of these areas. This mulch is not color treated, but it was free so it's good enough!
I realize these areas don't look professionally done… and the plants are still a bit droopy from being split and transplanted, but for a few days of hard work and $0.00 out-of-pocket expense, it's a huge improvement (it was just dirt, weeds, and over-grown shrubs before).
.
So we're making progress… definite progress, and it feels good to know we're sticking with our budget.
We feel so fortunate because we've had the absolute perfect weather for yard renovations. Aside from the past couple days of HOT and humid, we've had mainly sunny skies with light rains every few days, cooler temperatures in the low 70's, light breezes, and plenty of clouds to give our new plants a break.
We honestly couldn't have asked for better weather (sorry for everyone else in MI who wants to head to the beach!)
.
Oh, and here are a FEW other pictures of our yard work progress.
So that's it for now — I realize these pictures aren't jaw-dropping, but it's really hard to attractively photograph plants, bushes, and trees that have just been planted.
Once the grass grows in, I'll share the official before and after pictures … but it still might be 1 or 2 more growing seasons until we have that lovely cottage style garden with rose bushes, hydrangeas, and the hundreds of other plants that were all specifically chosen for our yard.
Yeah, I'm just a little excited!