I know this might sound crazy, but one question I get over and over and over again is how we use and organize the space under our kitchen sink.
Because it's a farmhouse sink, we actually had to special-order a cabinet base to fit it; and then we used a template that came with the sink to properly cut part of the front off the cabinet base. So as you can see by the photo above, the cabinets under our sink are REALLY "short".
I knew this, I planned for this, and it honestly wasn't an issue at all when it came time to organize our kitchen.
However, since I very regularly get asked how I manage with such a tiny area under my sink, I figured I'd just show you 🙂
.
What do you store under your sink?
As you can see by the picture below, the plumbing pipes and garbage disposal take up the majority of the space under the sink. We basically only have room for our plastic dishpan (which contains all our kitchen cleaning supplies) and dishwasher tabs.
Here's a closer look at what we keep in the dishpan.
That's it.
We literally don't keep anything else under our sink — partially because there isn't room, but also because I've never liked the idea of storing stuff where it COULD potentially get wet and where it's really hard to reach.
This method has been working very well for us for over a year now, so we don't have any plans of changing or altering it — but I'm always open to change in the future if it stops working.
.
Now if you're like many people I know, your next question will probably be…
Where do you keep your trash can?
Unlike the many Dutch people in our families, we can't keep our trash can under the sink – unless we had a tiny can that we emptied every day.
We realized this when we were laying out our kitchen design and planned to keep our trash can in the cabinet to the left of the sink — along with our extra trash bags, a dust pan, and hand broom.
This is one of Nora's favorite places to get into mischief 🙂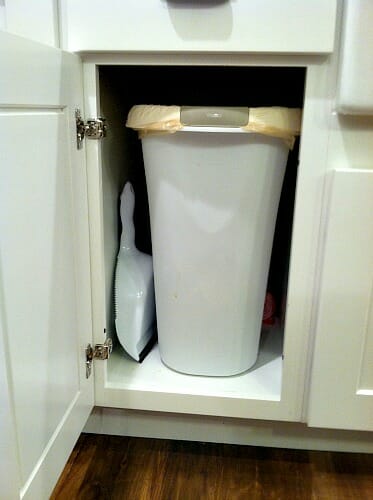 And since I'm already answering some of the more common questions I get regarding our sink, I figured I'd keep going with a few other questions I'm asked on a very regular basis.
How do you wash AND rinse your dishes with only a single bowl sink?
I get this question ALL the time… and it makes me laugh every time. Honestly, I'm not sure why this is confusing for people, but never-the-less, I figure I'd answer it in this post.
It's actually really easy!
We just wash the dishes inside the sink, rinse them over the sink with hot water (so the water in the sink doesn't get cold) and then set them out to dry on my most favorite drying mats.
We purposely chose a faucet with a high goose neck so we would have LOTS of space between the water level in our sink and the end of the faucet. This way, it's very easy to wash and rinse dishes in the same single-bowl sink.
Here's more information about our specific faucet.
Sometimes (not very often) we only have a couple dishes to wash that we don't want to put in the dishwasher, so we use a small dishpan or large bowl to hold a little soap and water to wash those few items.
How do you clean and care for your sink?
I've actually already answered this in another post — you can read about it here!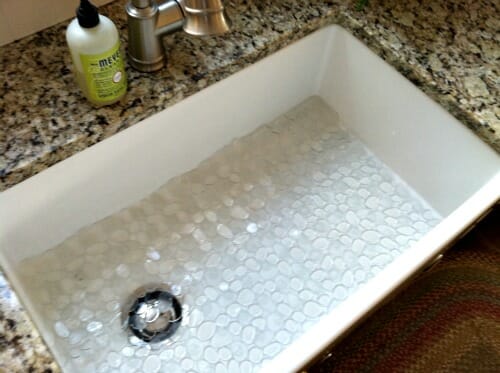 What exact sink did you buy?
We purchased our sink online from Signature Hardware. I had never purchased anything from them before, but we were VERY pleased with the quality of the sink, with their customer service, and with the price (MUCH less than purchasing it from a hardware store!)
I would not hesitate to purchase something from them again — and after reading many reviews, it seems others share my opinion.
I can't find the exact sink we purchased on their site anymore, but this one is almost identical. We have a 30″, single bowl, fireclay sink in white. Ours is finished on all 4 sides so we could have rotated it to put the drain on the right side — but because of our kitchen layout, we wanted it on the left side.
Our sink is under-mounted (which I would highly recommend) but you can also "flush mount" the sink or "raise mount" it an inch above the counter. All options are possible with farmhouse sinks, you'll just need to decide before you order your counter tops and when you cut your cabinet base.
Oh, and if you're wondering where we purchased everything else in our kitchen, check out the end of this post.
If you had to do it again, would you purchase a farmhouse sink?
Yes, Yes, YES!!!
We (and I do mean both Dave and I) LOVE our farmhouse sink and would most definitely put a farmhouse sink in any other kitchen we ever build or renovate.
We love how big the sink is, how easy it is to wash large pans and dishes, how it looks in our kitchen, and how easy it is to clean and care for.
I'm excited to use it to bathe baby #2 — unless he/she is a crazy splasher like Nora 🙂
I seriously have nothing negative to say about our sink. And when I asked Dave if he had anything to add, the only thing he could come up with is that being quite tall (6'3″) he has to bend over a little further to wash dishes since the sink is under-mounted and very deep. Until I specifically asked him to think about it, he had never complained of this before so I don't think it's a deal-breaking issue for us!
.
OK, I think that's it. Those are the most commonly asked questions regarding our farmhouse sink.
If you have more, feel free to leave them in the comments or use the search bar at the top of my site to search for "farmhouse sink". You'll get several posts that show up.