This is an updated post from one I shared 3 years ago — however it's one of my all-time favorite time-saving tips (at least when it comes to grocery shopping), so I figured it was worth sharing again!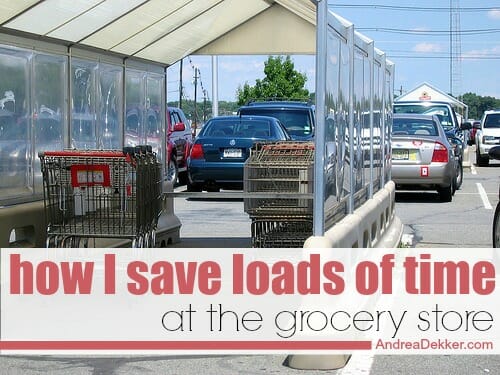 Over the past 9 years of grocery shopping, the amount of money I spend at the store has risen significantly (read more about why in this post). However, the amount of TIME I spend at the grocery store continues to decrease — even as I add more kiddos to the mix!
Part of the reason for my super quick grocery store runs is because I've gotten good at knowing when our local stores tend to be the least busy and the most "stocked" and I try to visit during those times.
However, the main reason I can get in and out of the grocery store in record time without forgetting anything (and letting my kiddos ride the horse) is because of how I organize my grocery list!
Yes, that's right. I actually organize my grocery list every week — but it only takes me about 5 extra minutes, and I guarantee it saves me at least 30 minutes or more in the store.
So HOW exactly do I organize my list??
I organize my shopping list based on the store's layout.
For example, all the dairy items at my local Meijer are in the very back of the store, so I group all the dairy items together and put them at the top of my list.
The baking aisle is usually my next stop, followed by the pasta aisle, the snacks/cracker aisle, then the breakfast aisle, etc. etc.
By that time, I'm just about at the deli, which then wraps around to bakery, and ends in the produce section.
My last stop is the frozen food aisle and then I make my way to the checkout.
By grouping all the items on my grocery list by category (sometimes even by aisle) and then arranging my shopping list to start in the back of the store and work my way to the front, I eliminate TONS of wasted time walking aimlessly up and down the same aisle multiple times. I also rarely forget or overlook anything on my list.
This does mean that I essentially make 2 lists every week. The first list is a compilation of things we ran out of during the week, things we need for the coming week's meals, and anything that's a really great deal in that week's ad.
I make the 2nd list by going through my first list and arranging everything by category and aisle (like I mentioned above). I cross off everything from the first list as I add it to the 2nd list, and then I eventually throw the first list away. This means I'm left with a neatly organized listing of every single thing I need to buy in order, based on my store's layout.
I know this might sound a bit compulsive to some of you, but it literally takes me 5 extra minutes and saves me SO much time in the store (which is helpful when I'm shopping with my crazy kids!)
Oh, and if you can't remember your store's layout, most grocery stores offer maps at the customer service desk — so just ask for one the next time you're there 🙂
Do you categories and/or organize your shopping list?