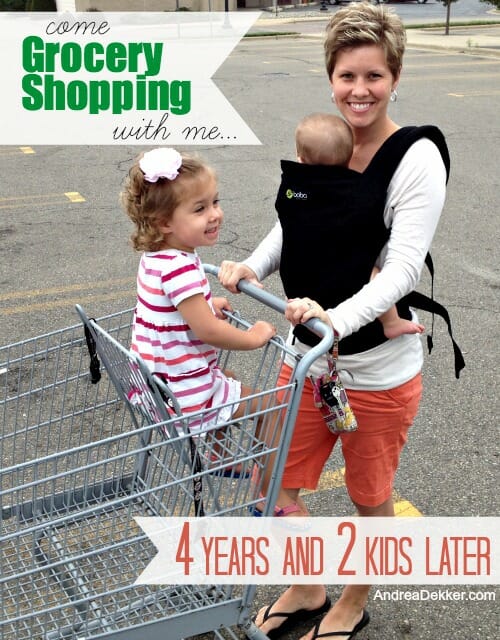 When I first started blogging (about 4 years ago) it was rare that I spent more than $25 per week on groceries.
In fact, it was pretty normal for me to spend less than $15 on groceries for an entire week — like the week I spent $2.56 and got ALL of this!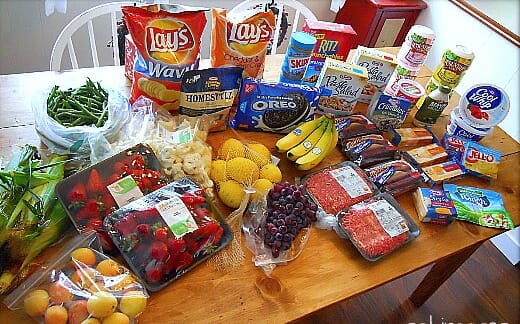 Believe it or not, one week during our first year of marriage, my grocery "bill" came to a negative number — but since the grocery store couldn't GIVE me money, I just said "keep the change" and walked out with several bags of totally free groceries!
Oh, those were the days!
I absolutely LOVED bargain shopping, playing the drugstore game, clipping coupons from the Sunday paper, printing online coupons, visiting multiple stores every week, sending in my rebates, and scouring store ads to find the absolute best deals on our weekly groceries and toiletries.
It was a hobby of mine and something I thoroughly enjoyed doing. It did not take up much time, it was in no way a hardship or burden for me, and I saved hundreds of dollars every week on things we needed to buy anyway.
I'm confident I would still be doing much of this today if the store policies and coupons hadn't changed so much (and if I didn't need to cart two munchkins around everywhere I went!)
Now, 4 years and 2 kids later… our grocery bill has TRIPLED!
I realize that $75 per week probably isn't that bad for a family of 4 — especially since it includes diapers, wipes, paper products, misc. household items, and all toiletries.
However I also know this number will increase again since we're gearing up to start Simon on formula. Up until this point, he's been drinking pumped milk and some Enfamil formula we've been getting almost free thanks to email coupons and "checks" that come in the mail. I know formula is expensive, but we decided that at 6 months, we would start transitioning to more formula as well as baby food (yeah, I'm excited!)
Sometimes it bothers me that our grocery bill has gone up so much in just a couple years, but I also know that it has been a gradual process and a conscious decision.
There are several reasons we have "allowed" this increase in our weekly grocery budget… and since so many of you have asked if we're still only spending $25 per week on groceries, I figured it was time for an updated post!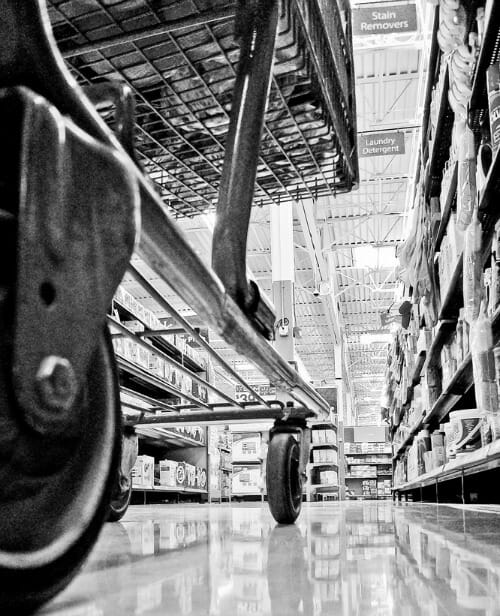 Here are a few of the many reasons why we have chosen to increase our grocery budget so much.
1. Food prices have skyrocketed!
For a while, I thought I was just imagining the higher prices — but then, when I was organizing our new mudroom, I found an old grocery receipt that must have gotten stuck at the bottom of a bag I haven't used in a few years. Before I trashed it, I glanced at the prices and was amazed how much less expensive groceries from the same store were just 3 years ago.
Dairy products, eggs, meat, and produce have become ridiculously expensive; and those 4 items make up the majority of my grocery bill each week.
Nora eats massive amounts of cheese, yogurt, and fruit — and for as long as it took me to finally get her to eat, there is no way I'm going to deny her healthy food choices she'll actually eat simply because I don't want to spend a few extra bucks at the grocery store.
There are weeks when I spend $25 just in cheese and yogurt to feed my 2-year-old — I can't even imagine being able to get all our groceries for the entire week at that price anymore!
2. My coupons sources have "dried up".
To say 'I loved using coupons' would be a huge understatement. I had so much fun clipping, organizing, and using my coupons each week. And it was worth every minute I spent as I usually saved around $40 JUST from coupons each week (which is a lot considering I was only spending $25).
I still try to use coupons every chance I get — but those chances are becoming less and less. We no longer get our local newspaper (read why in this post) so I don't get any print coupons. All the coupons in the mail are junk, and the online coupons seem to always require that I "like" something on Facebook or sign up for an email chain for a low-value coupon. Plus, then I still need to use my printer ink to print them (and cut them out).
I do use digital coupons every week — but I rarely save more than $5 – $10 with those (yes, small amounts add up, but nothing like the $40+ I used to save each week with coupons).
3. We're buying more QUANTITY.
Obviously, with 2 little kids (one of whom never stops eating) we are simply buying a greater quantity of food — which is going to cost more money.
We also entertain a lot more than we did before kids because we're realizing it's SO much easier to have people come to our house than go anywhere else 🙂 Although other's often bring food to contribute to the meals, I've been baking more treats, buying more snacks and drinks, and preparing more meals than I did in previous years.
We still aren't the world's best hosts, we do enjoy having people over (especially in the summer when we can be outside) so I've come to terms with the fact that if we want to have people over, we simply need to have more food available.
4. We're buying more QUALITY.
Dave and I are light-years away from being "foodies" but we have started to buy some higher quality foods every now and then.
We're buying better cuts of meat, delicious fresh salsas, tons of produce, nicer breads, some sweet-treat splurges, and even nicer beer (per Dave's request — I can't stand the stuff). We figure since we rarely go out to eat (besides Culver's and Arby's usually once a month) we can spend a little more on quality foods to eat at home.
Although it's been fun to spend a bit more on these non-necessities, I can't say it's been easy on me. As crazy as it sounds, I have a running mental dialog almost my entire shopping trip. "Should I get this one, or splurge on the nicer one for $2 more? We don't need the nicer one, but it would be fun to have this treat. But we don't need it. But Dave would love it. Does it make sense to spend more?"
No, I'm not joking!
You can take my coupons away, but you can't undo years of "frugal training" from my mother!
5. I'm simply less concerned with how much we're spending.
I'm not sure how to say this in a tactful way — but for the first time in our married life, we have more money than time 🙂
This is not to say that we are "rolling in the dough"… but rather, that we have never been busier before. We're very busy with our jobs, very busy with house projects, and very busy with our children.
Although we definitely want to be good stewards of our financial resources, we also need to be good stewards of our time. We are acutely aware of the value of our time and we're not willing to "waste" large amounts of time to save $5.
If we need bananas, grapes, strawberries, milk, chicken breasts, and cheese, but none of those items are on sale at Meijer, I'm going to buy them anyway — even if they are on sale at a different store. I'm just not willing to visit multiple stores to save a couple dollars, because it's not worth my time investment at this point in my life (not to mention neither of my kids love to run errands with me).
This has been hard for me as I grew up ONLY buying something if it was on sale. It honestly wouldn't be that much extra work for me to visit a couple extra stores each week — but shopping with kids totally stresses me out, and the faster I can get in and out, the better! It's worth it for my sanity as a mom to pay more if I can shave 30-40 minutes off my errands each week (not to mention saving on gas by only driving to one store).
.
Although many of my extreme-savings have gone by the wayside, there are still a few ways I do manage to save on groceries:
1. I shop the sales as much as possible.
Even though we don't get the newspaper anymore, I can still look up the store ads on my phone or iPad (I would highly recommend the free Weekly Ads App for this).
I plan our meals around what is on sale, and stock up on anything non-perishable and freezable when I can.
As I mentioned above, not everything I buy is on sale, but by planning our meals around mostly on-sale items, I'm saving about $25- $35 per week… not to shabby!
2. I buy store brand whenever it makes sense.
I do ALL my shopping at Meijer (which is basically a glorified Super Walmart). I can find almost anything and everything I need in one location — which is amazing.
They also have a pretty fabulous store brand of almost everything — and it's significantly less expensive than manufacturer brands. Their diapers, baby wipes, and formula are 1/2 the price of national brands — and I'm sure I don't need to explain how much of a savings that adds up to!
Meijer also runs special sales on their store brand — so it often makes sense to buy almost all Meijer brand items (especially now that I don't have nearly as many manufacturer coupons).
3. I only shop once a week – with a list.
It is EXTREMELY rare that I would visit the grocery store more than one time a week — probably only if we were having people over and there was no way I could make do without a specific ingredient. This obviously saves me both time and money because I'm not being sucked into making an impulse purchase on multiple different trips throughout the week.
Also, I can honestly say that I don't think I've ever stepped foot inside a grocery store without a list. There is no way I would remember everything I needed to buy without a list — and without a list, I would most definitely come home with unneeded items (a.k.a. wasted money).
Oh, and incase you aren't convinced that I'm 100% Type-A — read this post to see how I create my shopping list to save the most time in the grocery store!
4. I plan ahead.
As I mentioned last week, I dutifully plan our weekly meals and do my best to stick to that plan. And since I usually plan our meals around the sale items, I'm able to save a considerable amount of money by sticking to our meal plan.
I'm also always looking ahead in our schedule to see if and when we'll be having people over. I try to stock up on paper products, napkins, drinks, and snacks whenever they are on sale to make it easier to say yes to company without feeling like I need to go out and buy $100 worth of groceries.
Although our grocery bill is significantly higher than it was just a few years ago, I'm still doing my best to save where I can — and trying to enjoy the fact that we are actually able to spend more without undoing our entire budget.
I realize that much of our increased spending has been OUR choice. We are choosing to have more children, do more entertaining, eat more quality foods, and shop at only one store. It's a privilege for us to be able to make these choices — and I try to always keep that in mind when I'm swiping my card in the checkout lane.
From what I'm told (from moms with older kids) our grocery bill will only continue to rise — and I'm OK with that.
Who knows, maybe when the kids are older, I'll leave them at home and enjoy running errands all over town to find the best deals again!
But for now, this is how we roll — only picture Nora with cookie crumbs all over her face, Simon dead asleep in the carrier, and me somewhat frazzled and sweating profusely by the time we reach the checkout 🙂