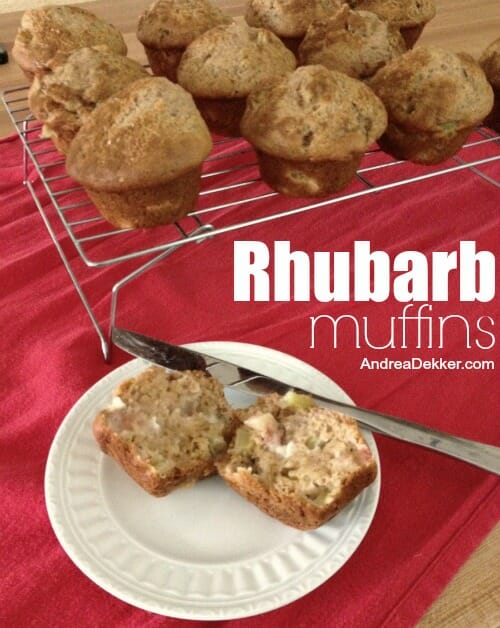 I've been on a muffin-making kick lately — my most favorite Banana Chocolate Chip muffins, chocolate zucchini muffins, blueberry muffins, etc.
So when I realized my rhubarb plant had plenty of rhubarb for muffins, I flipped through my files and found my rhubarb muffin recipe.
However, I switched it up a bit this time. I will often use applesauce in the place of oil when I'm making fruity muffins… but this time, I used strawberry applesauce in place of the oil (mainly because I bought it but my kids won't eat it and I don't know what else to do with it!).
The muffins tasted amazing… and I'm thrilled to now have a yummy recipe to use up the rest of that store-bought strawberry applesauce 🙂
If you're looking for a quick and simple recipe to use up some rhubarb, give this one a try!
Recipe for Rhubarb Muffins
Makes 12 muffins
INGREDIENTS:
2 c. all-purpose flour
3/4 c. granulated sugar
1 T. baking soda
1 tsp. cinnamon
1/2 tsp. salt
1 c. sour cream
1/2 c. oil, applesauce, strawberry applesauce, OR melted butter (1 stick)
2 eggs
1 tsp. vanilla
1.5 c. rhubarb (washed and diced)
cinnamon and sugar (optional topping)
DIRECTIONS:
Preheat oven to 400*F. Grease 12 muffin cups and set aside
In a large mixing bowl, combine dry ingredients
In another mixing bowl, whisk wet ingredients (do not add rhubarb yet)
Stir wet ingredients into dry ingredients until just combined
Stir in rhubarb (the batter will be quite thick)
Spoon batter into prepared muffin tins (I fill them pretty full because I like "tall" muffins)
Sprinkle with cinnamon sugar topping if desired
Bake in preheated oven for 18-20 minutes or until middles are set
Let cool slightly before removing from pan — serve and eat warm!
You could also make this in a 9″ x 9″ pan and adjust the baking time (I'm not exactly sure on the time though). I would make more of a streusel topping if I made it in a larger pan and eat it as a crumb cake.
Another idea would be to drizzle a yummy glaze over the top of the muffins instead of (or in addition to) the cinnamon sugar topping!
Either way, this recipe is a great way to use up some of the delicious rhubarb that's readily available all over Michigan.
What are your favorite rhubarb recipes?
I have several more easy rhubarb dessert recipes on the blog… and as always, feel free to visit my virtual recipe box for more simple, delicious, family-friendly recipes!