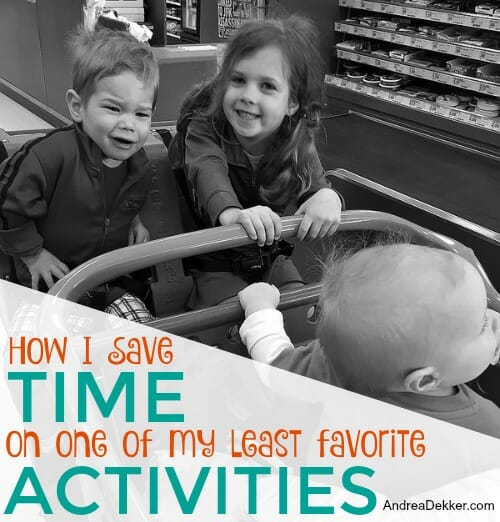 Grocery shopping is one of my necessary evils right now. I have to buy food, but it definitely isn't one of my favorite things to do — especially not with kids.
Truthfully, my kids are usually quite well-behaved if I take them to the grocery store, but when I take the kids, I have less room for groceries in my cart and I always feel more rushed and frazzled trying to answer their questions and watch where they are while making sure I find everything on my list. However, if I don't take the kids, I still subconsciously rush because I don't want to "waste" my precious kid-free hours at the grocery store.
Sigh…
I used the glorious Curbside Pickup service all last year, but the price increased this past Fall and I didn't want to pay the extra fee every week — so I'm back to grocery shopping again.
I try to go when Nora is at school or after the kids are sleeping — and, despite the fact that I previously loved finding all the deals at various stores — I now only go to one store.
If, for some reason, I can't find what I want/need at that one store, I order it online or just do without.
I'm often asked about why I switched to only shopping at one store, if I think I spend a lot more, and if I think the time-savings is worth it for me… so I thought I'd share a bit about my grocery shopping in today's post!
Main Grocery Shopping:
I do 97% of my grocery shopping at Meijer — and when I say "grocery shopping" I really mean ALL my shopping!
For those of you who have never been to a Meijer grocery store, you truly have no idea what you're missing! Meijer is, hands-down, the most comprehensive one-stop shopping destination for almost anything I need to buy for my current stage of life. (No, this is not a sponsored post, I just really love Meijer that much!)
I realize different Meijer stores will vary in quality and quantity of products, but the 2 Meijer stores closest to my house have an insanely huge selection of produce, fabulous deli and meat counters, pretty decent bakeries, speedy pharmacies, endless options of brands and products, and very comprehensive selections of electronics, home goods, clothing, baby items, lawn and garden, crafts, and more. They even have their own gas station right next to the store and we get $0.10 off per gallon.
Meijer has competitive pricing, clean facilities, helpful staff members, and great perks like online coupons, curbside pickup, and more. Meijer is the main reason I cannot bring myself to shop at Aldi or play the "drugstore game" anymore. It's just not worth it with 3 kids and a laundry list of other things I would much rather spend my time doing. I need to be able to go to one store, buy everything I need, and then go straight home.
Also, Meijer is open 24-hours a day — which means I can go after the kids are asleep or before anyone wakes up on Saturday morning if I really want to miss the rush!
Anyway, I usually hit up Meijer every 10-12 days. I spend about $120 – $150 per shopping trip, and that includes any extra things like batteries, light bulbs, vitamins, baby things, medicine, crayons, etc. I buy TONS of produce, yogurt, cheese, and meat as well — so their prices really are quite good.
A couple reasons I can get away with infrequent trips to only one grocery store is that I am fairly diligent with meal planning on Sunday afternoon, and I write out an organized list of everything we'll need for those recipes, along with anything else we're running low on.
Here's the link to my free printable grocery list that helps me keep things organized for one larger shopping trip (and away from the grocery store as long as possible!)
Quick Extra Trips:
No matter how much I plan ahead, build my pantry stockpile, or keep extra foods in the freezer, we sometimes still run out of perishable items (bananas, strawberries, spinach, etc.) before I'm ready to make another Meijer grocery trip.
And even though Meijer is only about 10 minutes from our house, we have a much smaller, slightly more expensive grocery store within walking distance of our house (Family Fare — for anyone wondering). So I usually walk or bike there with the kids when we need those one or two things (we even walked there last week in the middle of winter to get bananas and a tomato).
Family Fare is more expensive for many things, but it's nice and small, it never has long lines, and they offer free popcorn and suckers for the kids — so it's always a fun walking destination and worth an extra buck or two when I only need to get a couple things.
I can't even remember the last time I entered a Walgreens, Walmart, CVS, Rite Aid, or any other grocery store… and the only time I've been to Target in the last year was to return something I ordered online.
SIDE NOTE: Just last week, Dave and I read that a new Meijer store will be opening about 1.5 miles down the road from us in 2018 — oh glorious day!
Costco:
We got a free Costco membership last February — and although Dave and I were both very excited about it, we do not plan to renew our membership this month.
I've probably only been to Costco 2 times over the 5 months, and I literally only buy 2 packs of muffins, veggie straws, strawberries, raspberries, and eggs — but now they don't even sell the cheap eggs and their prices for strawberries and raspberries aren't that great anymore either.
Also, Costco's hours are horrible — they don't open until 10:00 and they close at 8:30. If I wait until my kids are sleeping, I can hardly drive there, shop, and checkout before 8:30… and if I go right at 10am, I don't have enough time to shop before I need to pick Nora up from preschool at 11:00… and of course, the kids are napping in the afternoon, so that timeframe doesn't work well either.
I can definitely see the benefit of a Costco membership, and there's a decent chance we will try Costco again in the future, but for now, it just doesn't seem to meet a need we have, so it's not worth the extra cost.
MY PANTRY and FREEZER STASH:
One other thing I should mention is that I always keep a bunch of basic staples in the house, so we can always come up with a decent meal, even if we are really low on groceries and I STILL don't feel like going to the store!
pasta and sauce
rice, beans, tortillas and cheese
frozen meats and broth (and even a few cans of soup)
frozen hamburger patties and buns
frozen veggies and canned fruits
waffle mix, eggs, and frozen fruit for smoothies
and of course, peanut butter and jelly (since my kids will actually eat this now – as of about 2 weeks ago!)
Knowing that we always have SOMETHING in the house to eat (and knowing that my family really isn't very picky) makes it a lot more doable for me to make one trip to one grocery store every 10-12 days.
.
I KNOW I could save more money if I shopped at a handful of different stores (I regularly shopped at 4-5 stores each week before I had kids) but I guess this is just one "splurge" I allow myself at this season of life.
So far, I feel 100% confident that the time I save by only going to 1 store is worth the increase in our grocery budget — and I'm extremely thankful we are at a point in our lives where I can make the choice to increase our grocery budget in the interest of saving a huge amount of time.
Grocery shopping still isn't one of my favorite things to do… but by sticking with one store for 97% of all my grocery shopping, I have simplified and streamlined one of my least favorite activities!
How do you handle your weekly/monthly grocery shopping?