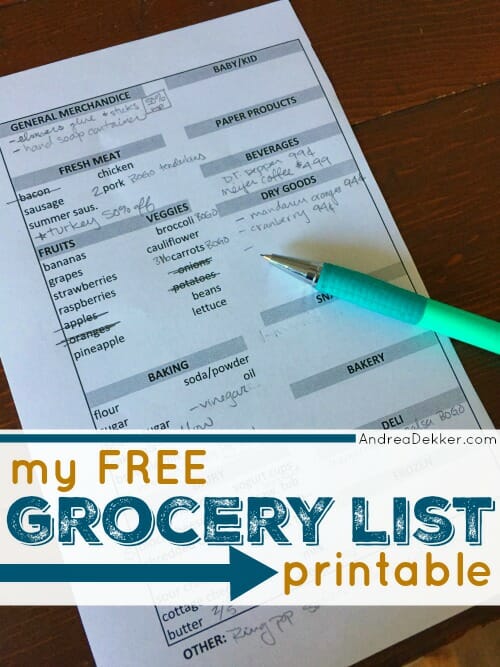 Over the past 12 years of grocery shopping "on my own", I've gone from an ultra-frugal college student eating white bagels with peanut butter, milk, and a few apples to a mother of 3 growing children — who all eat a surprising amount of food!
I've gone from using the little baskets to using the jumbo carts.
I've gone from spending less than $20 a week to spending almost $120 a week.
I've gone from shopping at 4-5 different stores each week to doing ALL my shopping at one store (and ordering it online for curbside pickup).
I've gone from extreme couponing (often saving 3 or 4 times more than I spent) to using just a few digital coupons.
I've gone from shopping just for myself to shopping for my own family and all the extended family, friends, and neighbors we invite over for meals on a regular basis.
In 12 years, I have shopped for groceries nearly 6000 times (if you consider I used to go to multiple stores each week).
That's A LOT of groceries!
Obviously, a lot has changed since the beginning of my grocery shopping "career", but one thing I've always done to save myself boatloads of time and energy at the store is to write out my grocery list based on the store's layout.
general merchandise
baby items
meat
produce
paper products
beverages
baking
dry goods
dairy
snacks
bakery
deli
frozen foods
Thanks to my organized lists, I almost never forget anything, I almost never need to backtrack once I'm in the store, and I usually make it out of the store in record time (even with my kids along).
When I realized how much time I saved writing my list by the store's layout, I actually created an Excel document with my store's food categories organized from the back of the store to the front.
I also typed in the items we buy every week and left plenty of blank areas to write in anything else I need to buy.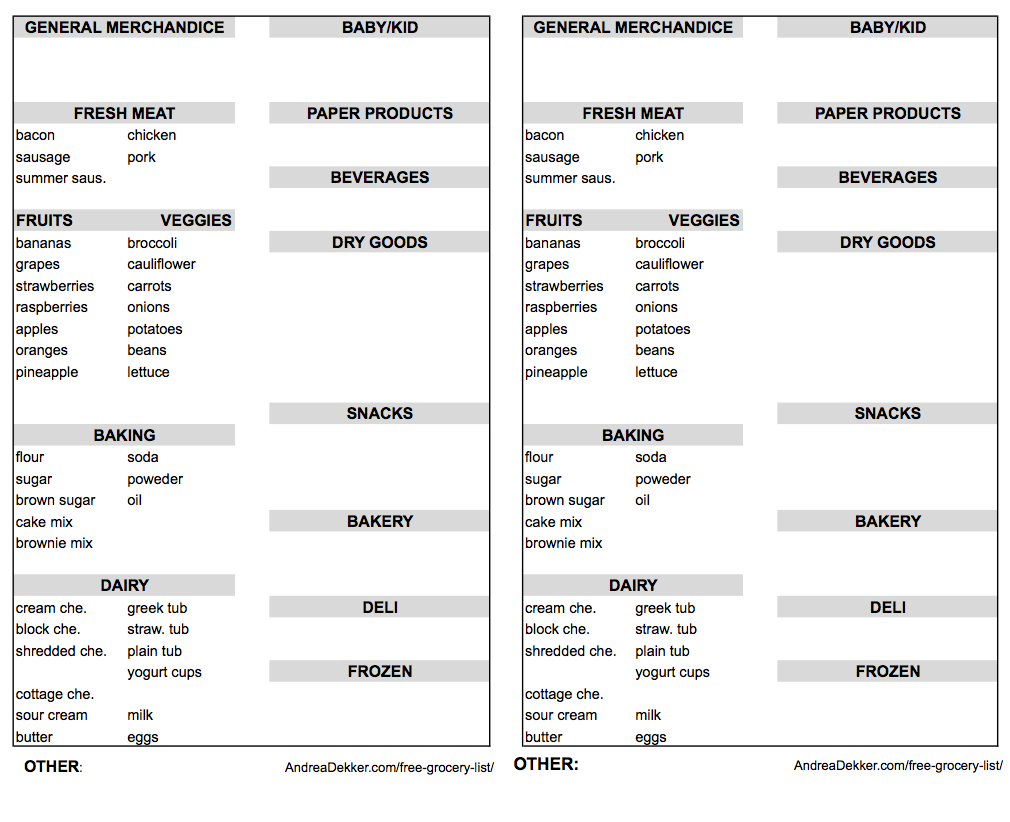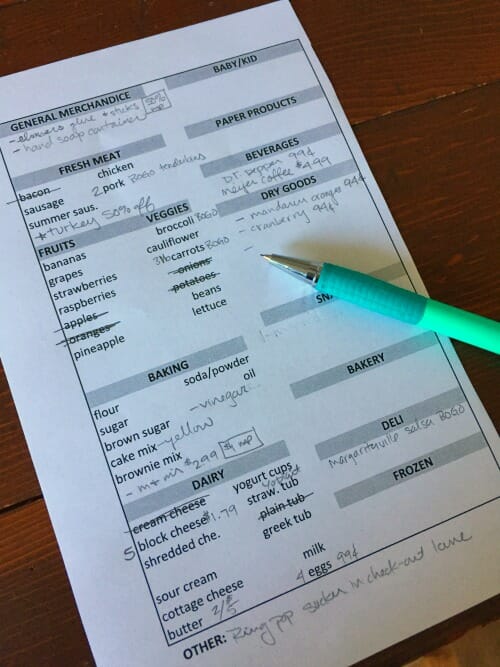 It only took me about 20 minutes to create this printable grocery list, and I can't even begin to estimate how much time it has saved me (and will save me in months and years to come!)
I just cross out anything I don't need to buy that week, add anything I do, and I'm ready to go!
No more re-writing "bananas, strawberries, milk, eggs, cheese, yogurt, beans, broccoli" over and over and over every week — and no more re-writing my entire list so it stays organized based on the store's layout.
This list also allows me to quickly and easily add things throughout the week without messing up the organizational flow as each category is already in place based on our store's layout. So if I add one more thing to the dairy section, it won't throw everything off.
Plus, if our store's layout changes, or if our eating preferences change, I can simply update the Excel document and print off a bunch more copies!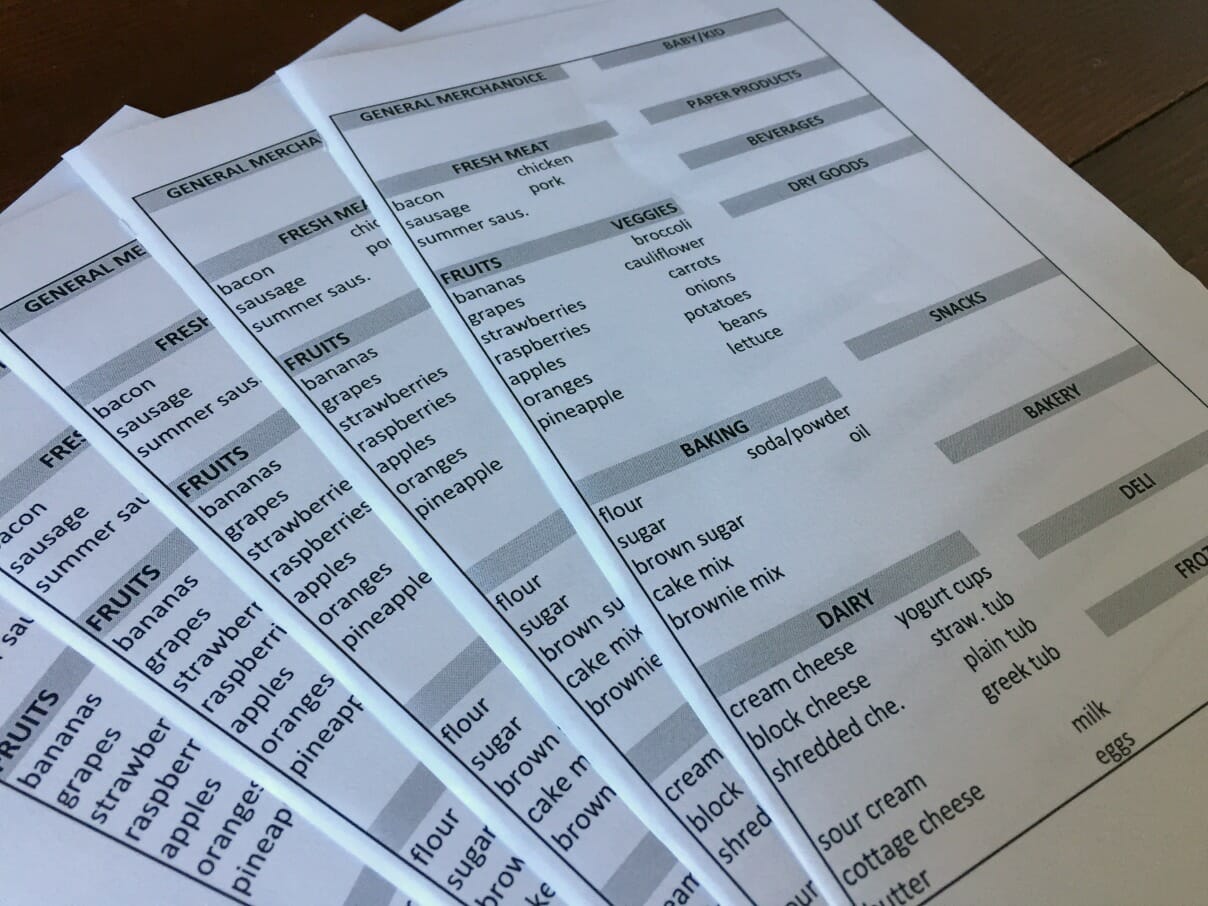 Want to try my FREE Printable Grocery List?
I made this (very basic) document for myself and my own needs — but I figured it might be useful for some of you too! You are free to print them, download them, edit them, and share them with friends.

Editable PDF Doc (this will open in a new window and you can edit the contents of each cell)

Excel Doc. (this will download to your computer and if you have Excel, you can completely edit the categories, content, spacing, etc.)

** I do not think the Excel version will work properly with Pages or Google Docs… sorry!
.
But What About Curbside Pickup?
Many of you know that just over a year ago, I absolutely fell in love with the ultra-convenient curbside pickup service at our local Meijer store. I ordered my groceries online and scheduled a time for Dave to pick them up on his way home from school.
It was GLORIOUS, and the perfect solution to life with 3 little kids under 4.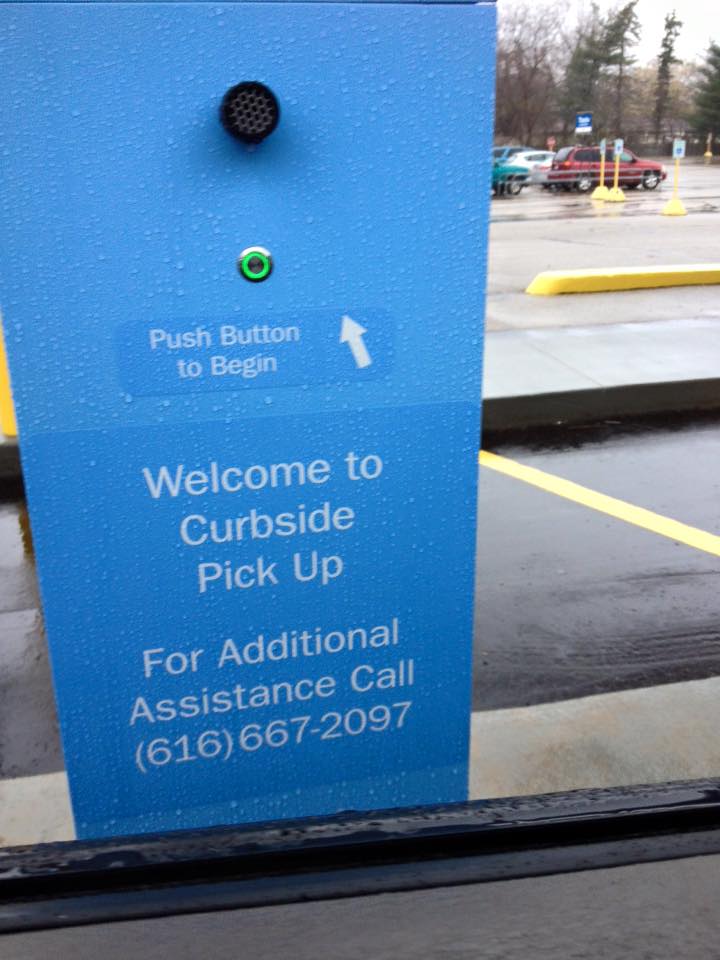 However, I took a break from curbside pickup when Dave was home over the summer… and right after I wrote this post about how much I loved using curbside pickup, they upped the fee to $10 per order!
Now, technically, $10 per order isn't the end of the world — especially considering how fabulously convenient it is to simply pull up and have someone load up all my groceries.
BUT, that could easily add up to $500 – $600 a year (and that seems like a lot to me).
Plus, since Nora is in school 2 mornings a week, I can get out with just Simon and James… or I wait until Dave is home from school around 3:30 and go all by myself (it's practically like a mini vacation!)
I will still do the curbside pickup on extra busy weeks, but I don't do it nearly as often as I did last year.
.
A Few More Grocery-Related Posts:
7 Ways I Save Time and Money at the Grocery Store
My Tips to Cut Costs on Groceries
How I Save LOTS of Time at the Grocery Store
My (old) grocery shopping, list-making, coupon-clipping system
10 Reasons our Grocery Budget More-Than Doubled
Why I Started using Curbside Pickup after 3 Kids
.
I hope these free printables help you reduce some of the time, effort, and energy you spend thinking about and shopping for food for your family each week!
Happy grocery shopping!