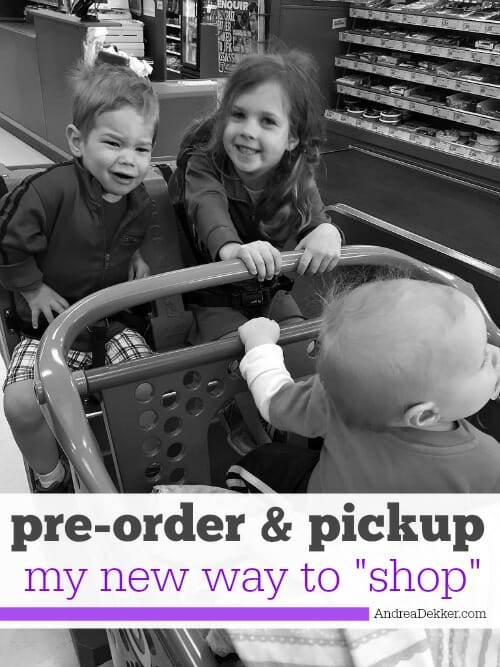 As many of you know, I really dislike shopping — especially shopping with children along. There are just so many other things I'd rather do, and so many other ways I'd rather spend time with my kids… so "shopping" rarely makes it on our daily to-do lists.
I'm certain I have saved myself thousands of dollars over the past few years by simply NOT shopping and doing without things I really don't need. However, there are some things we really just can't do without… like groceries, diapers, soap, etc.
Over the past year, in a quest to basically eliminate the need to shop anywhere, I have found SO many pre-order and pickup (or pre-order and have it delivered) services that have saved me boatloads of time, energy, space, and most importantly, my sanity.
You might think these services would be expensive — but believe it or not, many of them have actually SAVED me money!
If you hate shopping, if you have lots of small children, if you struggle with impulse purchases while shopping, or if you don't live extremely close to your local stores, I hope some of my pre-order and pickup (or pre-order and have it delivered) options will help you too!
Groceries:
Last September, our grocery store started offering curbside pickup for $5 per order (it was completely free the first 3 months and now some people are telling me it's $10 at some stores). I wasn't sure if I would like it or not, but after a few months I realized how much time and energy this service saved me. And even though I'm not prone to impulse purchases at the grocery store, this service completely eliminated any possibility of making an impulse purchase because someone else was shopping directly from my online order.
I don't use the pickup service every single week (I didn't use it at all over the summer when Dave was home) — but it has been a life-saver for me so many times. $5 is definitely worth the cost if you consider I don't need to load, unload, and wrangle 3 young children through the store, in the checkout lane, etc. etc.
Often times, I'll schedule the pickup to be on our way home from another activity, or I'll have Dave swing through and pick it up on his way home from school. It is SO handy and completely worth $5 for me at this point in my life.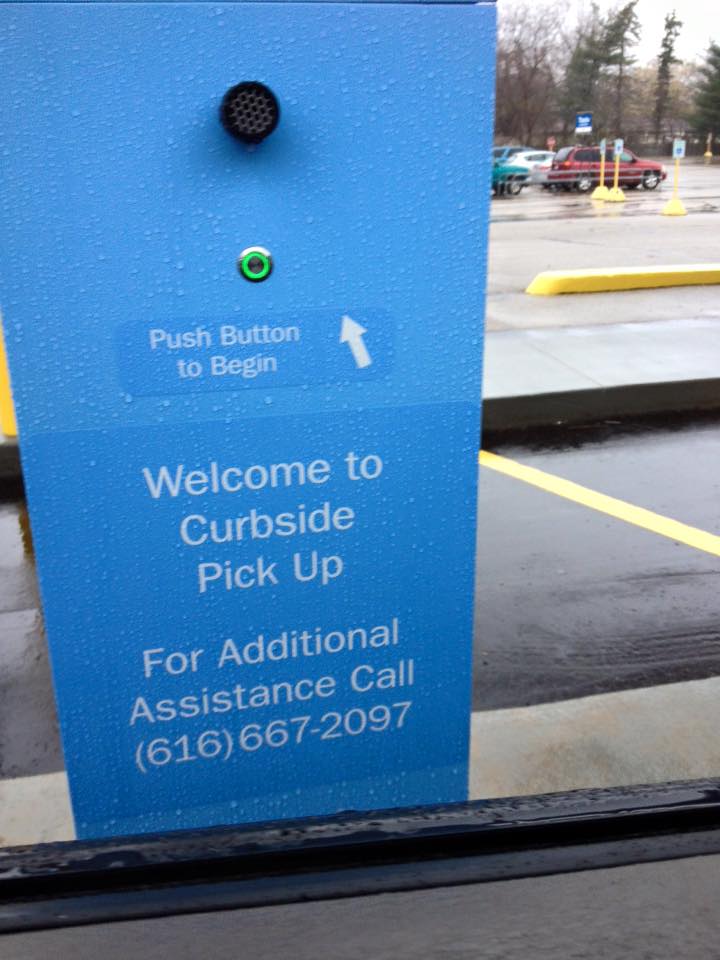 Clothing:
Almost all our clothing is purchased from ThredUp or another online store. However, last year, Dave needed a new white button up shirt in one day — which meant one of us would need to go to the mall THAT day to buy it (we couldn't wait for shipping).
Since Dave detests the mall even more than I do, I started pumping myself up to venture to the mall with all 3 kids to buy him the shirt. However, I quickly hopped on Kohl's website to see if I could find exactly what I wanted before we got to the store. Much to my surprise, I could order and pay online, and simply pick up the shirt later at the store!
They did the shopping for me and emailed or texted me when the item(s) were ready for pick up… and since the mall is right next to Dave's school, I forwarded him the pickup notice in my email and he picked up his own shirts on the way home from school!
Since then, I have used this feature several times for clothing for our family — I can still use my coupons and any other deals, but all I have to do is walk into the store, show the email, grab my items, and go. It's a HUGE time save!


Library Books:
I know we don't actually PURCHASE books from the library, but have you ever tried checking books out at the library with 3 young children in tow? It's very challenging to say the least!
Since we visit our local library weekly for various free programs, story hour, coloring days, special events, and just to get more books, I pre-order (or put a hold on) the books I want for the kids online, and simply pick them up on our weekly visits.
It's such a fabulous way to "do the library" with kids — I get the exact books I want, I don't have to find them on the shelves, I'm next in line for any books that are currently checked out, I can get books from many other libraries in one location, and all I have to do is walk up to the counter and ask for my stack of books.
Even if you don't visit the library regularly, this is by-far the most efficient way to use the library!
Furnace Filters:
Just over a year ago, I started using the FilterEasy filter delivery service, after constantly forgetting to change out our furnace filters, or not being able to find the right size whenever I did actually remember to buy them.
Our furnace filters are now delivered right to our front door every 2 month (I can change the schedule) so I never have to worry about forgetting or buying the wrong size.
The shipping is always free, the filters actually cost less then the filters I was previously buying from the store, and I don't ever have to leave my house (and risk making another impulse purchase while I'm at the store).
NOTE: I am not being paid to promote Filter Easy, but if you sign up through this link, you'll get $20 off your first order of filters (and you can probably get 2 or 3 filters for that price).
Diapers, Wipes, and other Household Goods:
For almost 3 years, I've used Grove (formerly ePantry) to pre-order all our diapers, baby wipes, dishwasher detergent, toilet paper, paper towels, toothpaste, lotion, and other household cleaners and toiletries I don't make myself.
This means I can order exactly what I need and have it delivered every month (with free shipping thanks to my VIP membership).
This also means I don't buy MORE than I need, I don't overspend, I don't have to store massive amounts of product for months at a time, and I don't make impulse purchases. Oh yeah, and I don't need to leave my house 🙂
NOTE: Again, I'm not being paid to share this post… but if you use this link, you can get $10 off your first Grove order of $20 or more!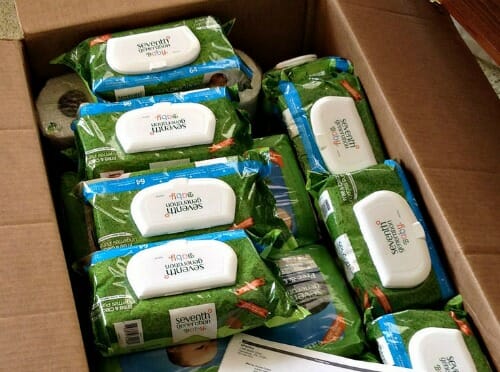 Amazon Subscribe & Save:
Amazon subscribe and save basically allows you to buy almost any type of food, toiletry, cleaning product, or other "usable" item for a discount and have it regularly delivered to your front door each month (or however often you request it).
I don't use it as much as I should (mainly because I use Grove for most of these items) but it's such a fabulous way to avoid heading out to the store, avoid extra purchases, save time, save energy, save money, etc.
I have friends who use Amazon for basically everything and they swear by how convenient it is!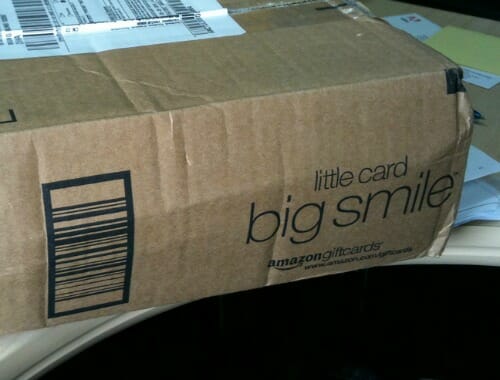 Google Express:
Over the summer, I received a promotional offer from Google Express. It came with a $25 gift card to Costco just for signing up (and I could cancel at any point).
So not only did I get $25 worth of free Costco goodies, I also got free super-fast shipping right to my front porch, I saved myself a trip to Costco with 3 kids, and I avoided any impulse purchase as Costco (probably the worst place for me in terms of impulse purchases!)
I honestly have NO idea how or why I got this offer from Google Express, but from what I can tell you can buy almost anything from anywhere using Google Express — so it might be something to look into for my fellow friends who hate shopping 🙂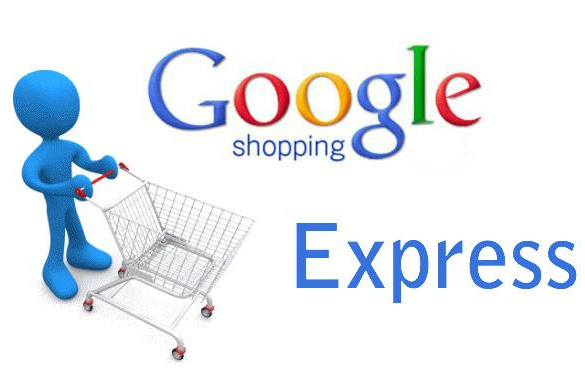 What if you can't pre-order?
If, for whatever reason, you can't (or just don't want to) pre-order and pickup, or pre-order and have the items delivered, here are a few of my money-saving, time-saving, sanity-saving shopping tips:
1. Make a list.
Every shopping experience will be better, faster, and more efficient with a list — even if you're shopping at garages sales or online from home!
2. Shop alone.
I know this might be impossible for some of you, but shopping alone is always faster. Plus, you're less prone to make impulse purchases when you're focused on getting in and out and only shopping from your list. There have been many times when I've gone grocery shopping at 10:00pm and I'm always amazed how fast it goes!
3. Don't shop if you're hungry, tired, upset, or desperate.
You probably all know this — but just in case, I figured it was worth mentioning 🙂
You WILL buy more if you're hungry and tired… period! And if you wait until the last minute to buy a gift or food for a party, you will most likely spend more because you don't have time to look around or shop sales.
.
A Few Related Posts:
If you're looking for more ways to avoid stores and shop online, here are a few helpful posts.
My 5 Favorite Online Shopping Sites
4 Ways I Save (and Simplify) With Online Shopping
How I Get Cash Back by Shopping Online
I can't tell you how fabulous it is to know that so many of my weekly and monthly shopping needs are automated, pre-ordered online, available for pickup, or delivered right to my home on a regular basis.
It's so much less to think about and worry about… and like I mentioned above, I'm honestly SAVING money by utilizing most of these services — win, win, win, win!
Do you use any pre-order and pickup services?