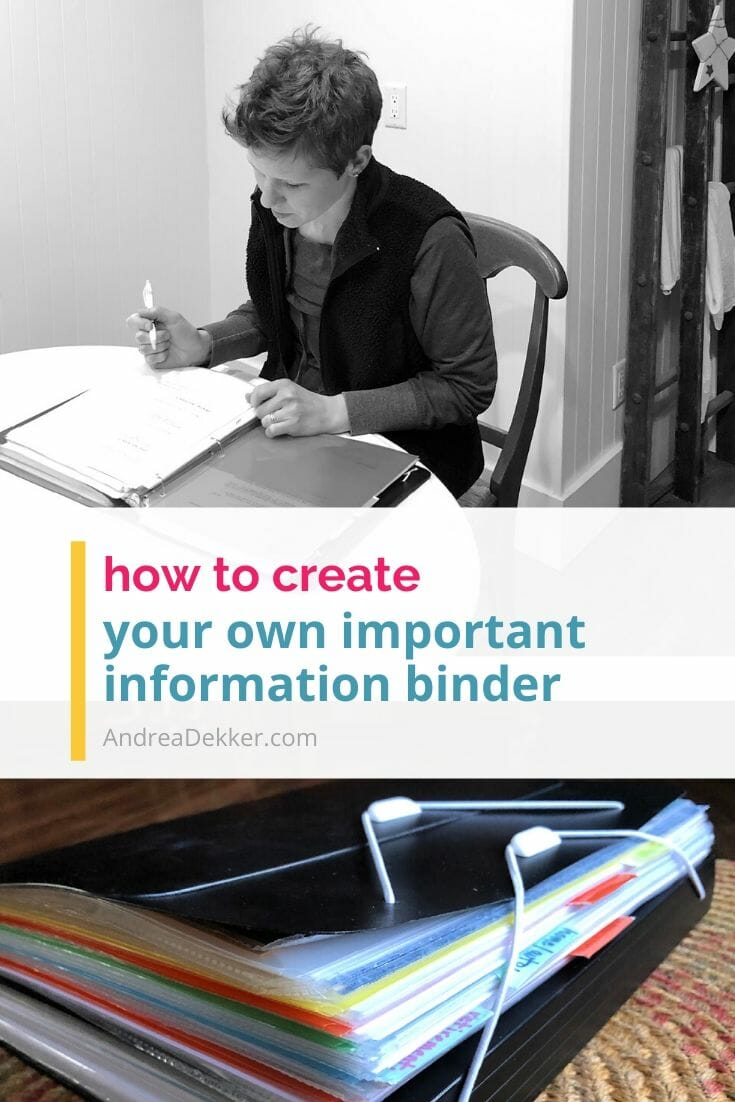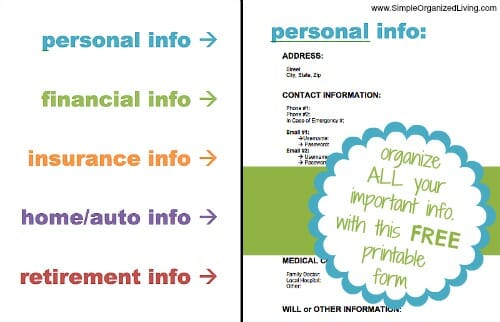 UPDATE: I wrote another with significantly more detail about our Important Information Binder — as well as tips and instructions to create your OWN binder!
---
I'm sure it comes as no surprise that I really LOVE keeping all our important information neat, organized, and in one place 🙂
Because of this, I've always been the one "in charge" of our finances — not because Dave couldn't do it — just because I'm a sick woman and get so much pleasure from balancing the checkbook, finding (and fixing) discrepancies in our utility bills, and making sure everything that's supposed to be paid is paid on time each month and each year.
I know, I'm weird!
Anyway, since I also detest paper clutter of any kind, I've opted for only paperless statements that come directly to my email, and I've automated almost every bill, payment, statement, etc.
For example…
Dave's paycheck is automatically deposited into our checking account every 2 weeks (my income all goes into our saving's account)
Throughout the month, we pay for everything with our credit card (groceries, gas, utilities, home expenses, travel, entertainment, everything!)
At the end of the month, our credit card bill is automatically deducted from our checking account (we pay it in full each month)
At the beginning of every month, our mortgage payment, IRA contributions, and a few other investments are automatically deducted from our checking account
Once a year, our home owner's insurance is automatically charged to our credit card.
Twice a year, our auto insurance is automatically charged to our credit card.
Etc. Etc. Etc.
All of this happens without me even lifting a finger — and honestly, over the last 6+ years of doing everything electronically, I've maybe had two issues — which were both immediately cleared up with a simple phone call.
So I'm sure you can imagine how much time this saves me, how much space it saves in our filing cabinet, and how much stress it alleviates because I never have to think about it.
The ONLY problem with not having paper statements and having everything so automated is that if anything ever happened to me, Dave would have no clue where all the money is coming from, where it's going, how to access it if needed, who to contact, or what any of our account passwords are.
And, if anything ever happened to BOTH Dave and I, our parents or other relatives would have nothing… unless they knew how to log into my email address and find the statements and contact information in my Gmail folders (and I don't think our parents would think to do this).
Not cool.
So, because I like to keep things as simple and as organized as possible, I created a single binder that contains EVERY piece of important information relevant to our family, our home, and our life.
Every account number, every password, every phone number, every contact person. It's all there… and then some!
Meet my "Little Black Book"!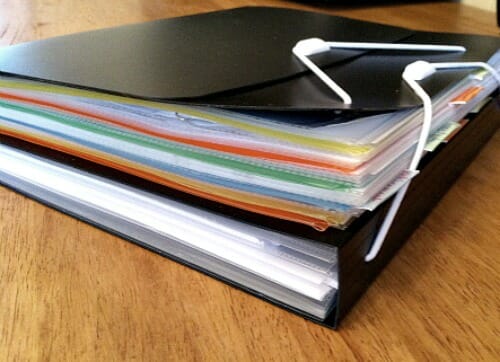 It's actually not that little — it's one of those Duo 2-in-1 Binder Files I gave away last month.
The Duo is one organizing tool that Dave and I each love and use on a daily basis (we have a few of them that we use for many different purposes.)
Anyway, I use my "Little Black Book" to store and organize our personal, financial, insurance, home, auto, and retirement information — all in one convenient location.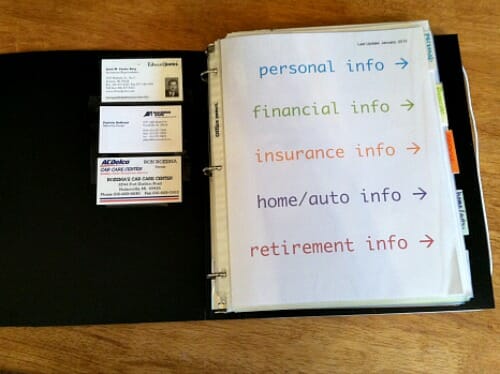 I use the 3-ring binder part (along with a few color-coded tabs and clear plastic sleeves) to organize the majority of our information. As you can see, I also taped a few important business cards to the front flap of the binder.
Then I use the accordion file (with matching color-coded tabs) to organize the bulkier items like insurance manuals, extra checkbooks, property deeds, etc.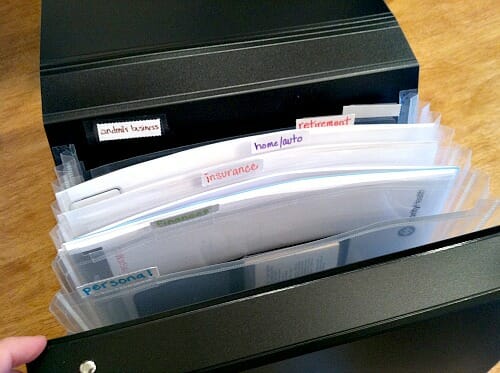 Both the binder and the accordion files have the following tabs:
Personal: (contact information, addresses, driver's license #, social security #)
Financial: (banking, investments, debt)
Insurance: (life, health, dental, etc)
Home / Auto: (mortgage, title, home insurance, auto insurance, auto information)
Retirement : (IRA's, Pensions, 401k's, 403b's)
I also have a section for my business information — but we're not focusing on that today since that won't apply to most of you.
Every document or piece of paperwork for each of those categories is inserted into individual plastic sleeves and put in the 3-ring binder section. Then if there are any documents that don't fit in a plastic sleeve, they go into the accordion file section under the corresponding tab.
Make sense?
I also created a "Cover Sheet" for the very front of each of my main categories. These Cover Sheets serve as a "quick reference guide" to each category.
You can see an example of the Cover Sheet for our "personal info" category on the right side of the image below (click on the image to enlarge it)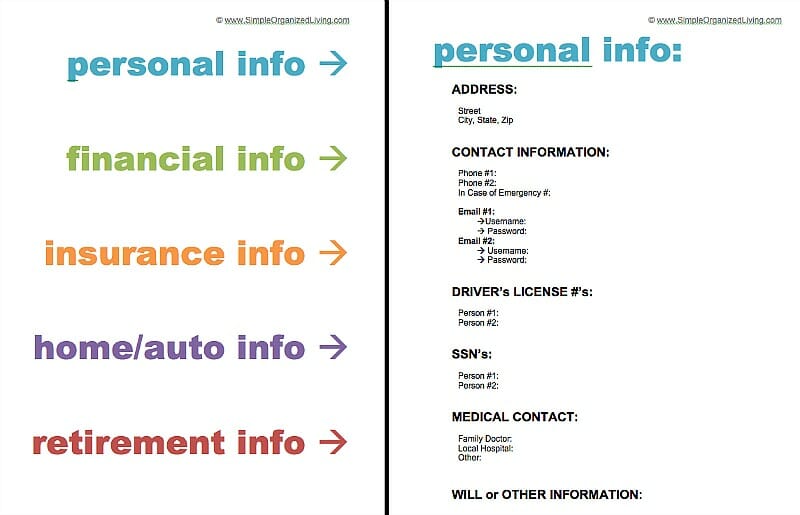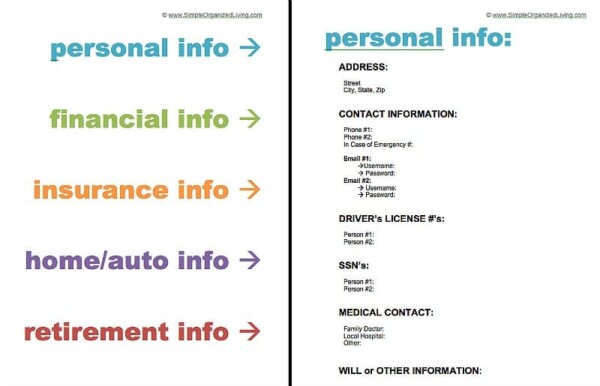 The Cover Sheets contain all the most important information for each category at a glance — then other corresponding documentation and paperwork can be found inside the binder or inside the accordion folder.
For example, within the "personal info" tab, we have the following:
Cover Sheet
Copy of our Marriage License
Copy of all our Birth Certificates and Social Security cards
Copy of our Driver's Licenses and Passports
Copy of Dave's teaching certificate
Important medical records/information (not bills or anything like that)
Copy of our Will (we're in the process of making this so it's not actually in there yet)
The actual documents listed above are all in our fireproof safe.
Not only does my Little Black Book give me (and Dave) peace of mind, it also actually comes in handy on a regular basis as I now have all my paperwork and contact information in one convenient location (I don't have to look through different files in our filing cabinet anymore).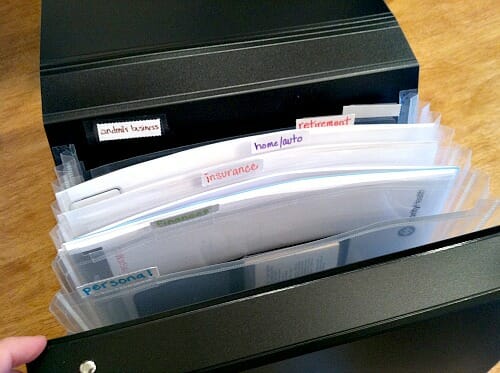 This binder was extremely simple to set up, it's extremely simple to maintain, and (most importantly) it should be extremely simple for someone who doesn't know anything about our family/home/finances/life to come in and pick up the pieces if the need ever arises.
Everything is neat, organized, updated, and ALL in one place!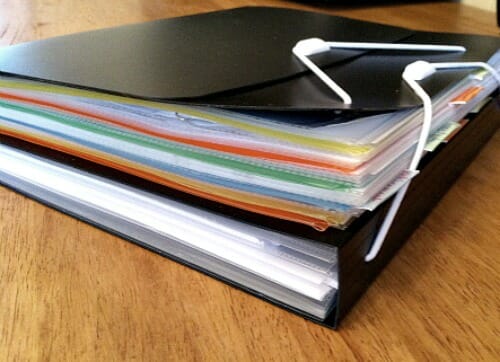 Oh, and in case you're wondering, we also have a digital copy of all the information in our Little Black Book on our portable hard drive (which is in our fireproof safe)… because you can't be too careful 🙂
FREE Printables for You!
I figured that since I already did the work of creating these documents for myself, it wouldn't be too much trouble to let you download a copy of our Cover Sheets… for free!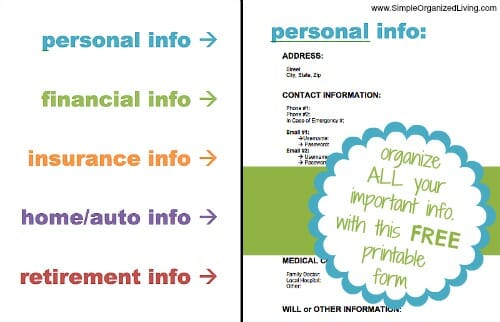 DOWNLOAD YOUR FREE PRINTABLES BELOW — they are just Word documents, and 100% editable (nothing fancy but they work!)
I know it will take a little bit of work to get all your documents together, but it will be SO worth it once you have everything organized.
I know I feel much better knowing that if something ever happened to me, Dave would be able to focus his attention on Nora and other more important things than worrying about finances, home insurance, or other seemingly trivial matters.
How do you store your important information?
UPDATE: I wrote another with significantly more detail about our Important Information Binder — as well as tips and instructions to create your OWN binder!