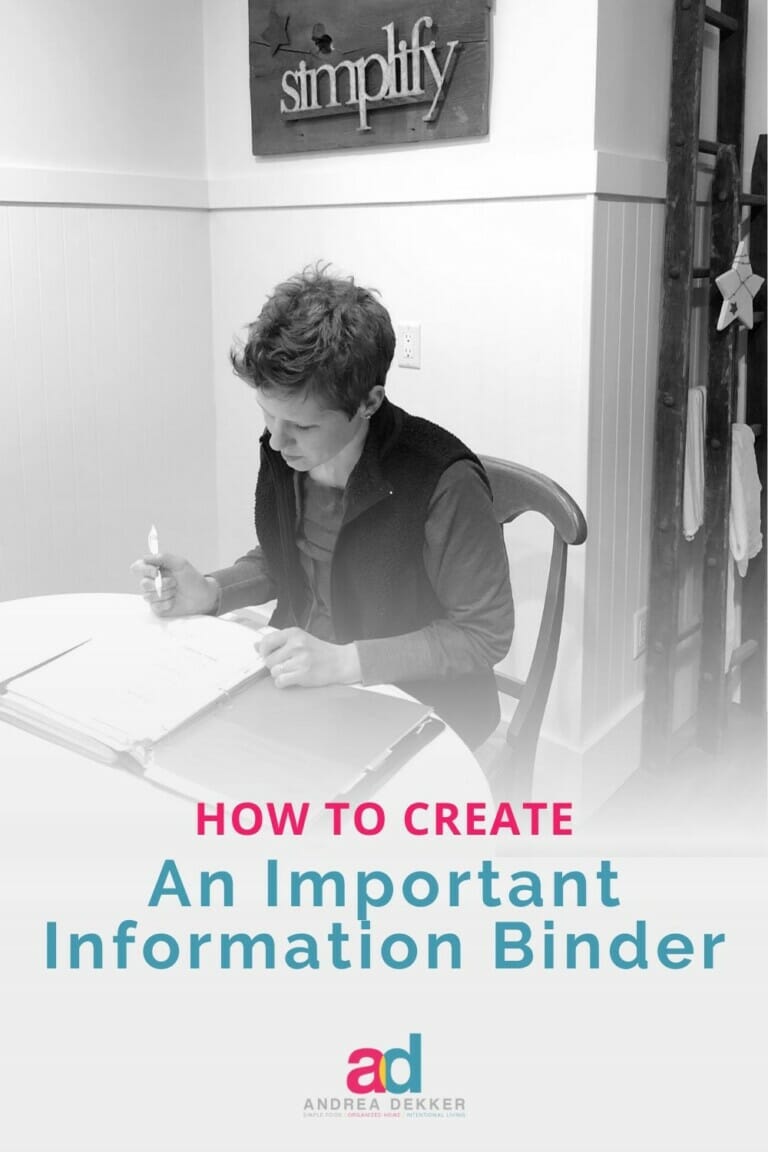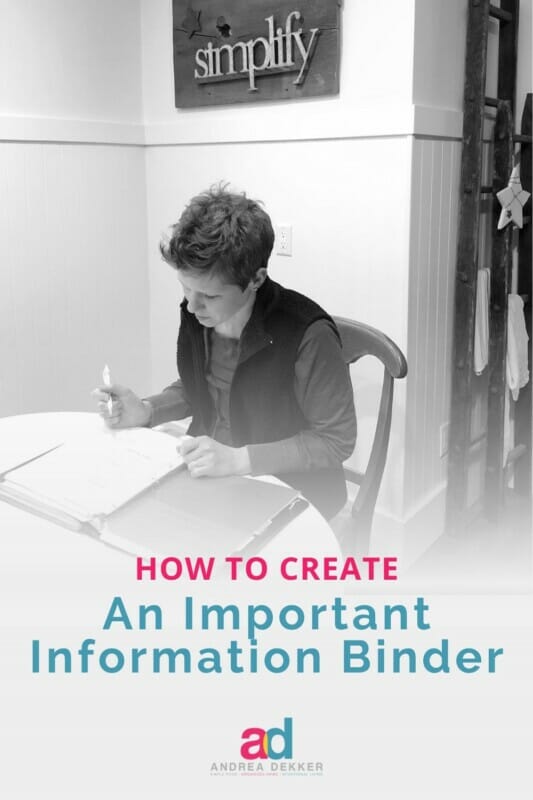 I originally set up our family's Important Information Binder back in 2012, soon after our first child was born.
As crazy as it might sound, this binder was the peace of mind I needed "just in case" something happened to Dave, to me, or to both of us and another family member had to take over our home, our finances, my business, our child (now children!), etc.
At the time, my worst nightmare was not being able to care for my new baby, my business, or our home.
Honestly, this fear is still at the top of my 'nightmare situations' list — which is why our Important Information Binder is so… well… important to me. 🙂
So… what exactly is an Important Information Binder and How and YOU create your own?
I'm glad you asked!
An Important Information Binder is exactly like it sounds — a binder or folder that contains all documents and information that is very important for YOU, your family, your home, your finances, etc.
The binder should be easily accessible (but not right out in the open) in the event of an emergency or crisis situation, and only a few close friends or family members should know the location.
The Binder We Use:
Here's the Amazon link to the exact same Samsill Duo Binder we use — however, it looks like there's only a few available (and only in hot pink!)
Here's a link to a very similar binder with more in stock.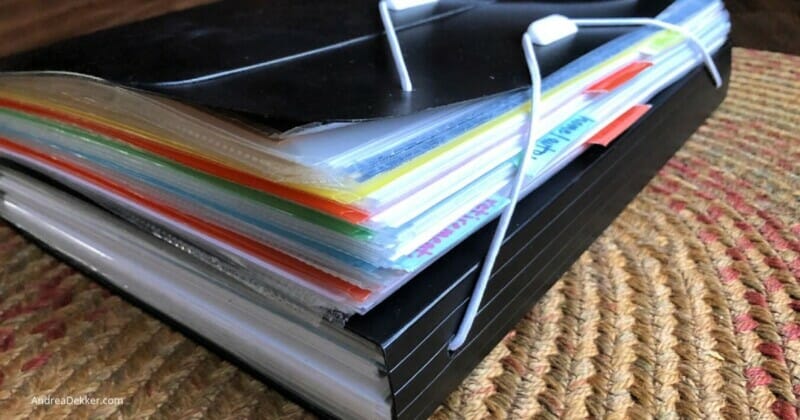 Why We Have an Important Information Binder:
Along with the reasons I mentioned above, I'm also in charge of all the finances for our household and I need to know that these important functions can be completed whether I am around and able to do them or not.
I pay the bills, manage the finances, log into our online accounts, set up new accounts, run my business, and make sure our household and our finances run smoothly every month.
Yes, Dave knows the "big picture" about what's going on with our finances (and I have almost all financial matters set to auto-pay). However, he would be at a loss if he needed specific log-in information for various accounts (especially my business accounts).
Also, as I'll share more about below, our Important Information Binder contains names, address, and contact information for very important people that would need to be notified if something happened to us. No one in our families would know who to contact or how to contact them without this binder.
And finally, I actually use our binder on a very regular basis! It's a handy tool to quickly lookup an account number, find a password, access contact information, etc.
Our Important Information Binder gives me the reassurances that I've done everything I can do to make it as easy as possible IF anyone else needs to step into my shoes for a while.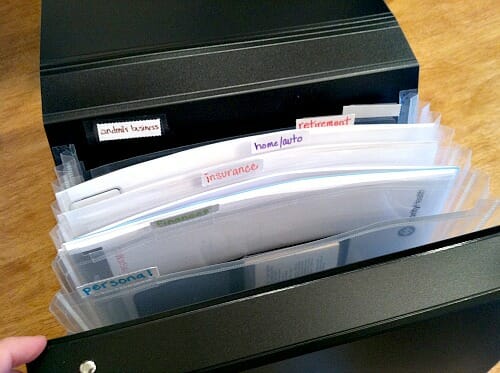 Why YOU Need an Important Information Binder!
Personally, I feel EVERY household should have some type of Important Information Binder for emergency situations (even if you don't have children, even if you are single, even if you are young, even if you are very old and think you have all your "ducks in a row").
You just never know when a crisis or emergency might happen. Someone could die, get seriously injured, go missing, be mentally or physically unable to run a household, or even be unexpectedly away from their home and family for an extended period without time to prepare.
Each of the above situations would require extra outside help from family and friends. And you know what would make life SOOOOO much simpler, easier, and less stressful for those friends and family members who are trying to take over for you?
An Important Information Binder!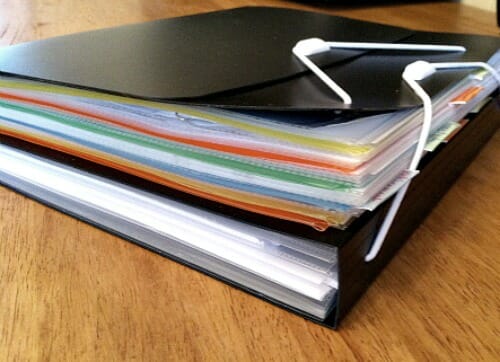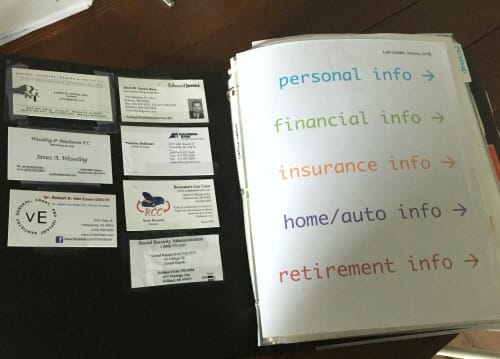 Since I first shared my Important Information Binder on my blog (way back in 2013) I have gotten hundreds of comments and emails from people I've never met, gushing on and on about how my post was just the encouragement and motivation they needed to FINALLY create their own Important Information Binder.
I've read heart-warming stories of how these binders have simplified the lives of complete strangers — reducing anxiety, creating more order and structure, and providing peace of mind.
I've also gotten emails from readers who shared their nightmare stories… explaining that if it weren't for the fact that they had followed my instructions to create their own Important Information Binder, they would have been totally lost.
It's hard to think about these worst-case-scenario situations… but I'd always rather be prepared "just in case". Wouldn't you?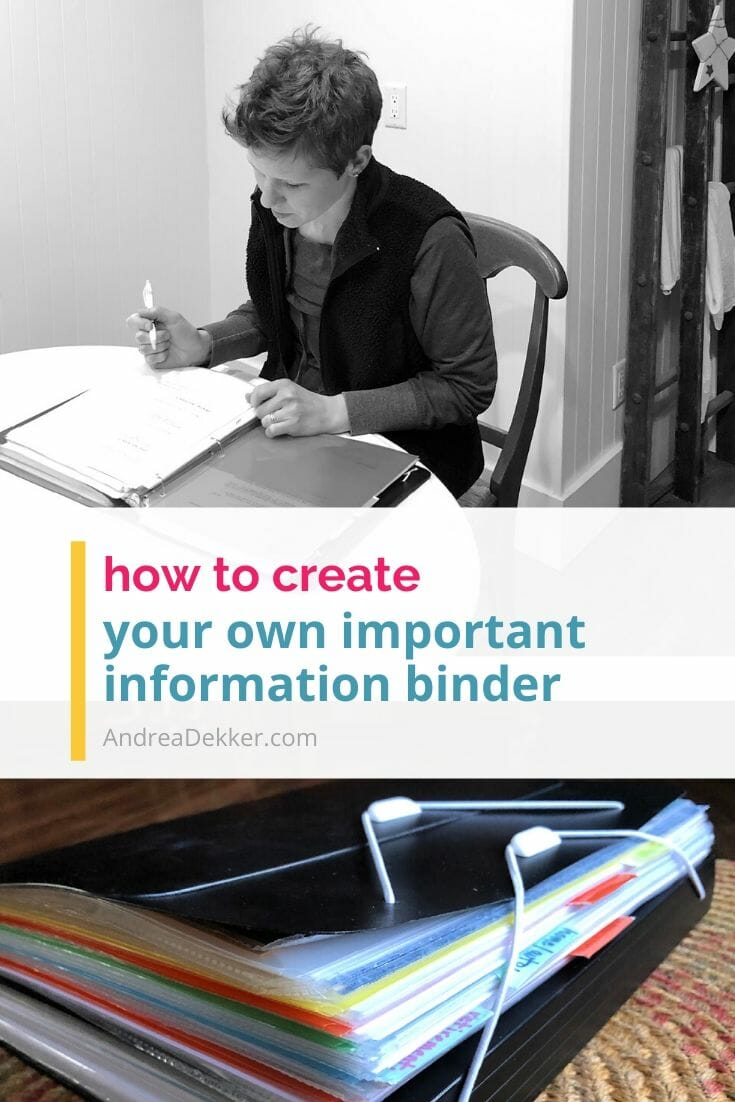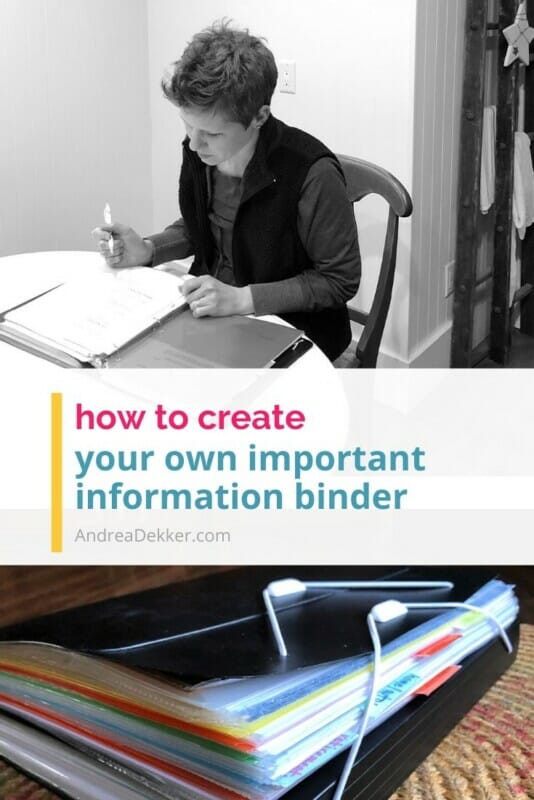 If you're ready to set up your own Important Information Binder…
Start by reading through the list below to see how WE set up OUR binder.
Then download a copy of my FREE Important Information Binder Cover Sheet Printables. The file is a simple Word document, and 100% editable (nothing fancy but it works!)
Next, start to gather all your important documents.
Finally, organize everything, by category (noted on Cover Sheets) in some type of binder.
See… not too bad. Right!?
What to Keep In Your Important Information Binder:
NOTE: I usually make photocopies of our important documents for our binder and keep the originals in our fire-proof safe. Sometimes, depending on the document, I keep the originals directly in the binder.
INSIDE COVER:
Business cards for all our "VIPS" (bank managers, financial investors, accountant, attorney, website developer for my blog, doctors, dentist, mechanic, etc.)
Information regarding the whereabouts of our fireproof safe and the key
PERSONAL INFO SECTION:
Cover Sheet
Photocopy of our Marriage License
Photocopies of Dave and my Driver's Licenses, Social Security Cards, Birth Certificates, and Passports
Dave's most recent teaching certificate
Each of our children's' Birth Certificates, Social Security Cards, Baptism Certificate, and immunization records
FINANCIAL INFO SECTION:
Cover Sheet (most of our financial info is just numbers and passwords, so it's almost all on our cover sheet)
A signed agreement from our financial investor
A listing of all my Savings Bond numbers, valuation, and expiration dates (I got SO many growing up)
Statements showing our student loans were paid in full
INSURANCE INFO SECTION:
Cover Sheet
The current "Annual Report" for both Dave and my life insurance policies
The contract for our health and dental insurance
A booklet of information regarding Dave's life insurance through his school (in the back accordion section of our binder)
A booklet of information regarding Dave and my extra life insurance (in the back accordion section of our binder)
A booklet of information regarding our health insurance (in the back accordion section of our binder)
HOME & AUTO INFO SECTION:
Cover Sheet
Official Warranty Deed showing that all real estate we own is actually owned by our Living Trust not Dave and I personally
Information for our home title, purchase agreement, certificate of survey for our property, and the mortgage payoff
Most recent Property Assessment and Taxable Valuation Report
Information for our home and auto insurance
Certificate of Title, Michigan Registration, and License Plate Renewal Notice for each vehicle
RETIREMENT INFO SECTION:
Cover Sheet
Information for Dave's school's pension plan
Information for each of our Roth IRA's
Dave's most recent Social Security Statement
Document showing that all our retirement accounts are property of our Living Trust
MY BUSINESS INFO SECTION:
Cover Sheet
My most recent LLC filing
My most recent signed W-9
My Business filing through the state
My Employer Identification information through the IRS
A document from the IRS stating that I file taxes as an S-corporation even though I'm technically an LLC
A Membership Certificate stating that my business is owned by me and that the ownership transfers to our Living Trust if anything happens to me.
I think that's everything.
A Bit More About the Printable Cover Sheets:
The Cover Sheets serve as "at-a-glance" reference sheets with the majority of our important information typed up and printed on one piece of paper that we put at the beginning of each section in our binder.
phone numbers and email addresses
usernames and passwords
specific account information
contact information for VIP's
ALLLLLLLL of that information is on the individual Cover Sheets.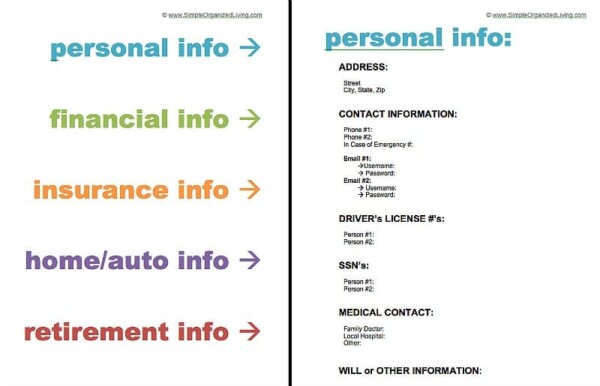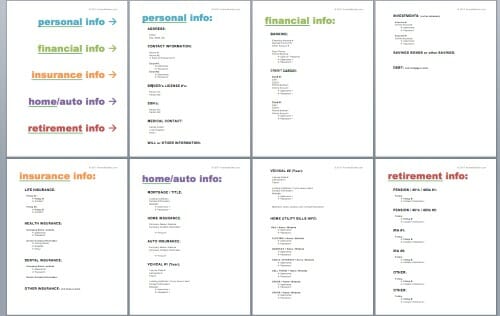 It is a little bit of work upfront to compile all the necessary information (especially if you have lots of different accounts). But since we all have a little extra time at home right now, this is be a great project to tackle!
Once it's done, your Important Information Binder will require very little maintenance (see below).
How often should you update your Binder?
I update our Important Information Binder at the beginning of every calendar year, or if we have a major life-change in the middle of a year (new home/address, changing insurance companies, a new baby with a new SSN, etc.)
This seems to work well for our lifestyle, however, you'll need to decide what works best for you and your family too.
Thanks to my printable at-a-glance "Cover Sheets", it's super quick and easy to update this document and print off a new copy every year.
I can usually get everything updated and the new documents printed off in about 30 minutes!
Where should you store your Binder?
After I fill out the Important Information Binder printable document, I save one copy of that file to my portable hard drive, another "encrypted" copy to Dropbox, and then I print off a hardcopy to actually put IN the binder itself.
We then store our physical binder in a convenient location in our home that we can easily access.
Both our parents know where the binder is located as they would most likely be the people who would "take over" for a while if we couldn't.
Here are some ideas of where you might store your binder:
With recipe books in the kitchen
With photo albums in the living room
Out in plain sight labeled "family vacation" or "favorite memories"
On the tool bench in the basement
In the game cabinet
With the craft supplies
In the office labeled "to-do's" or "manuals"
I know many people keep all their important information locked away for safe-keeping; however, I figure that if a thief came into my home, they would first look for a safe before they bothered looking for cookbooks, family photo albums, craft supplies, or your game cabinet.
At least that's my theory!
Plus, as I mentioned above, we actually use our Important Information Binder on a regular basis, so it's nice to have it easily accessible and not buried away in our safe.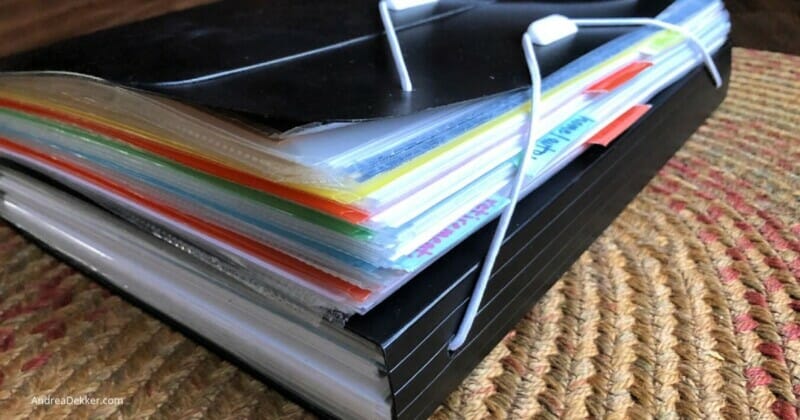 I am 100% confident this binder will be hugely helpful in ANY type of emergency situation. I can't tell you how much peace of mind that gives me on a daily basis!
I hope this information motivates you to create your own Important Information Binder. I know you will never regret it!