Why Every Household Needs An Important Information Binder
posted by Andrea | 01/24/2017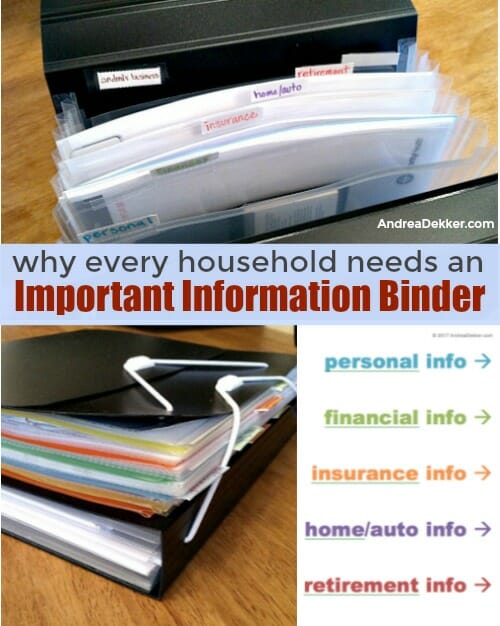 When we had Nora at the end of 2011, Dave and I already had good life insurance policies to cover the financial "what ifs", and we were in the process of setting up our Dekker Family Living Trust to cover the legal "what ifs".
I felt like all our bases were covered… but I still had so much anxiety any time I considered "how would Dave manage if I died?" or worse, "how would our family members manage if Dave and I both died?"
I knew whoever stepped in to run our household would have life insurance money to cover whatever expenses arose — but since our financial lives are basically paperless, everything they might need to run our household would be in my email or in an online account somewhere.
They would need access to my email, to our online accounts, to our banks and other investments, and to my business accounts. They would need account numbers, phone numbers, login information, passwords, secret questions, and instructions.
I felt overwhelmed just thinking about it.
So instead of just thinking about it, I took action and put together a large binder filled with ALL our important documents and information — basically a handbook for anyone who needed to step in and "run our lives" if we were unable to run them for whatever reason.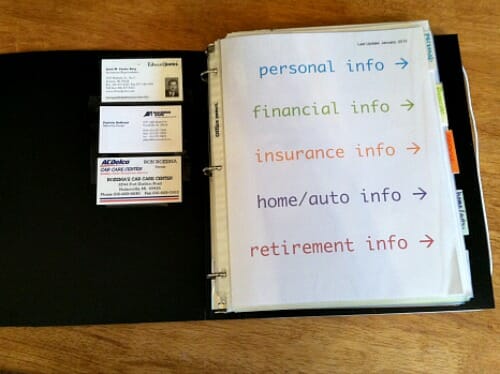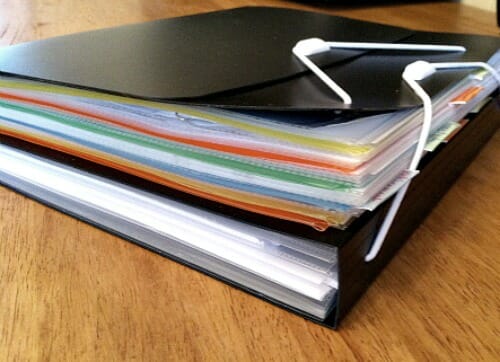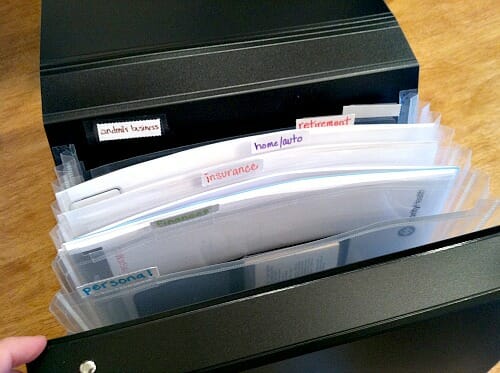 It's been almost 5 years since I first created our Important Information Binder, and although I originally intended it to be something we would use in emergency situations, it has actually become a fabulously useful resource for me in my everyday life!
I refer to our binder when I need a password, an account number, a phone number, or email address… and I'm relieved to know that our family will have the information they need to step in and run our lives if that ever needs to happen.
.
How I Use My Binder:
I use a Duo 2-in-1 Organizer and it works so wonderfully. I keep most of the information in the 3-ring binder portion, but can store extra packets or brochures in the accordion folder portion. I would highly recommend this organizer!
As for how exactly I setup my own Important Information Binder, I actually did a full blog post that 4 years ago — read all about it here!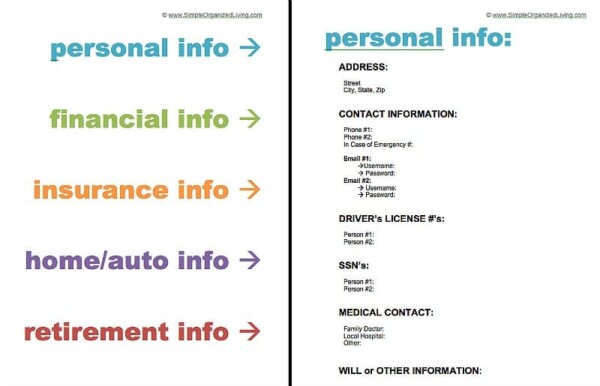 .
How I Keep it Updated:
Every January, I go through our binder, shred outdated information, add new information, and update (and print) a new set of our At-A-Glance information worksheets.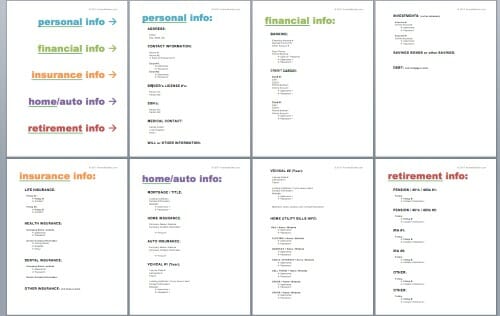 I created these At-A-Glance worksheets to quickly provide any necessary information for each main category… and boy does it make it easy to update the information.
I can usually get everything updated and the new documents printed off in about 30 minutes — I did this last week, so I'm set for another year again!
.
What if the information get's into the wrong hands?
I cannot tell you how many times people have expressed immense concern with the fact that we keep all our important information in one place — and while I sort of see where they are coming from, I honestly don't understand the huge fear.
Obviously, we don't keep our binder just hanging out in the middle of our living room, and we don't have it labeled with "Everything You Need to Know to Steal Our Identity." In fact, only a few family members even know where we keep it.
In my opinion, the likelihood that someone would break into our house and search for a random binder of information hidden somewhere (as opposed to taking expensive technology items that are right out in the open) seems VERY slim.
So no, we are not worried or concerned at all. 
Instead, I have a HUGE sense of relief any time I consider all those scary "what if" situations.
I know that no matter what, our children will be taken care of and our family members will have every piece of information they need to access whatever they need to access.
I am confident that if this binder ever needs to be utilized in a "what if" situation, it will alleviate a massive amount of stress from an already difficult time.
And THAT'S why I think it's so important for every household to have some sort of Important Information Binder.
We never know when a crisis or emergency might happen. Someone could die, get seriously injured, go missing, be mentally or physically unable to run a household, or even be unexpectedly gone from their home and family for an extended period of time that requires extra outside help from family and friends.
Since I have always been the one who pays the bills, manages the finances, logs into our online accounts, sets up new accounts, runs my business, and makes sure our household and our finances run smoothly every month, I needed to know that these important actions could be completed whether I was around and able to do them or not.
This binder gives me the reassurances that I've done everything I can do to make it as easy as possible IF anyone needs to step into my shoes for a while.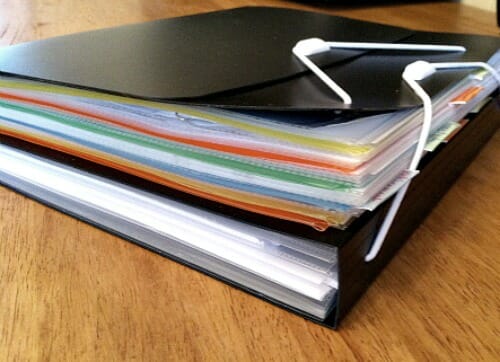 .
Create YOUR Binder with these FREE Printables!
Make this year the year you get your important documents in order.
I realize it might take a bit of work to get all your documents together, but I know it will be worth it once you have everything organized and in one convenient location.
I'll even help you out by giving you access to my FREE printable At-A-Glance worksheets so you can start filling in that important information right away!
.
I know I feel much better knowing that if something ever happened to me, Dave (or other family members) would be able to focus their attention on our children instead of scrambling to find necessary information about our finances, insurance, or my business.
How do you store your important information?