Last month, I shared my new, updated and customizable free Daily Routine Printable. It was a big hit and they are still being downloaded like crazy… so glad you like them!!
However, what I didn't mention (and what many of you asked about) is how I use my Daily Routine Printable along WITH my beloved Invite.L planner.
And I most definitely DO use them together!
You will probably never catch me without one or both of these items at any given moment.
Maybe when I'm sleeping… but even then, I've been known to leave my planner sitting on the floor next to my bed for all those ideas I have in the middle of my sleepless nights with Nora 🙂
Nope, not joking!
Anyway, as you might expect, my system for using both of these handy tools is VERY SIMPLE. Nothing fancy, nothing complicated, nothing difficult… so bear with me; you might be thinking "DUH" when you get to the bottom of this post.
First Things First:
I print my double daily planner on both sides of an 8 1/2 x 11″ piece of paper. This means I get a total of 4 individual planner pages per sheet of paper (and I usually print about 15-20 sheets of paper at one time). I cut the pages in half and keep a small stack in my office cabinet right above my computer.
Please note that the double planner is NOT customizable via the computer, if you want to type your own routine in, you'll have to use the full-page planner (technical stuff that I can't figure out how to change!) Otherwise, you can print off the double planner and just make photo copies.
Daily Stuff:
Every night before I go to bed, I look at my Agenda/Planner to see what's happening the next day (and only the next day). Do we have any meetings, Drs. appointments, important to-dos etc.?
I then take these items and put them on my daily routine printable for the following day. I list out the "Top 5" most important tasks, I list out appointments, to-do's, anything I need to buy, etc. I write out a tentative menu for the next day (based on my weekly menu plans), as well as any house hold chores I want to accomplish the next day. (not next week or next year… just tomorrow)
I put my daily routine printable on top of my planner and set it right next to my computer (or next to my bed!) so I'm ready to go in the morning.
Weekly, Monthly, and Yearly Stuff:
As I make more appointments, schedule meetings, sign up to bring food for a church potluck, receive wedding invitations, etc. etc. I write all of those reminders, to-dos, events, etc. in my planner. And if I need to schedule something more than a year in advance, I just write the details on the blank pages at the end of the planner.
I write EVERYTHING down — and if I run out of room in my planner, I'll wedge a sticky note or small piece of paper inside the pages of my planner to remind me when I get to that page in my planner.
This is my way of making sure I don't forget anything… and yes, my life would come to a screeching halt if I lost my planner!
The Perfect Pair:
So as you can see, I use my daily routine printable for DAILY stuff, and my planner for more LONG TERM stuff.
My planner is my "life", organized in one small notebook that is easy to carry around and add to (or refer back to) when needed.
My daily routine printable is my day, organized on one sheet of paper that can be put by my computer, posted on the fridge, or shoved inside my planner (or wallet) if I'm out and about.
They work together splendidly and both pieces are crucial in helping me stay organized!
For example, one of my sisters got married in July, the other one is getting married in October, and you probably can imagine all the showers, parties, and events that we had/have due to those weddings. So, I wrote all the dates, times, and events down in my planner right away.
Then as the events got closer, I wrote more specific details on my daily routine printable — like buy or wrap the gift, make food, arrive at my dress fitting appointment, pick up Dave's tux, etc.
This way, I can look at my planner for a general overview of the week or month, but I can look to my daily routine printable to get the specific details of the current day (and let's face it, lately, I haven't been thinking much past the current day!)
Is it worth it?
I can already guess that some of you are thinking — that's too much work to transfer stuff over from the planner to the daily routine printable every single day… is it really worth it?
Yes! It most definitely is. At least for me 🙂
Obviously, this system won't work for every single person (just like any of my organizing tips), but it's honestly not that much work — and it makes my life SO SIMPLE!
Since I write out a daily to-do list every night anyway, it just make sense to keep it neat and organized using my daily routine printable. Plus, this alleviates the need to write EVERY SINGLE DETAIL down in one small box of my planner.
So while I know my system isn't perfect or fool-proof, it has been working for me for almost 2 years — which definitely says something!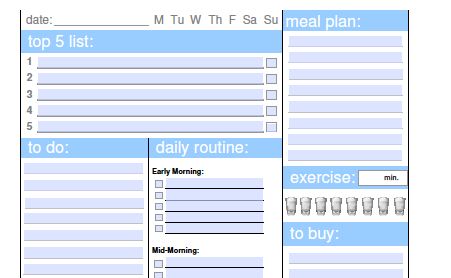 If you'd like to give my system a try, you can download my free daily routine printable here (or the double version here).
You can also look at the different planners they have over at Invite.L. I use the Agenda (which is out of stock right now) but any planner should work.
How do you keep track of your daily, weekly, and monthly to-dos?