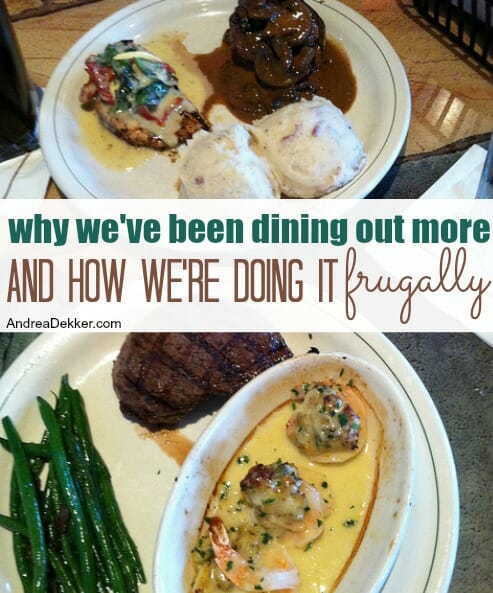 If you've read many of my blog posts from 3+ years ago, you most likely read about the fact that Dave and I rarely ever went out to eat. This was not because I thought restaurants were evil or worried that a few fast food burgers would give me a heart attack… but simply because it was expensive and not necessary.
Even though I worked outside the home, ran my blog from home, did tons of house and yard projects, and was extremely involved in our church and community, I still had PLENTY of time to cook and bake all sort of food… and I enjoyed doing it!
We saved SO much money the first 6+ years of our marriage by almost never (and I mean never) going out to eat unless we had been given a gift card to a specific restaurant. And even then, we would almost always search for coupons to use in order to stretch the gift card further (it's amazing how long we can make a $30 gift card last!)
Then after Nora was born (and we had our 2 international students living with us) it felt like a massive chore to load everyone up "just" to go to a restaurant where Nora would most likely end up screaming the entire time… so we continued to stay home.
There were many years of our life where we literally spent less than $100 for the ENTIRE YEAR on any type of restaurant or fast food! One year, I think we actually spent $0.00 out of pocket on dining out.
However, as I'm sure you can guess by the title of this post, that has all changed a bit over the past couple of years… and not because Dave and I don't care about our finances or our budget anymore.
I would say that on average, we eat out 3-4 times per month (roughly once a week) at various local restaurants, fast food joints, pizza places, etc. None of the places are expensive, none of them are "fine dining" in any way, but thanks to coupons, gift cards, email and facebook offers, and holiday specials, we've been able to enjoy dining out a bit more (and cooking a bit less!) for a VERY MINIMAL FEE.
Here's how we've been able to keep our "dining out budget" in check while still enjoying this special treat.
1. We stay connected with our favorite restaurants.
I know you might not want additional emails or Facebook messages popping out at you every day — but this is hands-down the best way I've found to save on places you like to eat at.
Sign up for their email newsletters, their "e-club", their birthday clubs, and any other "clubs" they offer for exclusive discounts. And don't forget to "Like" them on Facebook so you know when special promotions are going on.
I can't tell you how many times we've gotten coupons for completely free food (sometimes entire meals) just by being connected to the restaurant via email or social media.
In fact, my "inspiration" for this post came last week when Dave and I each got an email from Culver's for a FREE value basket (we are both on their email list). That day just so happened to be a very crazy day with some unexpected things and events thrown in at the last minute, so it ended up working out extremely well to swing into Culver's, pick up our free meals, and be on our way again.
Almost any franchised restaurant will have an email list and plenty of social media accounts to follow — and honestly, I really don't know many mom and pop restaurants who don't at least offer an email list for coupons and discounts.
NOTE: check out this list of national restaurants who offer birthday freebies.
2. Buy gift cards when they are discounted.
I've talked about this before — but we have saved a BUNCH of money on restaurants we plan to visit anyway, just by buying the gift cards during specific periods during the year when they offer additional perks and discounts (read more about it here).
For example, Applebee's, Olive Garden, and TGIFriday's have a few times each year when you can buy a $50 and get a $10 gift card free — that's essentially a 20% savings. We also get a fair amount of $5 off Any Purchase coupons emailed to us (that we can then pair with the gift cards).
Although we don't eat at places like this too often, we do love their lunch specials. So if Dave has a random day off of school, we'll sometimes use our coupon plus discounted gift card to get a deal on lunch (which is much cheaper than dinner) and enjoy a special treat — plus the added bonus that we don't need to clean up after ourselves!
NOTE: Here's a recent post I shared about how I store, organize, and keep track of all our gift cards.
3. Don't eat out during "prime time".
As I just mentioned above going out for lunch (or even breakfast) is usually significantly less expensive than going out for dinner — but just as much as a treat.
Also, many restaurants offer happy hour and late-night specials with amazing discounts and deals.
We tend to eat dinner VERY early because the kids are always hungry; so for us, it's usually no problem to get to a restaurant by 4:00pm and capitalize on the happy hour specials (no, you don't have to order alcohol).
My sister and I recently used a $10 off any purchase coupon to get a few 1/2 price appetizers at Applebee's after 9:00pm. Even after leaving a tip on the full price of the order, our bill came to less than $10 for 3 large appetizers and 2 little desserts. We actually ended up bringing almost half the appetizers home and at them with lunch the next day.
4. Remember that you don't always need a full meal.
We get loads of coupons for free appetizers or free desserts with the purchase of an entree, and when we get these deals, Dave and I will often split a large meal and maybe order an extra salad to go with our free appetizer or dessert. Even with leaving a good tip, we still save a bunch, have a fun time away from home, and never walk away hungry.
Also, since our kids aren't really old enough to warrant paying for a kids meal just yet, we always just share our food with them or bring something along from home that we know they'd like (especially for Simon). This saves us a bunch, and no restaurant has ever complained or made a comment about us bringing in some snacks for our kids.
Another favorite way to save but still enjoy a mini splurge is to only go out for dessert. Of course, we're big fans of the Culver's BOGO mixer coupons — which basically allow our entire family to eat all the frozen custard and delicious mix-ins we can handle for less than $4 — MUCH cheaper than "going out for ice cream" which could easily be $15-$20 for all 4 of us.
5. Skip the beverages.
I know this isn't the most "fun" tip — but it is insane how much restaurants (and even fast food places) charge for drinks. I've seen soda for as high as $3.49 a glass… and don't even get me started on alcohol!
While I personally have no problem if other people order drinks — and Dave occasionally orders soda or even a beer at restaurants — I will say this is probably the fastest way to cut your costs at restaurants. If you are always used to ordering drinks, you will probably be amazed how much less expensive your bill is if everyone drinks water!
6. Dine at Kids-Eat-Free restaurants.
Even though our kids aren't quite old enough to really benefit from this, we have gone to a few kids-eat-free restaurants over the past year and it was really fun for Nora to order her own food (for free!)
As our kids get older, I could definitely see us benefiting from these types of deals 🙂
NOTE: If you're not sure about where your kids can eat free, check out this massive listing of participating restaurants!
7. Ask for gift cards to your favorite places.
Many of our family and friends know that we really appreciate restaurant gift cards for Christmas and birthday gifts… plus, they are a super easy gift to find 🙂
Because of this, we often get a fair amount of gift cards instead of tangible gifts (that we might not necessarily want or need).
I think often times, people shy away from giving gift cards because they feel it's impersonal; however if people know how much you enjoy getting specific gift cards, they will most likely feel more comfortable giving you what you want.
NOTE: here are a few creative ways to give gift cards!
These are just a few of the many ways Dave and I have been able to enjoy dining out A LOT more than we used to without adding much extra "strain" on our budget.
In fact, as of today (almost half way through the year) we have spent less than $200 out-of-pocket dining out — and that includes our Spring Break vacation where we took my whole family out to eat one night!
So while we are spending more than the $100 per year (or less) we did way back when we were first married, we are also enjoying going out to eat much more often.
It's been a fun treat for our family (especially for me as I get a night away from the kitchen) and even more fun to try to do it frugally!
Do you have any other tips for dining out on a budget?