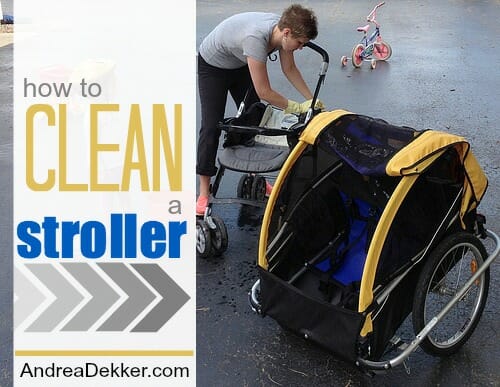 It is no secret that almost everything I buy is used — usually from Craigslist.
I have no shame in buying used items, but I do want to make sure my used items are in nice condition and VERY clean. I will not buy anything from a smoking home and I usually won't buy anything from a home with shedding pets. If they try to hide something from me, my ultra-sensitive nose will call their bluff almost 100% of the time 🙂
That said, any time I buy something used, I take it home and wash it before using it. I'm not a germ-a-phobe, but if I don't know where something has been, I definitely want to wash it up well before using it myself — or letting my kids use it.
Washing our second-hand treasures is usually pretty easy. I throw clothing and other fabric items in the washing machine, I wipe down cardboard books and puzzles with vinegar spray, and I wash toys and other plastic items with soap (or bleach) and HOT water.
However, when it comes to washing larger items (like strollers, pack n' plays, bike trailers, baby swings, etc.) I have another approach… it's relatively simple and it has always helped our new-to-us treasures look brand new again.
(these photos have not been edited in any way!)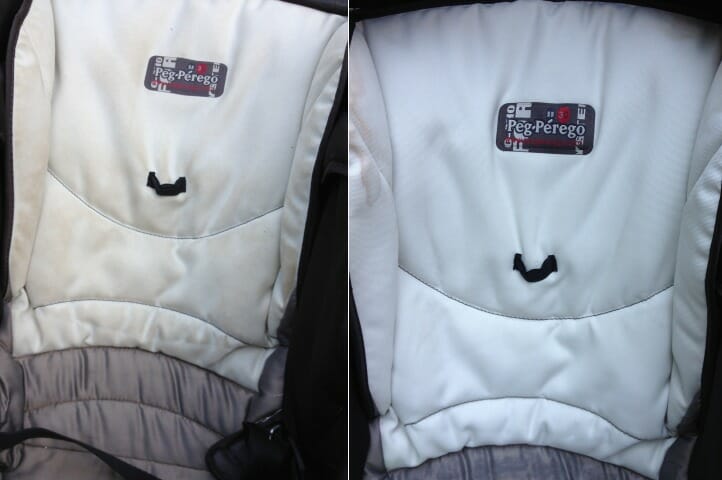 How to Clean a Stroller (or other large fabric items):
NOTE: I titled this post "how to clean a stroller" but this technique should work well for most large fabric items that can not be put in the washing machine.
STEP 1: Disassemble and remove as many parts as you can.
With strollers, you can usually remove the sun shade, the basket, and the straps — sometimes you can also remove the seat fabric. I throw any small fabric items in the wash and wash more "ridged" items in my large kitchen sink.
The more you can remove and clean separately, the better your results — just remember to pay attention to how you disassemble the item so you can put it all back together again!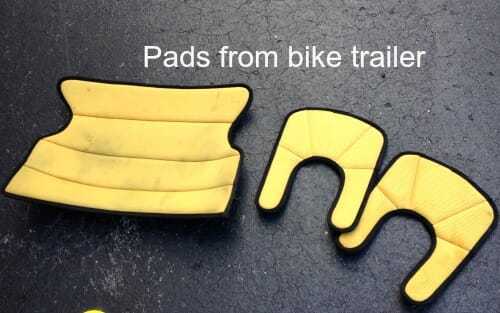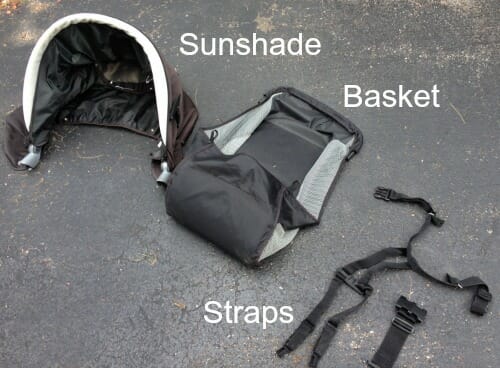 .
STEP 2: Spray the items with a hose.
This is a really fun step for kids to help with! Just hose it down really well so it's nice and wet.
.
STEP 3: Scrub fabric with hot soapy water.
I use 2 T. of my homemade laundry detergent dissolved in 1 gallon of VERY hot water. OxiClean also works very well — and I'm assuming most laundry detergents would work fine as well.
Scrub with a soft sponge or rag — making sure to constantly rinse it out and get more hot, soapy water on the fabric.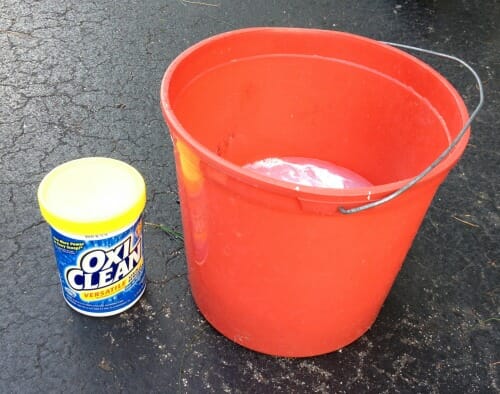 Remember to also wipe down all the hard surfaces too (including the wheels which often get extremely dirty).
NOTE: It helps to have a cute side-kick standing by 🙂
.
STEP 4: Spray with hose to remove soap residue.
You might need to keep spraying for a while to remove all the soap. If the fabric is very thick, you can press down on the fabric with your hands to squeeze the extra water out and then keep spraying until all the soap is washed away.
.
STEP 5: Let the items air dry in the sun.
I try to pick a sunny, breezy day to clean these items as they will dry much faster. Some of my items are totally dry within the hour — others take all day to fully dry.
STEP 6: Fine-tuning…
Use WD-40 on squeaky wheels or brakes. Rub a bar of soap on sticky zippers or tough snaps. Take note of any loose, missing, or broken parts and check online to see if you can find replacement parts (it's amazing what you can find on the product websites!)
.
STEP 7: Reassemble the pieces and enjoy your much cleaner strollers (or whatever you were cleaning)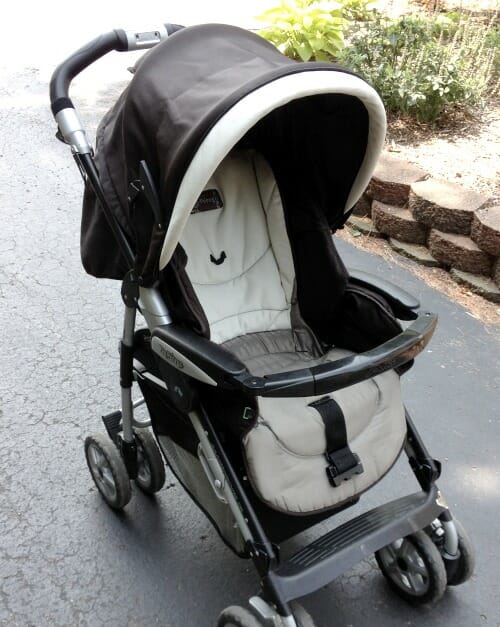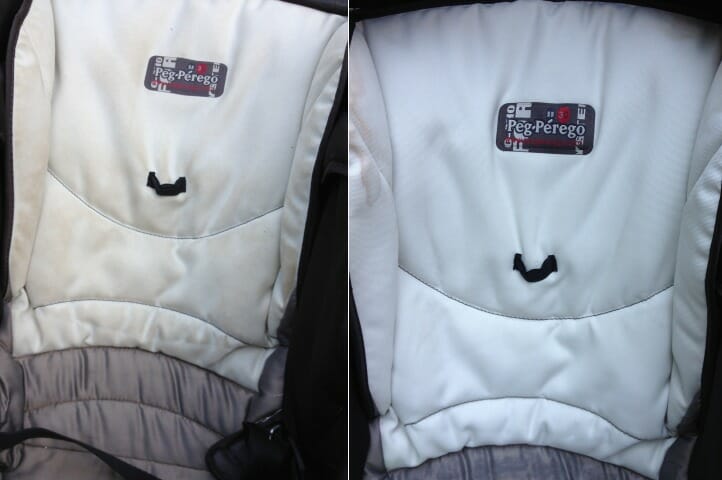 I should mention that I also use this method when selling these items again.
Just last week, I sold our single jogging stroller for over TWICE what we paid for it 2 years ago. I cleaned it up exceptionally well when we bought it — and then scrubbed it down again last week before selling it. The new owners couldn't believe how clean it was — and how "low" the price was!
In general, I think you can get A LOT more life out of your things (new or used) if you keep them clean and in good condition. I spent less than 2 hours cleaning 2 strollers and a bike trailer (and playing in the water with Nora). Definitely worth the time in my opinion!
Do you have any other tips for cleaning strollers, outdoor gear, or other larger items?