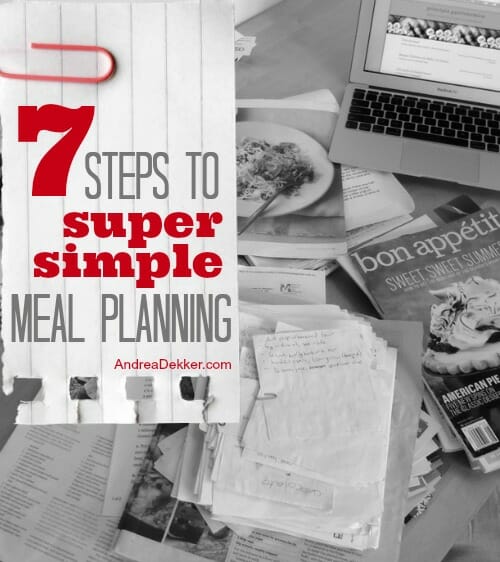 I've been thinking a lot about meal planning the past few days — partially because I'm speaking about meal planning for a local event next week, but also because the back-to-school season is almost here and fall is a great time to get back on the meal-planning band wagon.
I promise I won't talk much about "back-to-school" yet (we still have over 3 weeks before Dave is officially back). However, I do know that back-to-school is a very busy time of year. I also know that meal planning can be an extremely simple way to alleviate some of the stress and busyness from this crazy time of year.
Not only that, but meal planning is a fabulous way to save time, money, and calories — all of which I'm sure you'd like!
I know SO many people who are completely overwhelmed with the thought of meal planning, and I think a big reason is because many meal-planning resources are so over-the-top. Planning elaborate meals for an entire month, creating mile-long shopping lists, making fancy pantry inventory spreadsheets, and assembling color-coded freezer labels to accurately detail every item in your deep freezer.
But this is all completely unnecessary — especially if you're just "getting your feet wet" in the world of meal planning.
I've been meal planning for several years now and I can honestly say that I've never planned my meals for an entire month, I've never purchased more than $150 worth of groceries at a time, I've never made spreadsheets for my pantry stockpile (although I do love a good spreadsheet!), and I've never color-coded my freezer!
However, I still mange to get food on the table 3 times a day without resorting to fast food or frozen pizza all the time — and I can assure you it doesn't have to be difficult or overwhelming.
If you're new to meal planning (or just got off schedule this summer) here are 7 steps to make the process as simple as possible.
1. Make a list of foods and meals your family likes.
Grab a pen and a piece of scratch paper and just start writing down the types of food and meals your family likes. Don't worry about organizing them in any way — just get them out of your head and onto paper (or your computer screen if you prefer digital).
This should be really easy to do — and don't feel bad if your list contains simple foods like pasta, mac and cheese, grilled cheese, tomato soup, sandwiches, salad, etc. You don't need to impress anyone with your meal plan; you just need to feed your family food they like and food they will eat!
Keep this list handy for step 4 below.
2. Decide on a basic system for how you will create your meal plan.
I know some people who plan 3 meals a day and/or plan a full month's menu at a time. Personally, I like to plan my meals weekly — and I usually only plan dinner.
It does NOT matter how you do this part of it — as long as it makes sense for you.
3. Automate as much of your meal plan as possible.
As I mentioned above, I only plan dinner meals — the rest of the meals are pretty automated and we do the same things over and over again.
For example, we almost always have cereal, toast, frozen waffles, yogurt, or fruit for breakfast — and then leftovers, sandwiches, or salads for lunch. I often make pancakes on Saturday morning, we almost always have cinnamon rolls for breakfast on Sunday, and frozen pizza Sunday night.
We like routine in our house, so this is not boring for us — and I can't tell you how much it helps to simplify my meal planning!
Here are a few of our past meal plans.
4. Plan your meals.
Once you decide how many meals you'll be planning, go back to that list from Step 1. Use your family's favorite meals to fill up the slots in your week (I usually just write it in my planner but you can also use my free meal planning printables).
I need to plan 7 meals a week — BUT part of my meal plan might be going out to eat, eating at a church picnic, eating at a friend or family's home, a soup supper at Dave's school, etc.
Each day, I write what the "meal" is for that day, whether it is grilled cheese, a roast, Culver's, or whatever. That way, I don't forget and I can plan better for groceries (see below)
5. Make a grocery list.
I only go to one grocery store each week so I only need to make one list — you may make as many lists as you need 🙂
When I'm making my list, I first make sure to look through my pantry and freezer to see what I have in my house that will work for my meals. Then I put all the other ingredients I don't have on my list.
I try to be pretty detailed with my list because I hate grocery shopping and I don't want to forget something and then be forced to go back to the store mid-week.
6. Review your meal plan regularly throughout the week.
Since I only plan one meal a day, I've gotten into the habit of checking my meal plan for the next day right after dinner. I'm already in the kitchen cleaning up, so it's really easy for me to do any prep work for the following day.
I might pull something out of the freezer, chop or mix something that I can make ahead, or just remind myself what I'm making for dinner the following day.
This step is even MORE important if you're planning all 3 meals a day as you might need to do breakfast prep the night before.
7. Be flexible with your plan.
Even the simplest, most organized meal plan might blow up in your face on a busy day. Someone gets sick, you get held up at work or at the doctor, you forget to defrost something, you forgot an important ingredient at the store, someone invites you over for dinner, etc. etc.
In these situations, I usually have a back-up plan of pasta, but I also reserve the right to change meals around as necessary. I also don't get too bent out of shape if we have to resort to fast food on a bad day.
These steps have helped me to simplify my meal planning over the years — to the point where it only takes me about 15 minutes to plan our entire menu and jot down my grocery list on Sunday afternoon! Not too bad considering my meal plan saves me SO much time, energy, stress, money, and calories each and every week.
If you still feel overwhelmed with meal planning and just want to throw in the towel, read this post on how I've (mostly) been able to avoid meal-planning burnout — and check out all my posts about meal planning.
Meal planning does not have be an overwhelming process — start planning a few meals a week and you'll be amazed at how easy it can be!
What are your best meal planning tips?