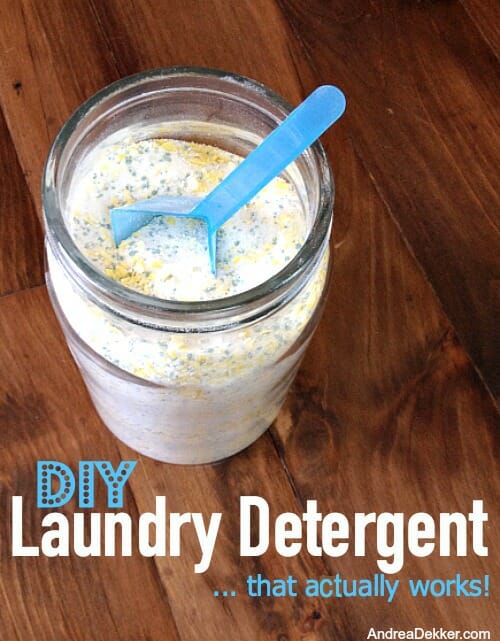 Over the past 3+ years, I've shared a number of DIY cleaning products here on the blog.
I will be very honest with you, the main reason I make many of my own cleaning products is because they are SO much faster, cheaper, and easier than buying them from the store. Yes, it's nice that they are safer around my kids and kinder to the environment too — but my main goal here is fast, cheap, and easy.
I almost always have the simple ingredients in my house, so I can always whip up another batch in a minute or so. This means I never need to run to the store for more products and I don't have to spend a fortune on store-bought chemicals.
To date, I've come up with homemade DIY cleaners for:
Along with everything listed out above, I've tried many other DIY cleaner recipes that I have NOT posted on my blog because in my opinion, they either didn't work well enough, they were too time consuming or complicated to make, or they really didn't save any money over store-bought products.
Some of those "tried but never shared" recipes were DIY laundry detergent.
I've tried a few different laundry detergent recipes over the years but literally hated them all — and I'm really not one to care that much about my laundry. As long as my laundry is clean, relatively wrinkle-free, and smells nice, I just don't care.
However with all the DIY detergent recipes I've tried in the past, I ended up with clothes that didn't seem clean enough for me, and they certainly didn't smell nice. Plus, the recipes usually involved boiling bars of soap (which I had no desire to do) and storing mass amounts of goopy liquid in my TINY laundry room.
No thanks.
After a few failed attempts, I simply decided that homemade laundry detergent was not for me; and I gave up searching for new recipes.
Then, a few months ago, I found a recipe for a DIY powder detergent that didn't involve any boiling. It didn't require expensive or hard-to-find ingredients, and basically only involved dumping a few boxes into a large bucket and shaking it.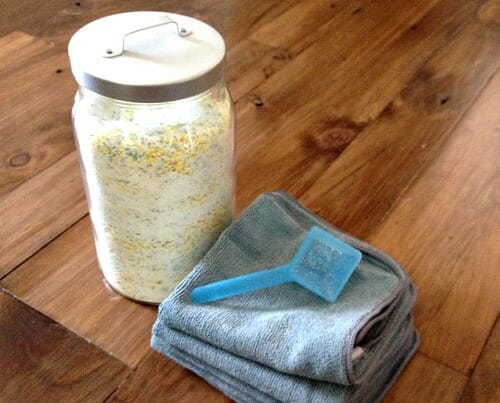 If that doesn't sound good enough already, this recipe is WAY more than "just" laundry detergent. It's also spot treatment, whitener, brightener, deodorizer, and fabric softener all in one. You can use this detergent for front or top-loading machines and it's safe for high efficiency machines too.
Oh, and one batch makes a lot of detergent so you could easily share with friends or even give it as a gift in a pretty container.
Recipe for DIY Laundry Detergent:
Makes enough for approximately 230 loads of laundry!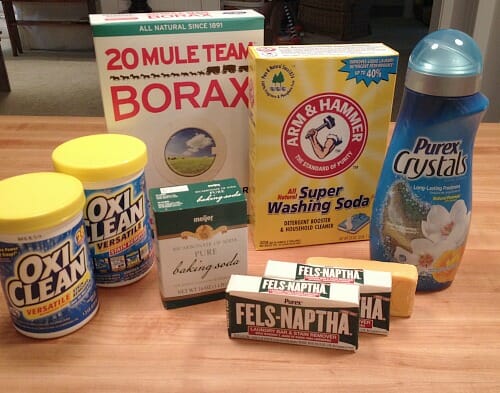 INGREDIENTS:
one 76 oz. box Borax powder
one 55 oz. box Washing Soda
one 16 oz. box Baking Soda
3 pounds OxiClean (the only reason I bought 2 smaller containers is because I had 2 coupons so it was cheaper this way)
one 28 oz. container Purex Crystals
three bars Fels-Naptha soap; grated
large, clean bucket or other container with a lid
MIXING DIRECTIONS:
Dump all powder/crystal ingredients into a large bucket (I used a 5 gallon bucket with a lid)
Grate the Fels-Napths soap bars over the bucket (I used a microplane fine grater so the particles we really small)
Place lid on bucket and shake (or mix with a large spoon)
Store in the covered bucket or in smaller containers with lids (I put some of mine right back in the OxyClean and Purex containers)
NOTE: I mixed it outside as it was a little "dusty" when I poured all the powders together. Also, grating 3 bars of soap produces a very strong smell 🙂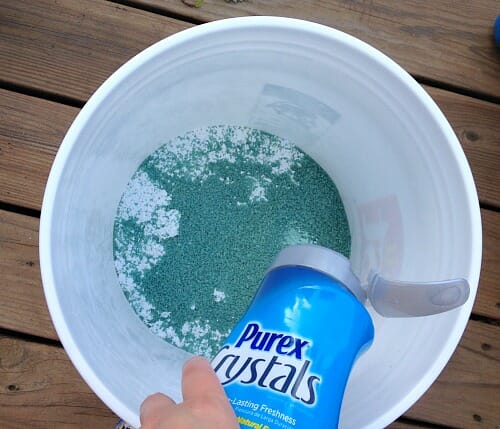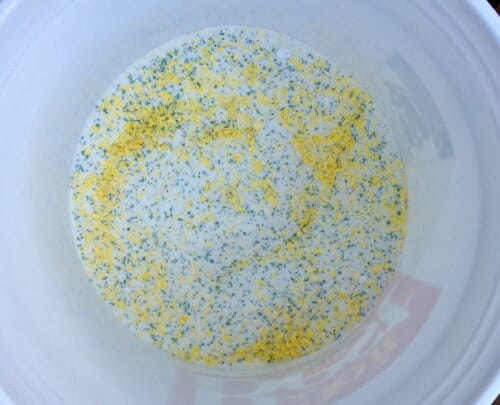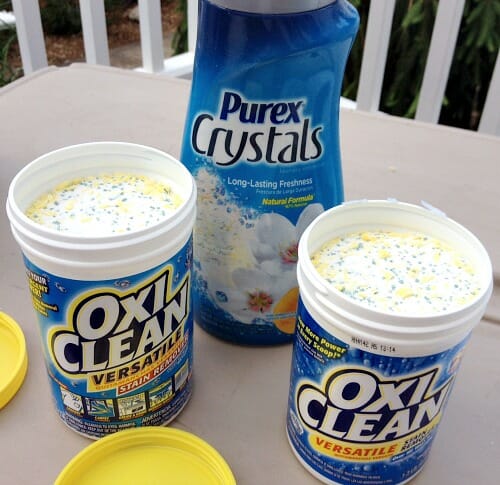 USAGE DIRECTIONS:
Dump 2 Tablespoons of detergent into your washing machine along with your clothes
For best results, wash with warm or hot water. (UPDATE: a reader just emailed saying she uses this recipe with cold water and it still cleans fabulously!)
If you have a very large or heavily soiled load, maybe use 3 or 4 Tablespoons.
NOTE: You can use the scoop from the OxiClean or the cap of the Purex to measure out the proper amount. The OxiClean scoop is exactly 2 T. and the Purex "fill line" is also 2 T.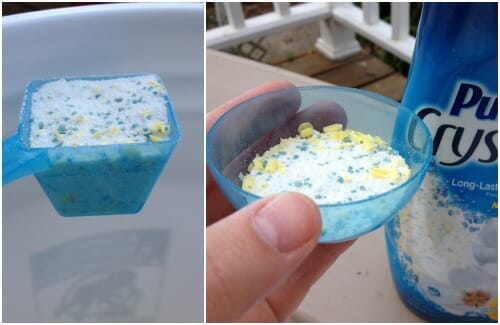 We've been using this detergent for a couple months now and I honestly have nothing bad to say about it.
As I mentioned above, my requirements for justifying the time and energy it takes to make my own laundry detergent are:
Something that actually works, cleans well, and smells good
Something that is REALLY easy to make (and not liquid)
Something that was cheaper than store bought detergent
I'm happy to say that this recipe meets all my requirements!
1. It actually works:
I have not noticed any difference in the cleanliness of our clothing. The OxiClean takes care of any stains (which eliminates the need to spot treat) and the Purex Crystals make the clothes smell amazing.
You could definitely make this without the Purex Crystals and just use regular fabric softener or drier sheets if you'd like. Or you could try any of these handy tips to reduce static cling.
2. It's REALLY easy to make:
Just dump, grate, and shake.
To be honest, I was a little disappointed that this recipe required grating 3 bars of soap. I tried to see if I could find something that worked without grating — but this recipe really is the best.
It probably took me about 15 minutes to grate all 3 bars, but that was doing it all by hand. I didn't want to put the soap in my food processor, but if you did that, it would only take about a minute! Based on how much detergent this one batch makes, I personally feel it was worth the 15 minutes of grating — especially since the rest of the "mixing instructions" only took about 3 extra minutes.
3. It's Inexpensive:
When I made this recipe, I had most of the ingredients in the house already (everything but the Purex Crystals and 1 bar of Fels-Naptha soap)… however, I price-checked everything at the store and even WITHOUT coupons or sales, it should cost you less than $25 to make this massive batch of detergent.
If you purchased any of the items on sale and/or used a few coupons, it would probably be closer to $15 or less — and I'm guessing many of you have some of these ingredients in the house already!
I did the math and even without coupons or sales, this detergent would be right around $0.09 per load!!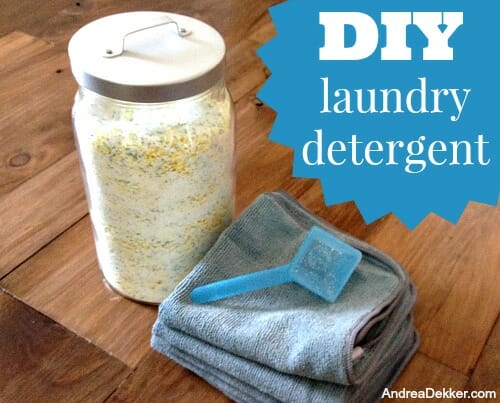 To be clear, this is in no way a "green" or completely environmentally friendly laundry detergent — but that wasn't really my goal. Yes, several of the ingredients are environmentally friendly — but there are others (like OxiClean and Purex Crystals) that are obviously not 🙂
I think it's still a lot more "natural" than regular store-bought laundry detergents — with the added bonuses of my beloved OxiClean to fight stains and Purex Crystals to act as fabric softener and give a fabulous smell.
I'm super happy with this DIY laundry detergent and I'd highly recommend giving it a try — especially if you've been disappointed by other DIY detergents in the past.