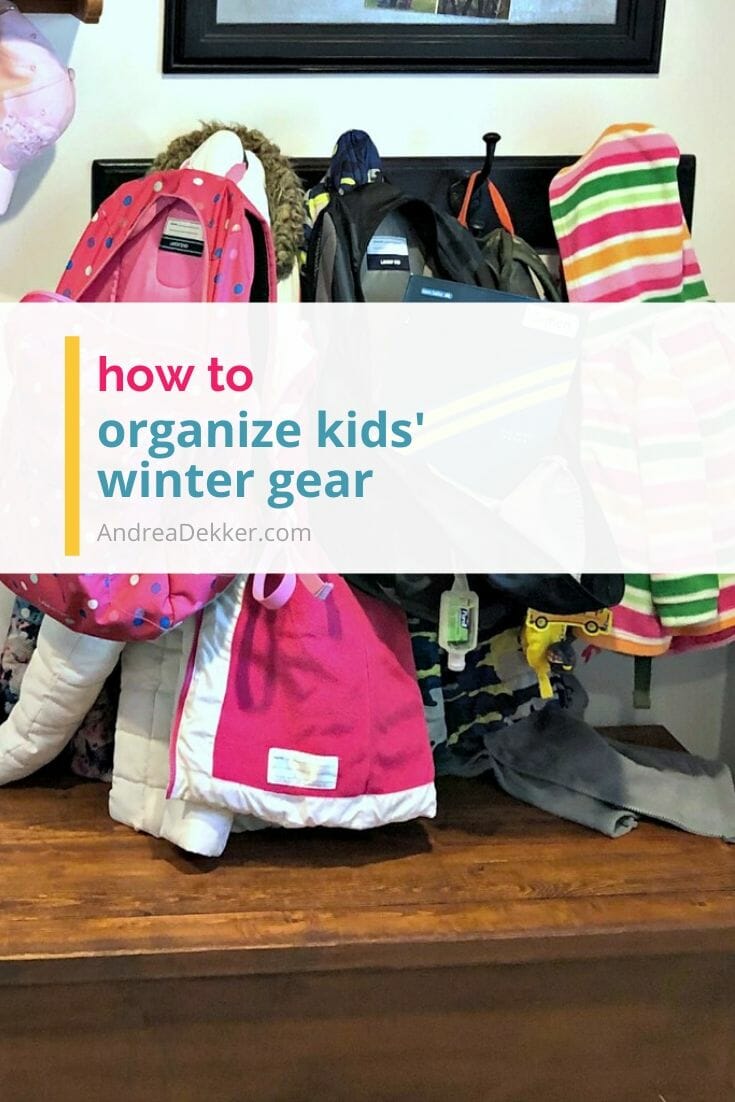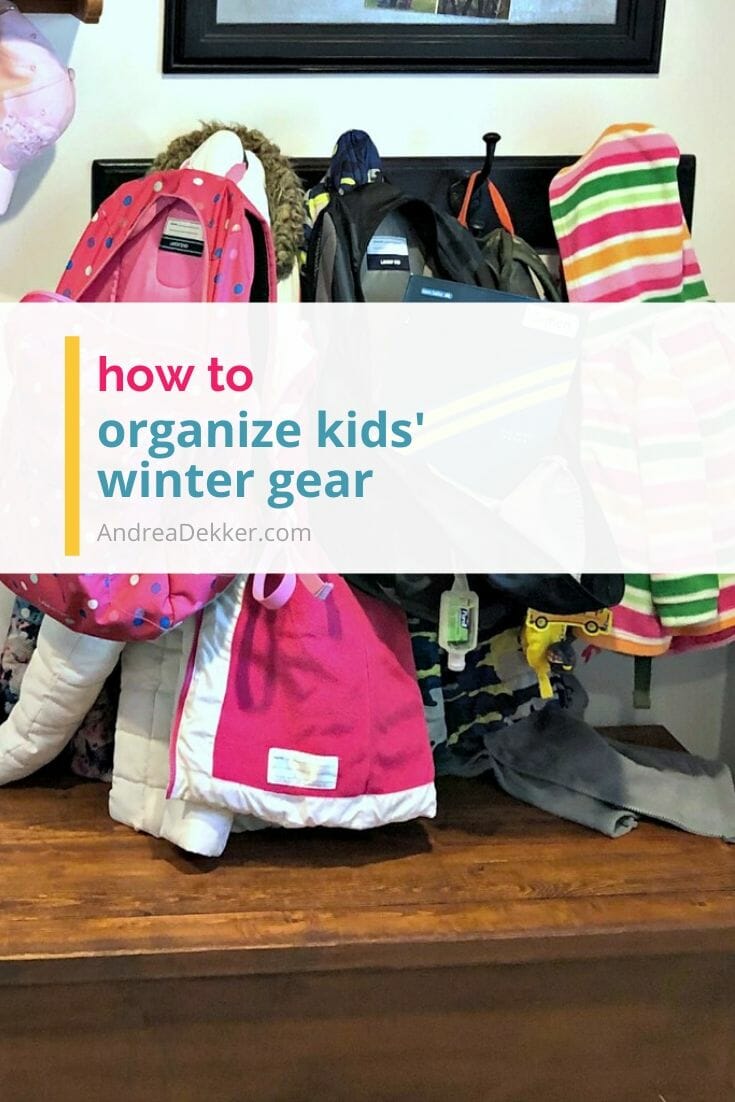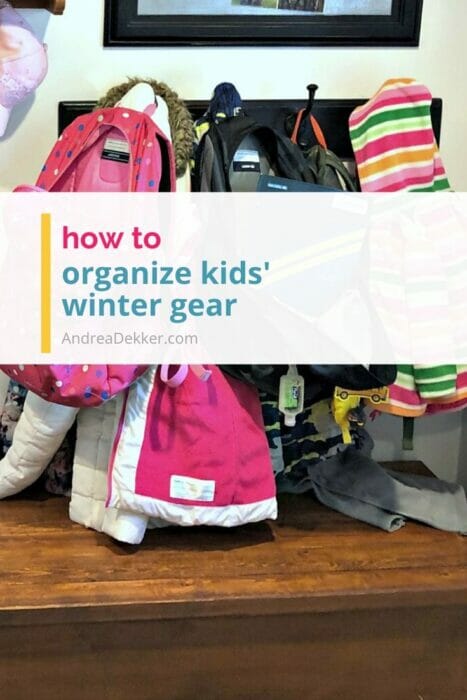 Do you struggle with how to organize kids' winter gear? Yup, I feel your pain!
There is so much bulk! And although it's all necessary for those of us in cold snowy climates, it can be a pain to organize and store.
Look no further my friends, I'm sharing my top tips to quickly and easily organize kids' winter gear, along with one extremely simple change that made our mudroom so much more functional for our entire family!
TIP #1 = Hooks, Hooks, and More Hooks!
Our kids don't love using hangers — especially not when they are excitedly bursting through the back door. They WILL, however, use hooks, so we have lots and lots of hooks in our mudroom!
The kids each have one designated hook that is at their height. They can (and do) quickly and easily hang their coat, backpack, sweatshirt, hat, etc.
We also have many other hooks for adult coats, snow pants, wet clothing, guest's jackets, etc.
There are times when all these hooks allow our mudroom to LOOK somewhat messy, cluttered, and disorganized.BUT the hooks are practical, and they are the best and easiest way I have found to organize kids' winter gear (and their all-year-round gear too!)
.
TIP #2 = Benches (preferably with storage!)
Our mudroom is not overly large, but we have 3 different benches that all serve multiple purposes in our room.
They are (obviously) available to sit on when putting on boots or snow pants. They also provide valuable storage all year round, and they offer a practical off-the-floor option for setting things that need to go out to the car (bags, luggage, donations, etc.)
Two of the benches in our mudroom have ample storage!
We use the huge bench below (built by my uncle) for storing off-season items (it has swimming and beach items in it now). This allows us more room in our closet for the current influx of snow pants, coats, gloves, etc.
We use another bench to store shoes and smaller kids' boots so they aren't all over the rug.
Speaking of rugs — we put an extra rug in the mudroom during snowy winter months. This helps to absorb the melting snow so we don't have puddles on the floor.
.
TIP #3 = Over-the-door Shoe Organizers
Over-the-door shoe organizers are one of my most favorite organizing tools ever — especially to organize kids' winter gear! We have them in almost every room in our house — none of them actually have shoes inside though!
I specifically designed our mudroom to accommodate a French door closet so we could hang over-the-door shoe organizers on the back of each door.
We use the mini pockets to organize SO MANY DIFFERENT THINGS — hats, scarves, gloves, mittens, umbrellas, small bags, sunscreen, bug spray, wet-wipes, sunglasses, keys, flashlights, etc. etc.
These shoe organizers make it convenient to quickly reach inside, grab what we need, and shove things back inside when we're finished.
Again, it's not the most beautiful system, but it works SO well for us (you could easily hang one of these organizers on a wall if you don't have French doors).
One Extremely Simple Swap I Made To Better-Organize Our Kid's Winter Gear
We've been organizing our kids' winter gear this way for years and years. But as I mentioned above, this year I made one very small, very simple tweak to our system that had a dramatic effect on how well our children are able to utilize the system.
Now that Clara is old enough to use our system, we have even more gear to organize, and our old over-the-door system wasn't working quite as well… so I made a change.
Can you see the difference in the photos below?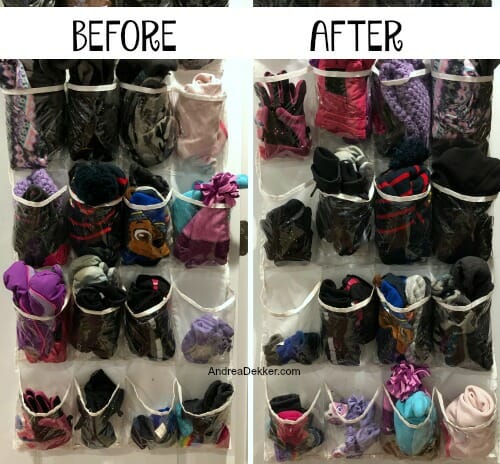 Both pictures contain exactly the same items… I didn't purge anything. I didn't really even store them more neatly.
The difference is simply HOW I arranged each of the cubbies.
Previously, I alotted each child one COLUMN for their things. The face masks on the top, hats and ear warmers below, then thick gloves, and finally thin gloves at the bottom.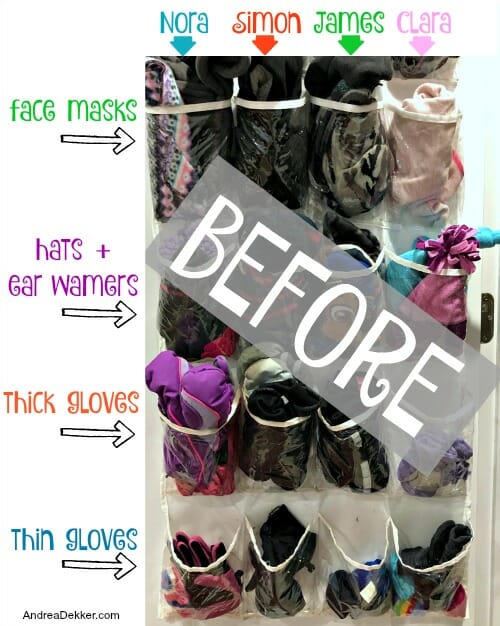 However, James' couldn't reach his own face masks, hats, or ear warmers. Clara couldn't reach anything other than her thin gloves.
Since the younger kids were not able to get their own gear out OR put it away again, it meant Dave and I were constantly picking up and putting away their hats, face masks, etc.
Not ideal — but I figured it would stop eventually once they got older and taller.
However, as I organized everything into the proper cubbies earlier this fall, I realized that I could just switch how I arrange the cubbies. Now instead of using one column per person, I use one ROW per person.
This is now how we organize kids' winter gear…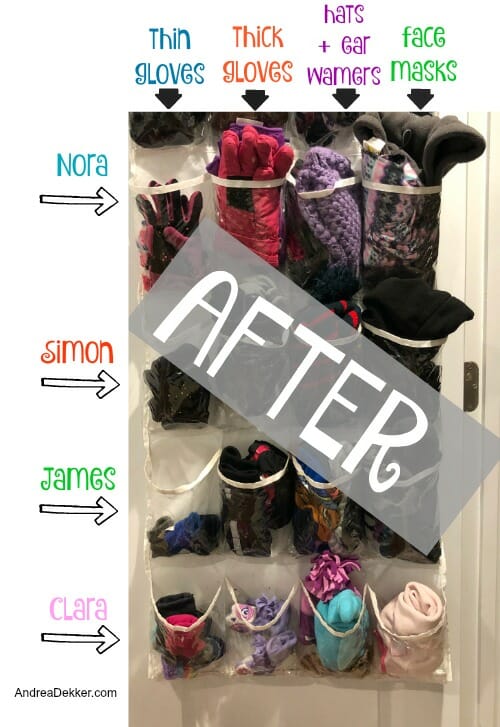 It took me roughly 5 minutes to make the switch. Now everyone can reach (and put away) their own things!
Our mudroom is neater and more organized, Dave and I have fewer messes to pick up, and our children are able to do more independently (here's a huge list of tasks our kids already do on their own)!
Such a quick and easy switch!!!!
I know you don't all have mudrooms or even the space to hang a shoe organizer… yet I would encourage you to look for ways you can implement hooks, benches, and over-the-door shoe organizers in your own home.
Also, always be on the "lookout" for organizational systems that aren't working as well as they could be right now — you never know when a super quick fix might be just what you need!
What are YOUR tips to organize kids' winter gear?