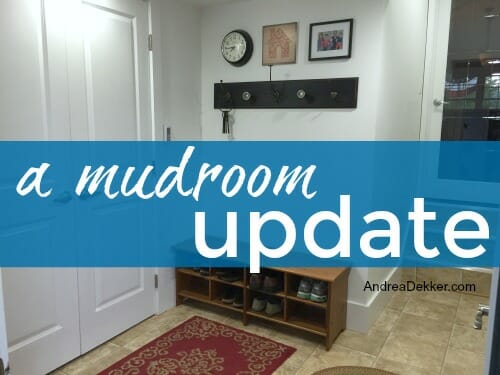 It's been just over 2 years since we finished our glorious mudroom addition between the back door of our house and our garage… and we have used and loved this tiny space every single day since then.
Dave and I have both shaken our heads in disbelief so many times, wondering how on earth it took us over 3 years to realize that we could simply "wall in" our existing covered stoop to make a fabulous 120 square-foot mudroom for ALLLLLLL our coats, snow pants, boots, hats, gloves, bags, purses, car seats, shoes, bathing suits, towels, sunglasses, etc. etc. etc.
Before our mudroom, we had absolutely NO place to put any of that stuff! We had no back closet, no front closet, no hall closet, no closets at all (except in our bedrooms).
This meant we kept all our shoes in our bedroom closets (which was messy and dirty) and that our laundry room was always crowded with bags, coats, and shoes — and this was when we only had one small child!
I can't even imagine living without any closets or a mudroom now that we have 3 very active kiddos!
As you'll see below, we packed a whole bunch of fabulous storage into a fairly small space. Aside from our massive kitchen renovation, our mudroom might just be my favorite home renovation to date!
The "before" picture.
A couple "progress" photos…
What it looked like last week!
Here are a couple more posts about our mudroom if you want to go back and look at the progress we made, or read about our thought process.
.
Over the past 2 years, we have changed a few things in this room and made a few tweaks to help the room function better for our growing family. Nothing too crazy or dramatic, but since I always love seeing how other people utilize their mudrooms, I figured it might be time for an update!
Here's how our mudroom is set up right now.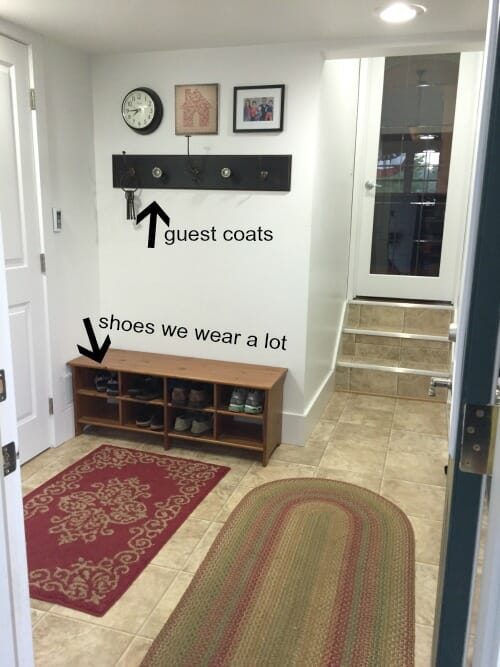 The closet area (see below) might look a little crazy — but we have a place for everything!
We keep all sorts of misc. items in the pockets on the right door (sunscreen, bug spray, lint rollers, umbrellas, flashlights, hats, shoe polish, ear plugs, binoculars, etc.)
All our coats are on the right side (all shoved back right now since we aren't using them) and all our swimming stuff is in the 3-drawer container under the coats (this works SO well because the kids can access anything they need!)
The pockets on the left door are for snow hats, gloves, mittens, scarves, beach hats, swim diapers, goggles, sunglasses, etc.
All our bags, coolers, backpacks, etc. are also on the left side of the closet.
One of my main goals with this mudroom is to keep ALL the "mud" and dirt in one single location — this means that EVERY SINGLE PAIR of our shoes and boots is stored in the mudroom.
I use the pull-out cabinet for my shoes, Dave has the bottom 2 shelves for his shoes, Nora has the top 2 shelves… and the boys keep their shoes in the basket under the black bench.
I LOVE that we can all "dump" our stuff when we walk in the door, and the kids are surprisingly really good at putting their shoes, sunglasses, bags, and coats away right when they walk in the door.
I have all their things at THEIR level, so they can get their own shoes and sunglasses… and they can stand on the black bench to reach their coats and hats if they want them.
I realize we'll have to continue to tweak our system as the kids get older, but for now, this system is working well for us.
.
Just for fun, here's a picture of Nora back when we were working on the mudroom — she is EXACTLY the same age in this picture as Simon is right now (2 yrs. 6.5 mos.)
And here's the whole group last week.
If you have a mudroom, what's your favorite feature?