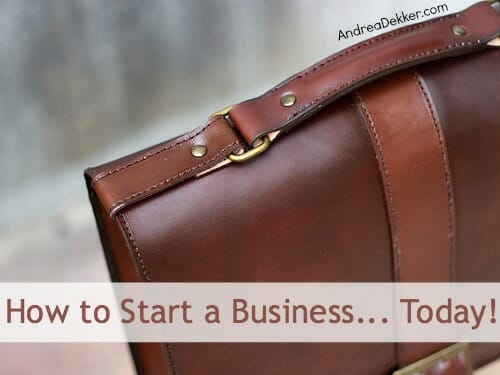 Over the years, I've answered many "how do I start a business?" questions; and although I definitely don't have all the answers, I'm always surprised by how shocked people are when I explain how simple the beginning stages can be.
In fact, you could literally wake up tomorrow and legally go into business for yourself — it's THAT easy.
You don't need to file an LLC (limited liability company) or a DBA (doing business as).
You don't need a separate bank account or EIN (employee identification number).
You don't need company checks, business cards, or a logo.
You don't need a website, a Twitter account, or a Facebook page.
You don't even need a business name!
All you need is something (a product or service) you can sell, some way to track any income you bring in and any expenses you pay out, and then make sure you pay taxes on that income at some point.
That's it — at least in the beginning.
Did you know that?
Obviously, there are tons more details that you might eventually need to work through once your business starts to grow… but in the beginning, it really can be that simple.
.
When I started my organizing business back in 2007, I didn't have a name, I didn't have business cards, I didn't have a website, I didn't have a lot of things. I just had myself, my car, and my trusty label maker… and I was in business.
So if you've ever thought about starting a business of any type, it CAN BE quite simple — especially if you can get by without a lot of product inventory or overhead expenses.
Want to get started?
Here are a few frugal business resources:
I use WordPress.org as my blogging platform. My site was custom designed by Agathon Group — they are also my web-hosting company (and Dave's cousin is the co-owner.)
You can also start a free blog/website with WordPress.com.
I use Outright.com for all my business accounting needs. There are both free and paid options depending on how many features you need to utilize.
I used Overnight Prints for business cards but you can also get really inexpensive (or even free) cards with Vista Print
Start a free Facebook page or Twitter account to get connected and market yourself.
If you're selling something homemade, use a free Etsy account to get started.
The Small Business Association website (SBA.gov) has a bunch of helpful resources — including this post about 10 Steps to Start Your Own Business
And here are a few blog posts you might want to read:
8 simple steps to start your own blog.
5 lessons I learned after 5 years in business.
A closer look at my daily and weekly work schedule.
How I was finally able to generate a full-time income online.
.
Starting a business might not always be EASY, but it can be pretty SIMPLE to get up and running — especially if you have an original idea, a great work ethic, and strong desire to succeed.
So if you've ever thought about starting a business or wondered if you could do it, the answer is probably yes!