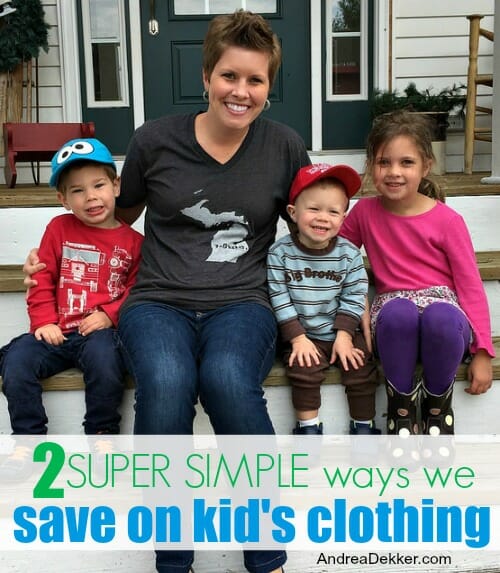 When it comes to kids' clothing, I'm about as relaxed as you can get.
I get almost every piece of our kids' clothing used, I refuse to fight about clothing choices, I don't designate separate "play clothes", I don't spot treat or sort any of their laundry, I don't try to resell their clothing, and I truly don't care what they wear 90% of the time (as long as it's weather appropriate).
That all might be somewhat shocking to many of you… but it's the honest truth.
For some reason, kids' clothing just isn't a "thing" for me. I don't care about it, I don't spend much time or energy thinking about it, and I certainly don't spend a lot of money buying it.
Maybe this will change as my children get older, but for now, I feel like our kids' clothing situation is very manageable, my kids seem to like their clothing, I like that we rarely ever fight about "what to wear", and I love the fact that I spend very little money on my kids' clothing!
Since I'm often asked for good money-saving tips, I thought I'd share 2 of the simplest ways we save on kids clothing. They don't involve scouring garage sales or thrift stores, they don't involve using coupons or reselling things at consignment stores, and they don't involve wearing grubby rags either. They are both much easier than all of that!
I know my ideas and tips won't work for every family… but they've been working really well for us for the past 6 years!
1. We Skip Every Other Size
This works particularly well for infants and young toddlers, but I've been surprised to find that it is still working well for Nora and Simon too.
Basically, I just buy clothing in every OTHER size — skipping one size in between and saving boatloads of space and money in the process.
For example, I'll buy 0-3 months clothing, skip the 3-6 month stuff, and go straight to the 6-9 month clothes. I have my babies wear the 0-3 month things until they are quite snug, and then I switch them directly to the 6-9 month things. Yes, they are a little too big at first, but they grow into them so quickly that it hardly seems to matter.
Right now, Nora's 5T leggings are all getting too short (just in time for summer) so I found a handful of size 7 leggings on Thredup (all the same brand and style, just different colors) and purchased them for this coming Fall. They are slightly long right now, but I have a feeling the size 6 or 6x would have been too short by Christmas. Now, she can wear too long pants for summer (if she even needs pants during the summer) and have pants that actually still fit next spring. And I don't need to buy her any new pants for another year!
2. We Cut Pants into Shorts or Capris
And speaking of Nora's leggings… we recently cut all her too-short size 5T leggings into capris and biking shorts (to wear under skirts and dresses).
I hemmed some of them, but others, I just left the raw edge since the fabric doesn't fray. It literally took me less than 30 minutes to transform her too-small winter leggings into capris and shorts that will fit perfectly all spring and summer long.
I also hemmed a few pairs of Simon's 2T pants that are definitely too short and made them into nice long shorts. And I picked up some 4T items from my cousin — most of which will only be slightly too big in the fall.
I realize you would need access to a sewing machine and some knowledge of sewing to hem the pants, but if you're just going to cut them off and leave the raw edges, it only requires a scissors and about 10 minutes of your time! It's seriously SO simple!
.
Again, I know these tips are more geared for younger children and probably won't work for teens 😉
That said, if you have any simple money-saving tips on teen's (or children's) clothing, please share them in the comments! I know others will find them useful — and I can tuck them away for a few years down the road!