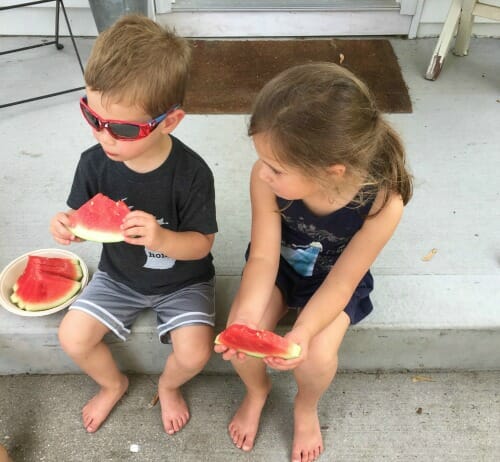 Memorial Day weekend is often a weekend where Dave and I make every effort to finish a bunch of projects and to-do's on our list… so naturally, we assumed we'd be plugging along on the upstairs bedroom renovation last weekend.
However, it just so happened that our drywall guy was delayed a few days and couldn't get started until Friday morning. Of course, he couldn't finish in just one day, so from Friday afternoon of Memorial Day weekend until Tuesday morning, we were basically at a standstill with the bedroom project.
There was nothing we could do until the drywall was finished… so we decided to totally remove all bedroom project thoughts from our brain and focus on other things for the long holiday weekend.
Wow, what a nice change of pace!
Not only did we not have to think about the renovation, we also didn't have to clean up the room, vacuum and dust the entire house multiple times, shake out rugs, and deal with all the extra noise.
Instead, we enjoyed our clean(ish), quiet(ish) house for the entire weekend — and we actually accomplished several other little things instead.
We installed a retractable screen door on our mudroom (something we've thought of doing for a couple years now).
We powerwashed the front porch and a few other areas of our home, garage, outbuilding, etc.
We swept up a bajillion helicopter seeds off our driveway, our deck, our porch, our roof, our gutters, etc. They were finally finished falling so we could finally clean them up!
Dave and the kids threw me a "surprise baby shower" (Nora's idea) complete with decorations, gifts, games, snacks, and a handmade invitation.
I took the kids to the parade while Dave did a bunch of yard work.
We did patriotic crafts, made patriotic snacks, and enjoyed blue pancakes with strawberries, blueberries, and whipped cream.
Dave took the grill apart and cleaned it really well.
I got all caught up on my digital photo albums and watched the last 2 episodes of Call the Midwife.
I ordered a few fun things for the kids via Amazon, and starting planning for an upcoming cottage vacation we have in less than 2 weeks.
Dave caught up on his book and got ready for exam week at school.
Our new retractable screen door — so far, we LOVE it!
Baby shower decorations and gift.
Playing "pin the baby on the belly" 🙂
My surprise baby shower (I was out doing yard work while they set it up)!
Patriotic pancakes.
Having fun at the parade.
Enjoying popsicles outside.
I realize many of the things on that list aren't overly-exciting, but after spending the last 3 weeks living in somewhat of a construction zone, it sure was nice to clean the house, shut the door to that bedroom, and think about other things for the entire long weekend.
And honestly, we weren't even feeling overwhelmed with the bedroom project. We're plugging along, making great progress and excited to see the end results — although living in the mess does get to me after a while! That said, I've found that a change of pace and a new thought process is often such a welcome and refreshing break in the middle of a bigger project (even if it's going well and we're not overwhelmed).
I felt like we had such a nice relaxing weekend (even though we accomplished a lot) simply because we focused our time and energy on different activities than we have been the past 3 weeks.
The change of pace was just what we needed!
As I was thinking about how nice our weekend was, I realized we can all probably benefit from a change of pace every now and then.
Taking a break from our to-do list for the afternoon to play with our kids or even take a nap.
Planning a super relaxed menu for the week that includes take-out and restaurants a few nights.
Taking a few days off from a home renovation project to focus on other things.
Using a couple vacation days to just hang out at home — not necessarily to go on a vacation somewhere else.
Putting away a sewing project, craft project, or even a book that is taking more of your time than you'd like to admit.
Finding someone to watch your kids for the whole morning or afternoon while you do something you wouldn't normally do with kids.
There are so many more examples I could give, I'm certain I could come up with one that applies to your life too!
Although I love schedules, I thrive off regular routines, and I really enjoy finishing up a big project, there is just something to be said for tossing the to-do list every once in awhile!
Don't you think!
When was the last time you changed things up a bit?