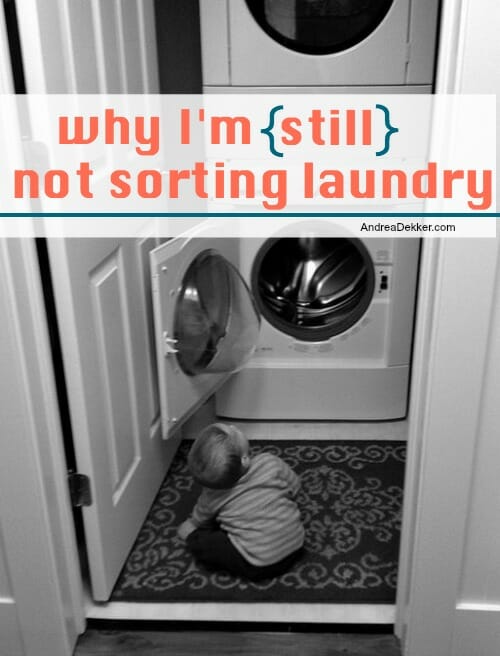 Over the years, I have frequently mentioned that I don't sort my laundry — like for real, I wash all colors and all fabrics together.
When I first shared my non-sorting ways, it was just Dave and I so we had much less laundry, fewer clothes, less towels, less sheets, etc. I usually only did 2 loads of laundry a week — and just threw everything in. I never had ANY problems with colors fading or bleeding.
To be fair, I often separated the sheets, towels, rags, etc. because I bleached those, but even when I didn't separate the whites, nothing ever bled or faded.
Fast-forward 5+ years and 3 children later, I have toyed with the idea of sorting laundry again — just because we have so much more to wash, and could easily do a full load of lights, darks, and whites in the middle of the week and again at the end of the week.
I tried this method for a couple of months after James was born (because, after all, sorting laundry really isn't much work.) However, I felt like it was unnecessary and an extra step I was taking "just because".
I saw no benefit from sorting anything, so I went back to my previous method of doing 3 loads of laundry in the middle of the week and 3-4 loads at the end of the week.
More recently though, I've been doing laundry based on where the laundry needs to be returned to.
Instead of just throwing everything all in together, I'll throw Nora and Simons clothes all in together (with the towels from the upstairs bathroom) so when the dryer finishes, I know everything in that load goes straight upstairs.
Then I'll do our clothes and James' clothes together since we are all on the main floor. Finally, I'll wash all laundry from the kitchen and the 2 main floor bathrooms in one load (usually with bleach).
So technically, I'm still not sorting anything, just choosing to do certain people's laundry together (we all have individual hampers in our bedrooms).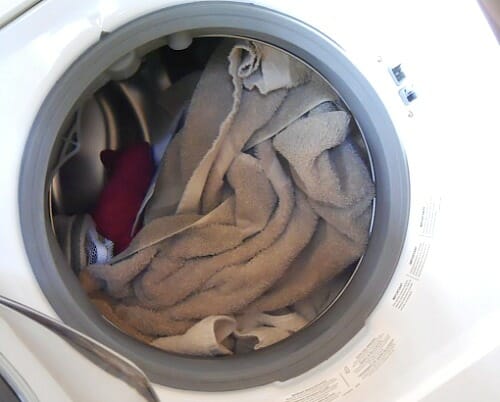 This non-sorting method of doing laundry is working SO fabulously for me right now — it doesn't take any extra time when I'm tossing the laundry into the machine, and it is SAVING me a boatload of time folding laundry and sorting out piles for various people and places in our house.
Now, when the dryer buzzes, I just bring the upstairs basket back upstairs and leave the downstairs basket down here.
Eventually, as our children get bigger and start sharing bedrooms, I could see doing one load per bedroom to simplify things even more. And by then, my children will most likely be old enough to fold and put away their own clothing — which means I'll have worked myself right out of a job (Nora has been helping to fold laundry for well over a year already!)
Want more laundry tips and tricks? You can read all my laundry posts here.
In the meantime, I'd love to know…
How do you handle laundry in your house?