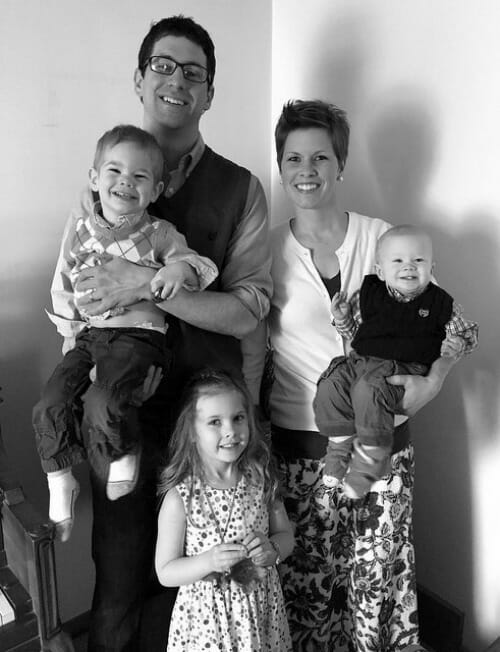 Last week started out by celebrating Easter with lots of extra stuff going on at church and a big family dinner at my parents house. By Sunday evening, I felt worn out and the work week hadn't even begun.
Thankfully, the rest of the week went by very quickly as Dave only had a 3-day work week due to a water main break at his school on Wednesday and Spring Break starting on Friday (yay for 10 days home with Dave!)
We were outside A LOT, despite colder temperatures, a few sprinkles, and even a full-blown snowstorm on Saturday (yes, snow in April!)
Speaking of being outside, I did quite a bit of yardwork at night after the kids were in bed (before the snow hit). It felt so good to get outside and start making things pretty again!
I just love working on my yard — even if it's weeding.
I also did TONS of decluttering inside over the past 2 weeks!
I keep finding more and more things we don't really need. Our laundry room has been a revolving donation station as that's where I've been putting the bags until I'm ready to take them away.
Once I have 4 or 5 bags, I bring them to the second hand store that's just down the road — so far, I'm up to 20 bags of donated goods, several bags of trash, and some bulkier donation items that didn't fit in bags. Not too bad!
I always wonder where everything comes from — but then I remind myself how much STUFF we accumulate from the end of November to the end of March — Nora's birthday, Christmas, New Years, Valentines, Simon's birthday, Easter, plus all of Nora's school papers and projects and crafts, and all the stuff I get from companies to review (most of which never make it to my blog!)
I guess it's not a huge surprise that we have plenty of things to purge!
Even though I still have more to do, it sure feels good to know that I'm lightening our load and emptying our home little by little.
.
Nora and Simon constantly waffle back and forth between being the best of friends and fighting like they hate each other — so totally normal compared to all siblings I know 🙂
They are starting to play so nicely together (even amidst the fighting). I can't wait until next year when James will be big enough to join in on the fun!
Speaking of James, he cut 3 new teeth over the past 2 weeks — now he has 2 HUGE teeth on top and 3 on the bottom (and I think I can see 2 more coming in on the top!)
James also came down with a flu bug of sorts. He woke up in the middle of the night on Friday covered in puke… and after he continued to throw up all night long, we had to cancel our plans to visit my sister and her husband.
Despite the fact that our van was fully packed and Nora was beyond excited to "go on vacation" we stayed home and I spent much of the weekend on the couch with James.
Thanks to a little extra "down time" with James, I had a chance to catch up on my Netflix shows over the weekend.
Netflix shows I am currently watching:
Fuller House (only 2 more episodes)
Fixer Upper season 2 (the 2nd season just showed up on Netflix, and we started watching it immediately!)
I have recently finished watching:
Land Girls (totally worth it — but I'm wondering if there are more seasons coming. It was kind of an odd ending)
Becoming Jane (It's Jane Austen's biography, starring Anne Hathaway — it was pretty good!)
A few things on my "to watch" list:
(this is the same as my last post)
The Boy In Striped Pajamas
Secrets of War
Cooked
Plant Pure Nation
The Railway Man
We have been eating lots and lots and LOTS of food from the freezer for the past couple of weeks as we were gearing up to defrost the freezer this past weekend (I did it Friday morning and it went SO quickly).
We had to make room for the 40 pounds of chicken we got from Zaycon Fresh 2 weeks ago and the 120 pounds of beef that we're picking up TODAY! (Dave's parents gave us a quarter of a cow for Christmas)
I LOVE how empty the freezer is now!
Our Menu Plan:
SUNDAY:
Ham, potatoes, veggies, rolls, etc. at my parent's house
MONDAY:
TUESDAY:
WEDNESDAY:
Tatertot Casserole (the mixture was in the freezer, and the tater tots were frozen too)
Broccoli, cauliflower, and green beans
THURSDAY:
Culvers to celebrate the start of Spring Break!
FRIDAY:
Bubble-up Pizza
Salad
Fruit
Brownies
SATURDAY:
Leftovers for lunch
Chicken quesadillas (quesadilla mixture from our freezer)
Mango salsa and chips
.
Dave and I are both looking forward to a full week at home.
We have plenty of to-do's on our list, but first, we're hoping that James gets over this bug… and that no one else catches it from him!