A More Detailed Look at our Important Info Binder
posted by Andrea | 05/2/2017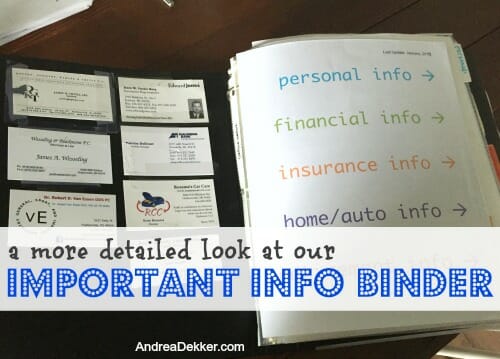 Ever since I first shared our Important Information Binder (over 4 years ago now), I have gotten so many questions, comments, and emails asking me to:
go into more detail
explain more
explain why we feel this binder is so necessary
etc. etc.
So a few months ago, I shared more detail, more explanation, and exactly why I feel it's SO crucial for every single household to have some sort of organized system for all the important documents and information for their home and personal lives.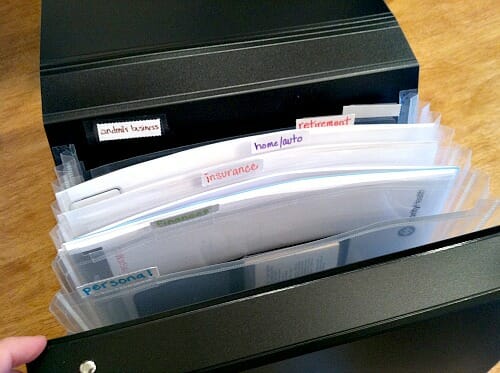 I thought the questions would stop… however, after that post, I continued to get more emails and questions, asking specifically for a list of exactly what items and documents we have in each category of our important information binder.
.
Honestly, I didn't want to answer the questions, emails, and comments.
I felt like they were too personal, too intrusive, and just too much.
I kept many of the emails and questions in my "follow-up" email folder for many weeks (which is totally unlike me — normally a very prompt email responder). I thought about the request for a couple months, and I finally decided that I can share the information without being too "revealing" of our personal lives.
Plus, my goal for writing the initial post was to help others get ALL their important information organized and in ONE location so we can all be prepared for those "what if" situations in life.
. 
I sincerely hope today's post is helpful for those of you in the midst of setting up an important information binder — or that it's the extra nudge you need to finally start (and complete) your own important information binder.
It is a bit of work upfront to compile all the necessary information (especially if you have lots of different accounts) but over the last 4+ years, I have spent mere minutes a year updating the necessary information.
So once it's done, you should have very little maintenance… and oh what peace of mind I have knowing this information is organized and ready to go if it's ever needed.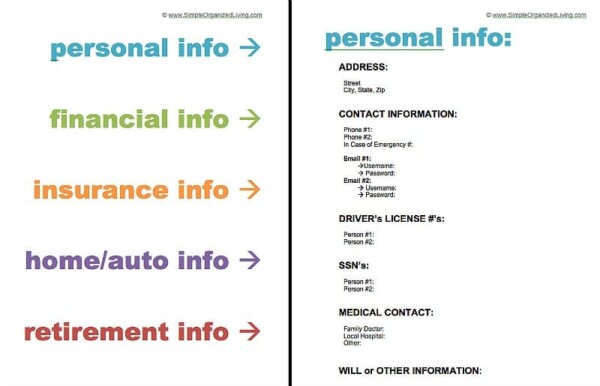 Here we go… a list of everything we keep in OUR important info binder.
**NOTE: I refer to the "cover sheets" in each section below. You can download and print your own cover sheets (for free).
Also, I have many photocopies of original documents in our binder — the originals are all stored in our fireproof safe.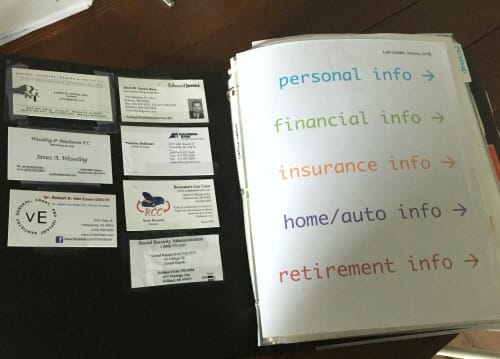 INSIDE COVER: 
Business cards for all our "VIPS" (bank managers, financial investors, accountant, attorney, web developer for my blog, doctors, dentist, mechanic, etc.)
Information regarding the whereabouts of our fireproof safe and the key
PERSONAL INFO SECTION:
Cover Sheet
Photocopy of our Marriage License
Photocopies of Dave and my Driver's Licenses, Social Security Cards, Birth Certificates, and Passports
Dave's most recent teaching certificate
Each of our childrens' Birth Certificates, Social Security Cards, Baptism Certificate, and immunization records
FINANCIAL INFO SECTION: 
Cover Sheet (most of our financial info is just numbers and passwords, so it's almost all on our cover sheet)
A signed agreement from our financial investor
A listing of all my Savings Bond numbers, valuation, and expiration dates (I got SO many growing up)
Statements showing our student loans were paid in full
INSURANCE INFO SECTION: 
Cover Sheet
The current "Annual Report" for both Dave and my life insurance policies
The contract for our health and dental insurance
A booklet of information regarding Dave's life insurance through his school (in the back accordion section of our binder)
A booklet of information regarding Dave and my extra life insurance (in the back accordion section of our binder)
A booklet of information regarding our health insurance (in the back accordion section of our binder)
HOME & AUTO INFO SECTION:
Cover Sheet
Official Warranty Deed showing that all real estate we own is actually owned by our Living Trust not Dave and I personally
Information for our home title, purchase agreement, certificate of survey for our property, and the mortgage payoff
Most recent Property Assessment and Taxable Valuation Report
Information for our home and auto insurance
Certificate of Title, Michigan Registration, and License Plate Renewal Notice for each vehicle
RETIREMENT INFO SECTION: 
Cover Sheet
Information for Dave's school's pension plan
Information for each of our Roth IRA's
Dave's most recent Social Security Statement
Document showing that all our retirement accounts are property of our Living Trust
MY BUSINESS INFO SECTION: 
Cover Sheet
My most recent LLC filing
My most recent signed W-9
My Business filing through the state
My Employer Identification information through the IRS
A document from the IRS stating that I file taxes as an S-corporation even though I'm technically an LLC
A Membership Certificate stating that my business is owned by me and that the ownership transfers to our Living Trust if anything happens to me.
OK… I think that's everything.
I'm guessing many of you might be wondering things like
but what about the phone numbers and email addresses
what about the usernames and passwords
what about all their specific account information
ALLLLLLLL of that information is the individual Cover Sheets — they basically serve as "at-a-glance" reference sheets with the majority of our important information typed up and printed on one piece of paper (sometimes 2 if we have a lot of information).
And remember, you can download and print your own cover sheets here. Then just fill them out with your own information and you're ready to go!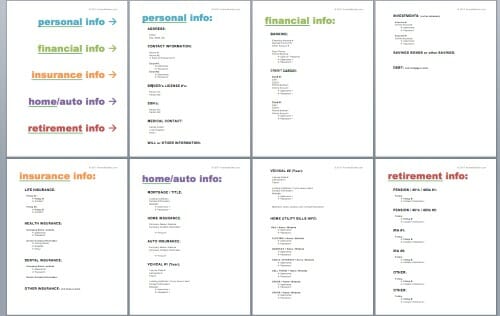 If you do nothing else, just having the cover sheets filled out and stored in an easy-to-access location will be a huge help to anyone who needs to access your information in a time of crisis. I just like including the extra documents and putting everything in a binder to be very thorough 🙂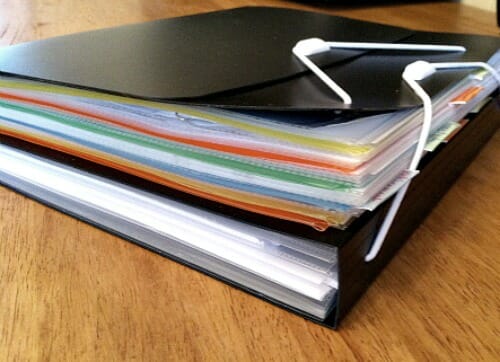 I am 100% confident this binder will be hugely helpful if/when it is ever needed by anyone other than Dave or myself.
However, if I'm perfectly honest, this binder has already been extremely helpful for me over the past 4 years. There have been so many times when I would have had to look up tedious information, account numbers, passwords, etc. and all I had to do is grab my binder and quickly look up the information.
And speaking of "grabbing my binder" I'm often asked where we store our binder.
I'm not going to answer that (for obvious reasons), but I've had many good suggestions over the years from other very smart people!
Here are some of their ideas:
With recipe books in the kitchen
With photo albums
Out in plain sight labeled "family vacation" or "favorite memories"
On the tool bench
In the game cabinet
With the craft supplies
In the office labeled "to-dos"
I know most people think they should keep it locked away for safe-keeping — but honestly, if a thief came into your home, they would instantly look for a safe somewhere. They probably wouldn't bother scanning through your cookbooks, family photo albums, craft supplies, or your game cabinet.
Plus, by keeping your binder somewhere you can easily access, you'll be able to refer to it and update it more easily than if it was locked away in your safe in the back of your extra closet in the back of your basement bedroom 🙂
.
So what are your waiting for… get started on YOUR binder today!