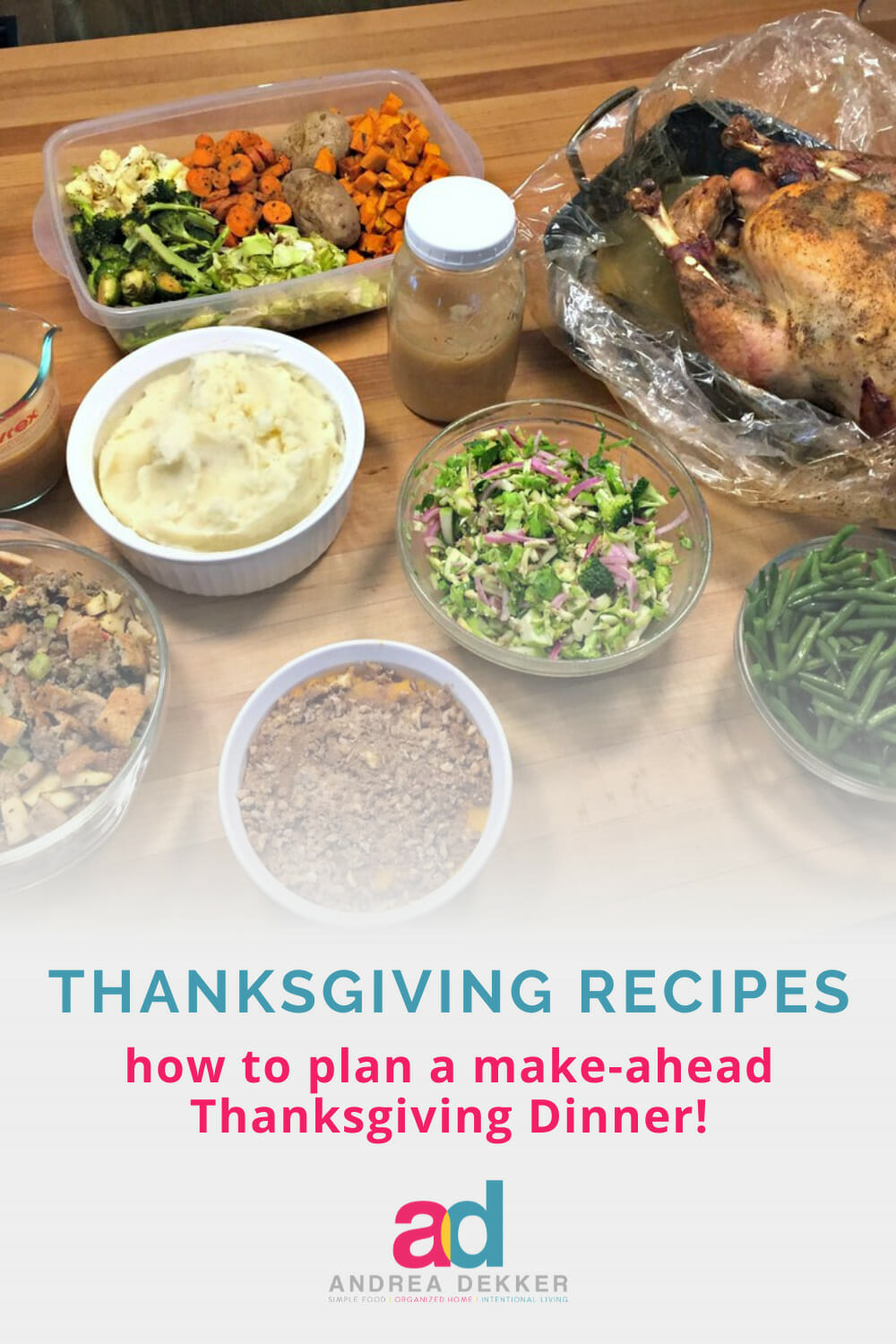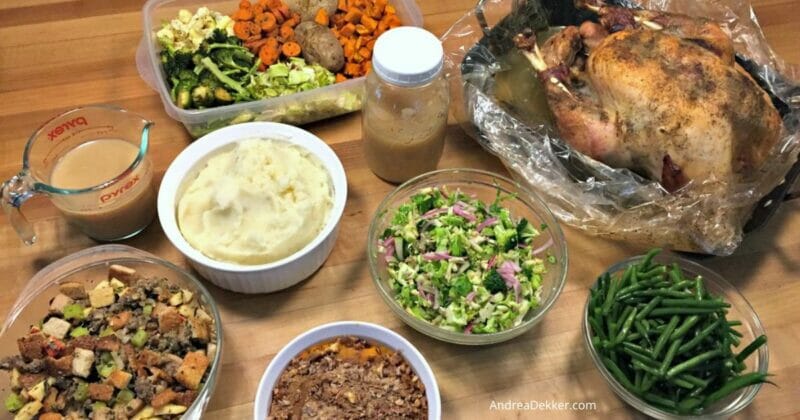 Thanksgiving has always been my favorite holiday — mainly because there are no gifts involved! It's also not nearly as consumer-driving as Halloween, Easter, Valentine's Day, and Christmas.
Plus, I LOVE making all sorts of delicious fall foods, desserts, and other Thanksgiving favorites this time of year.
The only thing I don't love about our large holiday gathering is the last-minute rush to prepare the food at the exact right time while everyone is waiting and watching!
As a result, I've nearly perfected the art of making ALL my favorite Thanksgiving recipes in advance.
Yup, even the turkey!
I'm to the point where I almost don't do any cooking on the actual holiday — just reheating the food.
And I promise, it still tastes amazing!
A Few Benefits of Make-Ahead Recipes:
Less stress — the bulk of the food is ready before the holiday.
Less mess — you can have it all cleaned up before guests arrive.
There's time to run back to the store if you forget something.
You don't have to wake up at 4 am on Thanksgiving to get the turkey started.
You can actually go to church on Thanksgiving morning.
You can use the bones from the turkey to make extra broth ahead of time — which you can then use for gravy, stuffing, and to reheat the turkey meat.
The only downside (from my perspective) is that you won't get that nice Norman Rockwell moment with your family eagerly waiting while you place the giant turkey on your table.
Just buy the puzzle to do after your meal, and call it good! 😂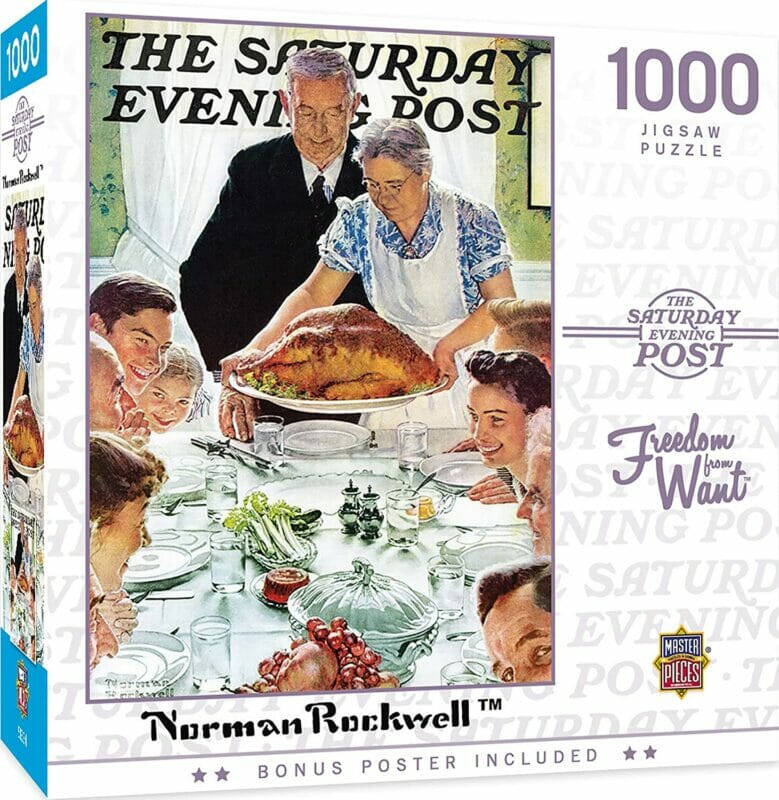 Have I convinced you yet?
Ok then, let's dive into some of my favorite make-ahead Thanksgiving recipes, and how you can simplify your holiday entertaining this year!
How to Make Your Turkey Ahead
Yes, it's fully possible to make your turkey several days in advance and still serve tender, juicy meat at your holiday meal.
I've been doing it this way for YEARS and no one has complained yet.
I've also heard from hundreds of you over the years — that you now also make your turkeys in advance. So this method works for more than just me. 🥰
Simply follow the step-by-step instructions below to make your turkey anywhere from 1 to 7 days before your meal. I also wrote an entire post about this method a few years ago.
STEP 1 = Season your turkey as desired (I use garlic, salt, pepper, onion, thyme) and place BREAST DOWN in an oven-safe "turkey bag".
STEP 2 = Roast turkey according to directions on oven bags (based on the weight of the turkey). Allow the turkey to rest in the juices until it's cool enough to handle.
STEP 3 = Remove meat from the bones and refrigerate in a large food storage container.
I usually try to cut large chunks of meat, and I keep the bones in the legs so someone can eat them whole. I also separate white and dark meat so guests can choose their preference.
STEP 4 = Make bone broth with remaining bones. Put the bones in your largest slow cooker, fill it with water, and cook on low for 24 hours.
Use this delicious broth to make gravy, for your stuffing, and when you reheat the turkey on Thanksgiving Day. (more on that below)
STEP 5 = Reheat turkey meat in slow cookers or large roasting pan, covered in broth.
About 4 hours before you're ready to eat, you'll want to reheat the turkey in your biggest slow cooker. I actually use 2 slow cookers — one for dark meat and one for white meat — but you can throw it all in one slow cooker if you prefer.
Cover the meat with bone broth (store-bought stock or even water will work too) and turn the slow cooker on low for about 4 hours.
If you want to do it in the oven, you'll probably only need 1 hour at 250ºF — but make sure you pour the broth into the pan and cover it with a lid or tinfoil so the broth doesn't evaporate.
It won't look as pretty as a nicely dressed bird, but it will taste amazing and you'll save yourself so much stress and mess!
Make-Ahead Hot Side Dishes
Every recipe below can be made 1 to 4 days in advance, covered, and refrigerated until your Thanksgiving Meal.
Simply preheat your oven to 350ºF and throw everything into the oven at the same time (about 45 -60 minutes). Or cook in a slow cooker on low for 4 hours.
Make sure your food is covered with foil if you're reheating it in the oven.
Gravy — just make your gravy (with the broth from Step 4 above) in advance and reheat it in a slow cooker or on the stovetop.
Make-Ahead Cold Side Dishes
The salad recipes below all taste even better after sitting in the fridge for a day — so do yourself a favor and make them in advance.
Make-Ahead Breads and Rolls
I've had good luck warming up homemade bread and rolls that I made the night before.
However, if you're using pre-packaged refrigerated dough (like the pull-apart biscuits below), you'll probably want to do that right before your meal.
Make-Ahead Thanksgiving Desserts
Almost any "cold" pie or dessert can easily be made the day before and refrigerated until after your meal — in fact, they often taste BETTER when allowed to sit overnight.
NOTE: If you prefer warm fruit pies, just place your already-baked pies on cookie sheets and pop them into a 250º oven for roughly 20 minutes.
These are some of our favorite cold pies and desserts.
A Sample Make-Ahead Timeline:
Here's an idea of what I do on each day leading up to Thanksgiving Day.
SATURDAY
Defrost the turkey
Make applesauce (refrigerate until Thursday)
Make a variety of bars and cookies (freeze until Thursday morning)
Clean out my fridge
Gather/print all my recipes
Shop my pantry/freezer and make a list of everything else I need to buy for the meal
MONDAY
Buy all groceries (including drinks and paper products, if necessary)
Refrigerate drinks
TUESDAY
Cook the turkey (I don't brine mine — but if you do, you'll want to do that on Monday)
Pull all the meat off the bones and refrigerate it until Thursday morning
Start the bone broth in slow cooker
Make sweet potatoes and mashed potatoes (refrigerate until Thursday morning)
Make stuffing and carrots (refrigerate until Thursday morning)
WEDNESDAY
Make lettuce or brussels sprout salad (refrigerate)
Make pumpkin pie and pudding pie (refrigerate)
Make dough for rolls (refrigerate)
THURSDAY
Remove cookies and bars from the freezer to defrost on the counter
Remove bread dough from the fridge and form it into rolls, let rise
Put turkey in large slow cookers with broth and start warming on low (4 hours)
Bake rolls (15 minutes)
Reheat potatoes, sweet potatoes and veggies (45 -60 minutes)
Set up buffet with cold food and add hot food as guests arrive
Enjoy your meal + dessert without all the stress and extra mess!
FRIDAY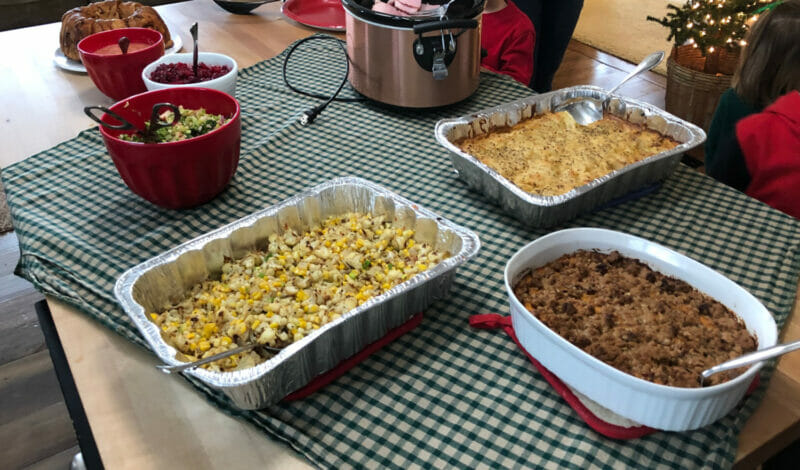 MORE Tips for Simple Holiday Gatherings
Along with making all my food in advance, here are a few additional tips and tricks I use to simplify my holiday gatherings.
Start cleaning out your fridge now so you'll have room for all the extra food.
Stick to traditional holiday foods — don't try to make something "new" or different.
Stock up on paper products and aluminum pans to make cleanup much easier.
Have extra containers on hand to send food home with guests.
Double or triple-line your trash cans so you don't need to mess with putting a new bag in.
Set up your food in a buffet style to lessen the number of serving dishes you need and to speed up the serving process.
Clean the bathrooms before people arrive… clean the rest of the house after they leave!
A Few Thanksgiving Fun Facts:
The first Thanksgiving was in the Fall of 1621, and included roughly 50 Pilgrims and 90 Wampanoag Indians. It was said to have lasted 3 full days. Apparently, only 5 women were present as many of them were unable to survive the difficult first year.
There was no turkey on the first Thanksgiving — it was most likely venison, ducks, oysters, lobsters, eel, and fish. They most likely DID eat pumpkins — but not as pie.
Thanksgiving became a national US holiday in 1863, thanks to Sarah Josepha Hale (writer of the classic song, "Mary Had a Little Lamb") who apparently convinced President Lincoln, after 17 years of faithfully writing letters campaigning for this to happen.
Thanksgiving is said to be the reason for the introduction of TV dinners in the 1950s. Apparently, Swanson had more than 260 tons of extra turkey in 1953, and a salesman suggested that they should package it into aluminum trays with other sides like sweet potatoes.
The whole "watch football on Thanksgiving Day" tradition began in the 1920s when the NFL started their Thanksgiving Classic games. Since then, the Detroit Lions and the Dallas Cowboys have hosted games on Thanksgiving Day.
NOTE: These "fun facts" are from our local Library — I don't have an exact source. 😉
Happy Thanksgiving Week!
And in case you're wondering, I won't be out shopping on Black Friday 🙂