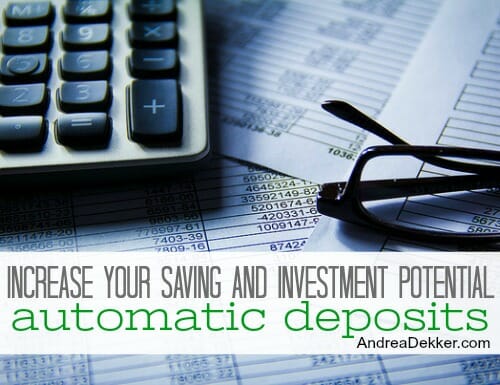 I've said it before and I'll continue to say it over and over again — automating our savings and investments has been one of the main reasons we've been able to stick with our lofty savings and investment goals for the past 11+ years.
When we first set up our bank accounts after our wedding, we had Dave's entire paycheck AUTOMATICALLY deposited into our checking account, and my entire paycheck (back when I was working outside the home) automatically deposited into our savings account.
We also set up Roth IRA's for each of us, with a specific amount AUTOMATICALLY transferred from our checking account to our investment accounts each month.
NOTE: I'm often asked who we use for our investments…

We use Edward Jones for no other reason than it is/was very convenient! We are happy with our investment guy so we currently have no reason to switch, but we definitely aren't opposed to other options in the future.
It only took us a few minutes to set up these systems so many years ago… and since then, the automation has saved us boatloads of time, piles of monthly checks, hundreds of trips to the bank, and the peace of mind knowing that we are continually building up our savings and our investments.
Dave and I decided very early on that we wanted to live off half our income — which basically amounted to ONLY using Dave's income for all our bills, weekly and monthly expenses, vacations, gifts, etc. etc.
We even pulled our investments from his income since we didn't want to take anything away from our savings until we had a larger planned purchase — like a new-to-us vehicle, a home renovation, hospital bills for our children's births, or a large principal payment on our mortgage.
There have been many months when the money in our checking account was getting low and we thought we might have to dip into our savings for a non-major expense. However, each time, we were able to cut back in other areas and leave our savings and investments untouched.
If we did not already have those automated systems in place and all our income simply went into our checking account, I'm 100% positive we would have spent significantly more on our daily expenses because the money would have been so readily available.
The fact that our money was automatically going to savings and investments meant that it would have been extra work for us to get to that money. We would have needed to make phone calls, drive to the bank, and even sign paperwork in some situations (this was before we did online baking!)
Instead, we saved ourselves the hassle and got creative with other ways to save without sacrificing our savings or investments.
Now, almost 12 years later, we have been able to use the money in our savings account to pay cash for all our home renovations, pay cash for 4 new-to-us cars (not all at the same time!), and pay off our current home's mortgage in less than 7 years.
And if you think you need a huge income to be able to pad your savings account or start investing, I can assure you we do NOT, and you don't either!
Dave works for a Christian school and I work during my kids' naps! We are middle class people living in a relatively low-cost-of-living area, making a point to live below our means, and automating our savings and investments.
I remember when we set up our (very) small investment account soon after our wedding. We invested $100 every month and our investment guy told us to leave the money untouched for at least 7 years if possible. Since everything was automated, we essentially forgot about that money until we decided to use some to buy our minivan 2 years ago.
I was shocked to see how quickly $100 a month (plus investment growth) added up over the years. It almost felt like "free money"!
If $100 seems impossible with your budget, I'm positive that even $10 or $20 a month WILL add up over the years. And if the process is automated, you won't even need to think about it or worry about forgetting!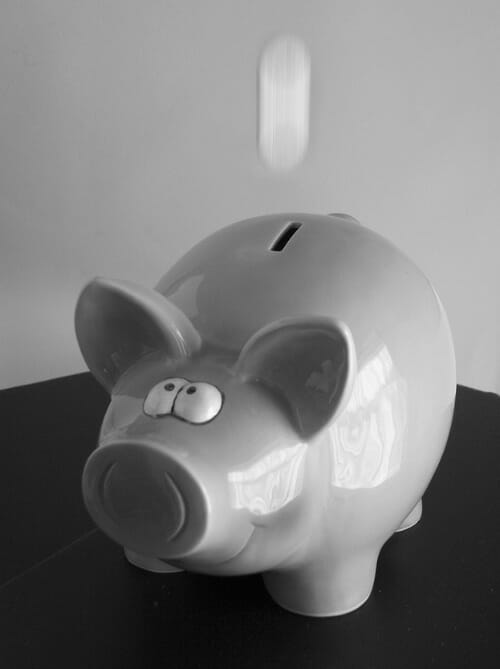 As we approach another New Year with new goals, I'd encourage you to set up a monthly auto-deposit into a specific savings or investment account. Then commit to leaving that money untouched for as long as you possibly can.
You might just be surprised how quickly it adds up!
What are your thoughts on automating your savings and investing?
photo source top photo credit