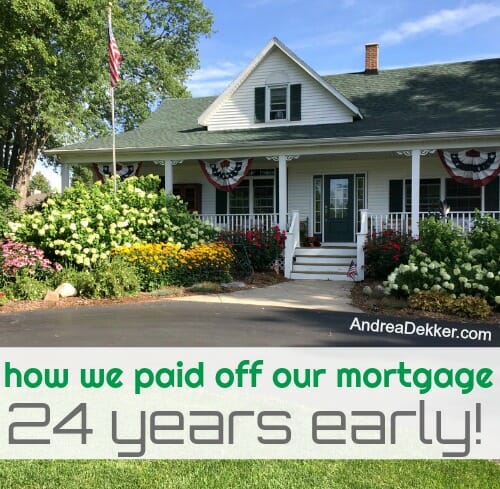 Many years ago, I shared how Dave and I agreed (before we were even married) to live off 50% of our income.
We honestly weren't sure how long we would (or could) stick to it, but our initial intentions were to do it for as long as possible.
Our rationale for living off 50% of our income was 3-fold:
We would be financially OK if one of us lost our job or if one of us wanted to stay home with future children.
We would start our married life living well below our means and creating frugal habits that would hopefully last a lifetime.
We would QUICKLY build a nice savings nest-egg, which we could then use to make extra principal payments on our student loans and mortgage.
At the time, we both made roughly the same (very tiny!) income, so Dave's paycheck was directly deposited into our checking account, while my entire paycheck was directly deposited into our savings account. I explain more about living off half our income in this post.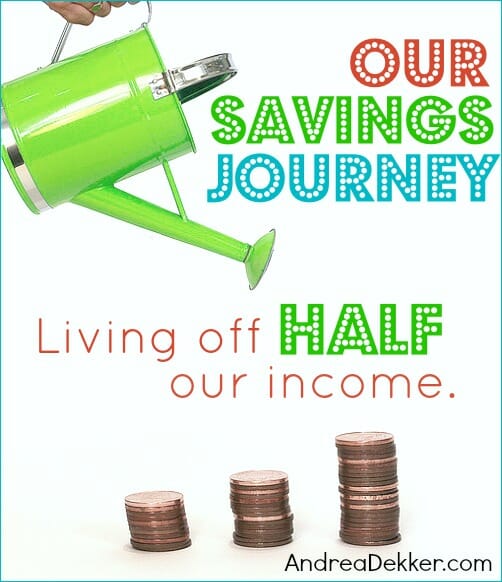 After sharing how we lived off 50% of our income, I intentionally didn't mention much about our mortgage until a couple years ago when I confirmed (within the context of another blog post) that we had indeed paid it off.
I guess we felt that paying off our mortgage was just another item to cross off our to-do list — not necessarily something with a 5-step program I could outline and share in a blog post.
However, for the last several years, I have been asked over and over and OVER again to share more about "how" we paid off our mortgage in less than 6 years… and although the obvious answer is that we simply made payments until the debt was gone, I have come up with a list of 6 things I feel helped us tremendously in our efforts to pay off or mortgage so early.
.
1. We prioritized debt-free living from the beginning.
I often joke that I folded my t-shirts like Marie Kondo WAY before "konmari" was a popular fad… and I saw the benefit of debt-free living way before Dave Ramsey was a household name. Just think how wealthy we could be if I figured out a way to promote my t-shirt folding when I was in middle school or promote financial freedom in high school!
In all seriousness, Dave and I are not Dave Ramsey followers, nor do we agree with his no-credit card mentality; HOWEVER, the fact that we both prioritized living debt-free even when we were in college is probably not totally "normal" these days.
I suppose we can thank our fairly frugal, level-headed, all-things-in-moderation parents for this! 🙂
Whatever the case, we entered into our marriage with 2 student loans and a mortgage… along with the drive and determination to pay it all off ASAP.
In order to do this, we prioritized paying off this debt over pretty much everything else.
We didn't go out to eat (ever).
We didn't travel ever (after our honeymoon).
We didn't have cable, internet, smart phones, or any subscriptions for anything.
We kept our heat at 60º (no, I'm not joking) and rarely ever used our air conditioning.
We didn't buy anything unless we absolutely 100% needed it and couldn't borrow it.
Even if we did truly need something, we almost always found it used.
I kept our grocery budget to less than $40 a week (often closer to $20 a week!)
We both picked up SO many side jobs.
I sold TONS of stuff on Craigslist (lots of furniture I'd find for free or buy cheaply, then repaint and sell for more).
I could list 50 more crazy frugal things we did in those early years, all with the intention of putting a large chunk of our income towards the principal payment on our student loans and mortgage.
2. We chose to live in a low-cost-of-living area.
Before we were married, Dave taught in California for one year — and although it probably would have been fun to move to CA, neither of us were thrilled about living in such a HIGH cost of living area on a Christian school teacher's salary (his salary was not adjusted for cost of living, so he actually made more his 2nd year teaching in Michigan!)
Thankfully, he found a job back in Michigan, which meant we could stay here after we were married and capitalize on a MUCH lower cost of living!
I realize this is not always possible, but it is a huge reason we were able to pay off our mortgage so quickly, even with our fairly low income.
3. We bought much LESS than we could technically afford.
Realistically the bank would have loaned us 3 or 4 times the money we needed to buy our house — but we declined.
We made a larger down-payment (around 45%) and mortgaged the rest, knowing we still needed a decent amount of cash on hand to fund all our upcoming home renovations.
4. We took out the shortest mortgage we could afford.
We took out a 7-year mortgage on our farmhouse… I think the bank thought we were crazy!
They were pushing for us to do 15, but we were set on 7 — with the intention of paying it off early (which we did).
By choosing a shorter mortgage, we got a drastic reduction on our interest rate (I believe it was 2.49%) which made it that much easier to pay the debt down quickly.
5. We set up auto-payments for much more than the minimum.
We had our mortgage payment automatically debited from our bank account on a specified date each month. However, instead of paying the minimum amount needed to pay off our mortgage in 7 years, we paid extra towards the principal balance each month.
There were times when we made double payments — with all the extras directly applied to the principal balance (not interest).
These auto-payments were (in my opinion) the main reason we were able to see our goal come to fruition. The fact that everything was automated each month and I didn't have to think about anything made it next to impossible to miss a payment, forget a payment, or decide we really didn't have enough to put extra towards principal. It was already done, the money was already allocated, there wasn't anything I could easily do to stop it!
6. We made an extra principal-only payment every year.
Every year, we made an extra principal-only payment — sometimes it was only $300, other times it was $4000. Just whatever extra money we felt comfortable putting towards our principal balance. These payments HUGELY impacted how quickly we were able to pay off the mortgage.
.
I realize some of these tips and ideas are not realistic for many of you — especially choosing to live in a low cost-of-living area.
HOWEVER, if there's one bit of encouragement I want to leave you with, it's that Dave and I do NOT make all that much money.

I don't say this to complain, but rather, because it's our reality (and our choice)…

Dave chose to be a Christian school teacher, which means he makes considerably less than the average public school teacher (and you know public school teachers don't do it for the money either!)

I chose to start my own business and to work from home while raising my children (without any childcare, virtual assistants, nannies, house keepers, or employees). If I feel my plate is too full, I simply remove something (usually work related) and accept that my income will be less while I'm at home with my children.

Thankfully, we have practiced living off considerably less than we earn from the very beginning of our marriage, so even with a moderate household income, we were still able to pay off our mortgage roughly 24 years early (while simultaneously paying cash to completely gut and renovate our entire home and yard!)
If we can do it… YOU can do it too!
Maybe it will take longer than 6 years, but even if you do it in 26 years, that's still 4 years worth of interest payments you'll save!
But honestly, if having a mortgage is not a hardship or burden for you and you'd rather spend your money on vacations or other valuable experiences, I think that's totally acceptable too. It's your money, and you're allowed to handle it how you see fit — provided it doesn't directly harm someone else in the process.
Dave and I were happy to be debt-free so early in our lives, but our personalities are such that debt seems to bother us quite a bit.
Debt-free living isn't for everyone, and even though it's a fad right now, it is far from the most important thing in life.
If you're interested in paying off your mortgage early, I hope my post offered some motivation.
If you could care less about paying off your mortgage early but still managed to make it all the way to the end of this post, I'll leave you with 2 money jokes (courtesy of Nora's joke books!)
Why is money called dough?

Because we all knead it.

What happened when the cat swallowed a coin?

There was money in the kitty.