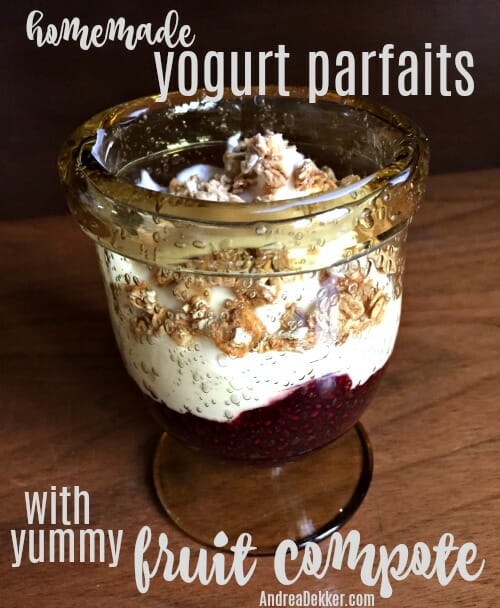 Our family goes through crazy amounts of yogurt every week — potentially close to a full gallon of yogurt each week!
I make yogurt pouches for the kids as a filling and nutritious bedtime snack, we put yogurt in smoothies, I use plain yogurt in place of sour cream for almost everything, and Dave and I enjoy some type of yogurt at least once every day.
One of my most favorite yogurt snacks is making homemade yogurt parfaits with a delicious fruit compote (similar to jam but without all the sugar!)
I first became obsessed with yogurt parfaits after I ordered one at McDonalds many years ago (probably when I was in college). I was instantly amazed at how much tastier the yogurt was when paired with fruit compote versus with fresh berries. And of course, a little sprinkle of crunchy granola on top adds to the deliciousness!
My yogurt-eating habits have matured a long ways since my guilty college pleasure of McDonald $.99 yogurt parfaits… and since yogurt parfaits are a perfect spring-time snack, I thought it was high-time I shared my ridiculously simple recipe for my own homemade fruit compote that I use to make homemade yogurt parfaits.
These parfaits can be as normal or as fancy as you want them to be — mostly depending on what type of container you serve them in (we always eat our parfaits in the special little glasses I photographed them in for this post!)
The parfaits are great for breakfast, brunch, an afternoon snack, dessert, baby showers, bridal showers, and so much more. Just make sure you wait to add the granola until right before you eat them, so it doesn't get all soggy!
Oh, and I suppose I should mention, the fruit compote tastes fabulous poured over vanilla ice-cream, or even as a warm topping for waffles or pancakes!
Recipe for Homemade Yogurt Parfaits with Fruit Compote
INGREDIENTS:
3 c. fresh or frozen fruit of choice (I used blueberries and cherries for today's recipe)
1/2 c. water
1/2 t. cinnamon
2 T. maple syrup or brown sugar
pinch of salt
2 T. cornstarch or 3 T. chia seeds (to thicken the compote)
Granola (here's my recipe for yummy granola — although I wouldn't add in all the dried fruit if I were mixing it with the compote too)
DIRECTIONS:
In a medium size saucepan, bring fruit, water, cinnamon, syrup and salt to a gentle boil over medium-high heat.
Turn heat down to medium-low and simmer until the fruit is very soft and some of the liquid has evaporated (I usually try to smash down my fruit with the back of a fork during the cooking process).
Once the fruit is very soft, remove from heat and add in cornstarch or chia seeds.
Stir and let cool completely (chia seeds will need at least an hour to fully soften and absorb the liquid.)
Store fruit compote in an airtight container in the refrigerator. It should last 10-14 days.
To make the parfait, layer 2 T. of fruit mixture, 1/3 c. yogurt, and a sprinkle of granola.
Eat and enjoy!
Doesn't it look fancy!
And let me assure you, these parfaits are much better than the McDonald's parfaits!
The cinnamon is such a great combo with the fruit (it smells delicious when it's cooking) and the maple syrup adds just the right touch of sweet without being too overwhelming.
Plus, I love that I can make my own custom flavors. Some of our favorites are:
Blueberry Cherry
Triple Berry (strawberries, raspberries, blueberries)
Strawberry Peach
Double Cherry (red and black cherries)
I almost always have at least one container of different flavored fruit compote in the refrigerator at all times — and I can't tell you how many times it has come in handy when people unexpectedly stop over. I can give them a "fancy" and nutritious snack with almost no effort!
If you're looking for a tasty treat to add to your breakfast, snack, or dessert rotation, give these yogurt parfaits a try!
What fruit flavor combo would you want to try first?
And as always, visit my virtual recipe box for more simple, delicious, family friendly recipes!