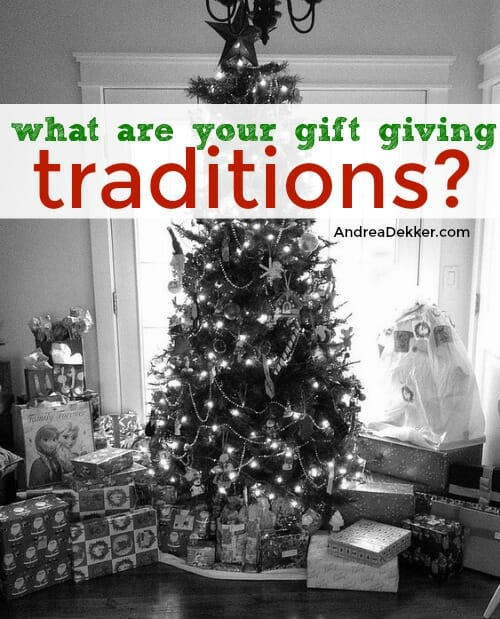 Today is Dave's 36th birthday!!
This means he has been living in Michigan as long as he previously lived in Washington State, as he was 18 when he moved out here for college.
I often wonder what he would have done if he didn't meet me his senior year of college — maybe he would have moved back to Washington, maybe started his teaching career in another state… who knows. All I know is I'm happy he's here in Michigan with me… and believe it or not, his entire family has since moved "east" so we all live quite close together! Crazy how things have changed!
This also means Dave is officially closer to 40 than he is to 30! 🙂
our 14th annual Ugly Christmas Sweater party with college friends!
Since we're in birthday mode around our house (Nora's birthday was 2 weeks ago) and since the holiday gift-giving season is here, I thought it was the perfect time to post another reader question I got regarding gift-giving traditions.
READER QUESTION:

My kids are still relatively young, but I'd love to establish a simple and meaningful gift-giving tradition NOW, so they don't think birthdays and holidays are only about gifts. I want them to be thoughtful givers, gracious receivers, and of course, keep the real reason for the season in their hearts and minds.

So… I'd love to know how you handle gift-giving in your house, and I'd really be interested to know what some of your readers do with their families too.
Our Gift-Giving "Traditions":
To be perfectly honest, we really don't have many gift-giving traditions yet. Maybe our "tradition" is that we do whatever works for us that year and don't worry about traditions!!
That said, here's how we currently do gifts in our family…
BIRTHDAYS:
For birthdays, we usually have some sort of casual party with the kid's grandparents and whatever aunts, uncles, and cousins that can make it (usually around 10-15 people). They get a few gifts at the party and that's it.
Starting at age 4, we open a bank account for our kids and give them the number of dollars that corresponds with their age (so Nora got 6 $1 bills this year). We plan to set up a bank account for Simon when he turns 4 in March — and we try to be somewhat diligent about putting a few bucks in these account each month.
CHRISTMAS:
Right now, we basically just get the kids a few gifts each year based on things they've asked for, things they actually need, and things I've found free or super discounted throughout the year.
Then Dave and I choose a day when we will will open those gifts together for our family's "Christmas" — it's usually never on Christmas day since we have so many other things going on then.
We have done stockings in the past, but didn't do them last year (and I'm not sure if we'll do them this year!)
I've thought about getting each child 1 larger gift and then several small stocking stuffers — so they basically only open one gift. I guess I'd just like to take the focus off too many gifts — but I also realize that getting fun gifts for Christmas is very memorable for little children, which is partially why we haven't implemented any traditions yet.
As for any other holidays or events — we really don't do any gifts for anything other than birthdays and Christmas. Dave and I don't even do anything for our anniversary and rarely ever for Mother's Day or Father's Day. We're just not big "gift" people.
.
I've heard of so many fabulous Christmas and birthday gift-giving traditions — I honestly don't even know where to begin…
drawing names
secret Santas
donating money to various causes and organizations in other people's names
serving as a family at local non-profit places
limiting the monetary value of a gift to force the givers to get creative
doing gift card exchanges
white elephant gift exchanges
doing special stocking stuffers on Christmas Eve
giving 3 gifts per person (one for each Wiseman)
giving 4 gifts per person (want, need, wear, read)
opening one special gift on Christmas morning
taking a child out for a special birthday "date" with just the parents (or with one sibling or one friend)
giving a child money for their gift and going shopping together to pick something out
I could go on… but what I'd really like to read is what YOU do with your family!
This reader (and I) would love to know… what are (or were) YOUR gift-giving traditions?
Oh, and in case you're wondering, our family is celebrating Dave with dinner at Culver's tomorrow — ironically, it's his most favorite Flavor of the Day (Really Reese's!)