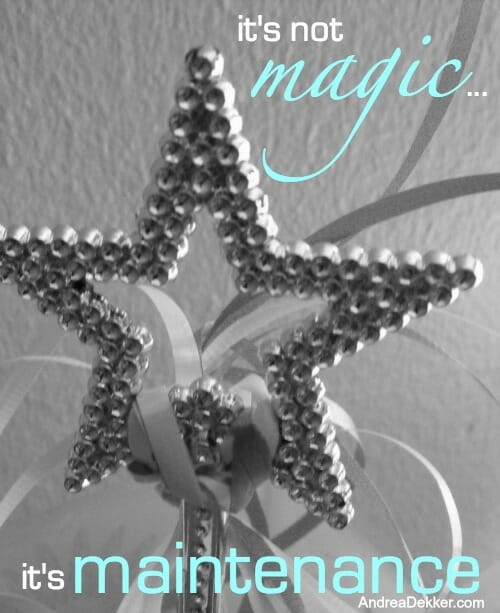 We officially made it through our first week of school with Dave gone all day (Nora hasn't started yet).
Since this time of year is often extremely busy and hectic for so many families, I thought it might be the perfect time to update and reshare an older post with one of MY favorite life-simplifying tips 🙂
Whenever I'm asked to share just ONE tip to help simplify, organize, and get control of our homes and lives, I always preach "maintenance"…
.
It's not magic… it's maintenance.
When you take off your clothes, put them away instead of dumping them on the floor.
When the mail comes, recycle or trash it (or take action) instead of saying you'll do it later.
When a bill arrives, pay it.
When the laundry is clean and dry, fold it… and put it away.
When there are dishes on the counter, wash them or put them in the dishwasher — and then dry them and put them away.
Where there are papers sitting out, look through them and recycle or file them.
When toys and books and games are making a mess in the living room, pick them up.
Yes, I realize none of us are jump-up-and-down excited to do any of the things I listed above. But if we don't do them, who will?
Plus, if you really stop and think about it, most of the things I mentioned above could be completed in 15-20 minutes (or less) if done regularly throughout the day.
It's not magic… it's maintenance.
Even if your house is in total disarray, you can still start to maintain the current state so it doesn't get any worse… and yes, you can start that RIGHT NOW!
Change your ways to maintain the current state of your house (not adding additional mess) and then, little by little, start working towards cleaning up and organizing small areas while still maintaining the rest.
Take 15 minutes a day and work at the problem area. Set a timer; get your family involved.
I know these suggestions are not life-altering or extremely exciting; but they are very simple… and they work!
After all, it's not magic, it's maintenance 🙂
.
But the fact of the matter is we would rather have a quick-fix.
We would rather pay a professional to come in and make our house look amazing (at least for one day) than to own up to our mess and start cleaning it up little by little.
We would rather go out and buy fancy, expensive organizing tools to put our clutter in versus taking a little extra time to purge… and realize we might not even need any extra bins after all.
We would rather read a book about what we SHOULD do then get to work and realize what we CAN do.
.
If only I had a dollar for EVERY time I've heard someone say something like:
"I wish I had the time to keep my house organized."
"There just aren't enough hours in the day to keep up with house work."
"I'd love to have a cleaner, more organized home but I have too many other things going on."
"There's no way I'd ever have time to keep my home as neat as _______'s house."
"I wish I had the time to meal plan so we wouldn't need to resort to fast food or takeout all the time."
"I wish I wasn't so busy all the time and had some wiggle room in my schedule."
Yes, I realize there are always exceptions to every rule — but as I've shared before, we ALL have the same amount of time each day and it's how we choose to spend that time that makes all the difference in the world. If something is important enough to us, we'll make the time for it, no matter what.
It's not magic… it's maintenance.
.
Along the same lines, this concept can also be applied to weight loss, financial struggles, relationship issues, and more.
Yes, there are often "quick fixes" with immediate gratification followed by empty promises and often even bigger struggles. Or, there is good old-fashioned hard work. Getting down and dirty and owning up to the fact that (in most cases) we got ourselves into this predicament and WE need to get ourselves back out again. We can't buy an organizing bin, or a pill, or a book, or a motivational CD to do the work for us.
.
It's not magic… it's maintenance!
What will you do today to move one baby step closer to a simpler, more organized home and life?
.
I'm taking Monday off to enjoy the long Labor Day weekend home with Dave… but I'll be back on Tuesday with another Peek Into Our Week post!