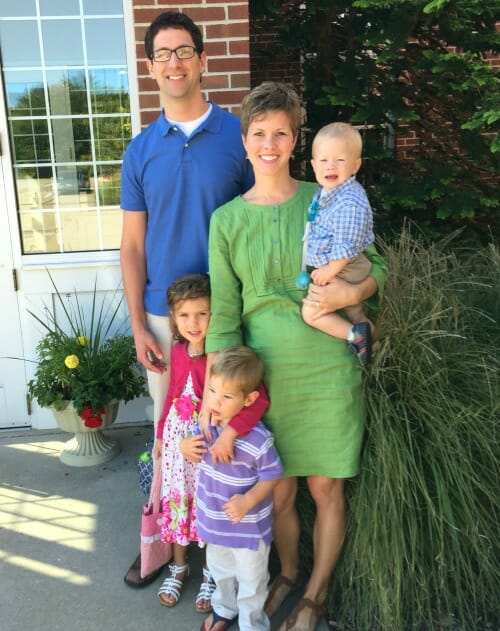 We officially have one week (well, a short week) of school under our belts for Dave — and it feels good to get into more of a routine again!
In past years, he has always started school after Labor Day, but this year he started before Labor Day — and it was actually really nice. He said it was good to get the first couple of days out of the way, then enjoy a nice long 4-day weekend before diving back into school again.
So the kids and I got a small taste of what life will be like again when Dave is gone all day during the week. Things are so much different now that James is walking, eating more table food, and only taking afternoon naps. Plus, all 3 kids are really starting to play well together. I'm looking forward to having tiny pockets of "free time" when I can send the kids outside to play while I finish cleaning up the kitchen, put groceries away, or respond to a couple quick emails!
NORA
Miss Nora has grown up a lot over the summer. She finally started drinking from normal drinking glasses (she always insisted on using a sippy cup or a straw cup before) and she is using "grown up silverware".
She knows that she can't come downstairs until the clock in her room has a number 7 at the front… and although she excitedly waltzes down at 7:01 EVERY day, it's still SO much better than 6:00 or 6:30!
She picks out her own clothes, dresses herself, makes her own bed, and can even do her own ponytails.
She can wash her hands without a stool now (something she is VERY proud of), she can buckle herself into her own booster seat, and she helps Simon get unbuckled after I park the car.
She can count to 100, she is starting to sound out words when we read, and she loves learning new songs — she even sang in front of our entire church all by herself on 2 different Sunday mornings!
Nora is definitely still the most demanding, stubborn, and challenging one of our bunch; but she is also extremely smart, funny, and oh so clever. She usually plays very nicely with Simon, she tries so hard to be helpful with James, and is a fabulous big sister for both of her brothers.
Nora still has another week before she starts — not that we're counting down the days or anything 🙂
She asked to make this countdown chain a couple weeks ago, and I agreed… not realizing how many days were left until she actually started school. We literally had to loop the links into each other because the chain was so long that many of the links were hanging down where James could easily mess with them.
Nora is so excited for school to start that she started holding her own "school" in her bedroom, using a variety of stools and chairs. Simon and James aren't very interested, so she usually just ends up filling the seats with her dolls or teaching her imaginary students.
We got her backpack a couple weeks ago — I was able to find a Frozen themed backpack for less than $5 and the Elsa character has a "real braid" of hair that comes out of the front of the backpack. I think I was the best mom ever the moment I showed her the backpack.
We also finally got our hands on the newest Frozen book at our library — all about how to do different "Frozen" hairstyles. The hairstyles would probably work better if Nora's hair was just a bit longer, but we successfully managed a few of the styles last week!
.
SIMON
Simon is growing like a weed, and I just moved several pairs of his pants down to James' drawers because they are WAY too short. We also decided that he is officially too big for the Baby Björn Bouncer now that his head rests on the metal bar instead of on the fabric. 🙂
Simon is potentially the sweetest little boy I've ever met in my entire life. He is so thoughtful and caring and considerate. He LOVES giving "hugs and smooches". He is quick to say "sowy" (sorry), and if you get mad at him (which is practically impossible to do) he wants to make it right and show you that he will listen right away.
The other day, he was being really loud and crazy while James was napping and I kept asking him to play more quietly. Finally, after several requests, I said "Simon, mommy needs you to be quiet down here otherwise you will wake James up and I will be upset." He immediately said, "mommy, Simon, shhh" and then made sure I was watching him as he quietly went to get some books and sat down next to me.
Simon plays SO nicely by himself, and although he most definitely has his stubborn-as-a-mule-moments, he is quite agreeable and an excellent listener.
He tries so hard to keep up with Nora, and he adores James. I think his favorite part of the day is going with me to get James up in the morning or after his nap. He does NOT like it when James is crying and will say, "Mommy, James cry. Get James!" while running to bring me the monitor.
We celebrated Simon's half birthday on Sunday and he helped me make his favorite chocolate cake on Saturday. We made the batter before his nap and I told him he could help me frost it after his nap. He excitedly came downstairs after his nap and said "cake? now?"
As you can probably tell, the big news from Simon is that he is actually starting to talk a bit more! His words are still VERY mumbled together and hard to decipher (especially for strangers) but it's progress!
Another "biggie" for Simon is that he is officially sleeping in a big boy bed all the time. We finally took his crib down last week and he is doing really well in the big boy bed.
ALSO, I still can't even believe I'm typing this… but Nora and Simon are now SHARING a bedroom!
It was mainly Nora's idea (which then immediately got Simon excited about it) and the two of them were so persistent that Dave and I agreed to move their bedroom furniture around AGAIN (read about their first bedroom rearrangement here).
We didn't think they would actually be able to sleep without bugging each other, but it's been 2 full weeks now and they are doing wonderfully. They love sharing a room, Nora is sleeping better than ever, they have fun chitchatting for a few minutes before they fall asleep, and Nora doesn't even wake Simon up when she gets up in the morning!
It seems that we all love the new bedroom arrangement… I'm sure another post and more pictures will be coming soon!
.
JAMES
It's crazy to think how much James changed over the summer. When I think back to the beginning of June, James wasn't walking, he really wasn't eating any table foods, he wasn't talking at all, and didn't really even try to "play" with Nora or Simon.
Now, he's walking all over the place, climbing up stairs (and sliding back down), climbing up on the tramp, sliding down the slide, swinging on the big boy swing, eating lots more foods, jabbering ALLLL the time, and even saying quite a few words and animal sounds!
He has SO much fun playing with his older siblings, he loves being outside (specifically biking and swinging) and he loves getting all the dress-up clothes out! He always has a hat or a headband on… and more recently, he started actually putting Nora's play high heels on. To my surprise, he can actually walk quite well in them!
Also, he brushes his teeth now (with a little help from mom) and it's pretty much the cutest thing ever. He usually giggles the whole way through and then cries whenever it's time to put the toothbrush away.
.
ME!
I don't think I have anything new to share for myself — mainly just adjusting to a new routine and a "new normal" with Dave being gone all day. I always feel a little nervous leading up to the first week of school — wondering how it will feel to be totally outnumbered by little people again… but so far it has been a fairly quick adjustment.
Aside from the Olympics, I don't think I even turned the TV on for myself all summer. I have an extremely long "to watch" list on Netflix… hopefully I'll get to some of those shows this fall, and then I'll share my favorites with you!
Dave and I were able to do a quick-clean of the shed, the garages, and our cars over the long weekend. We always try to do this over Labor Day weekend as it's nice to get everything cleaned up before he's back in school and cooler weather arrives so I'm glad we were able to squeeze it in this past weekend.
.
Our Weekly Meal Plan:
SUNDAY
Grilled chicken sandwiches for lunch
Homemade pizza for dinner
MONDAY
Broccoli and Cauliflower
Applesauce and fruit
Cookies
TUESDAY:
Free dinner at a local park (It was "safety night" and they had fire engines, police cars, ambulances, and other emergency vehicles on display for kids and family — yes, Simon had a BLAST!)
WEDNESDAY
THURSDAY
FRIDAY
SATURDAY
We've enjoyed a few cooler mornings where we actually had to wear long sleeves for the first time in a LONG time. This week, we're back up into the high 80's with lots of humidity, but it sure was nice to have a little taste of fall last week.
Nora told me it "smelled like it was almost her birthday"… which I think means "it smelled like Fall" — and it did! Then she said, "And just think, that means Spring is almost here… because once my birthday comes, then it's Christmas, and winter… and then Spring will be here before you know it."
Maybe we'll just focus on getting through the Fall season first 🙂
Here's to another great school year for Dave, for Nora, and for all the other students and teachers out there!