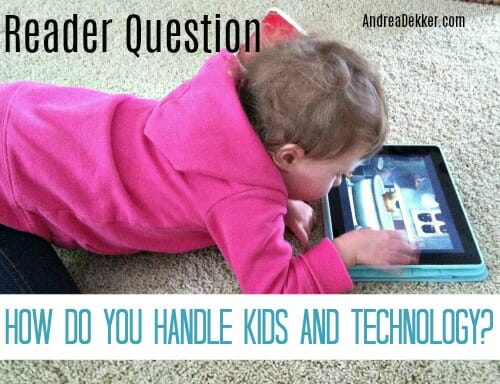 I regularly post reader questions on my Facebook page — especially when I think the reader will benefit from more than my own perspective… and every once in a while, when I think it's a really great topic, I share a reader question on my blog.
I shared a question about family size this past spring and it was SO fun to read all the different thoughts, ideas, and experiences of others.
So today, I'm back with another reader question I think will benefit from several other perspectives and ideas.
Kids + Technology!
Here's the question…
Hi Andrea: I know your kids are still young, but I'm wondering what types of rules, restrictions, and/or guidelines you have in place for kids using technology?

Do they need to ask you every time or can they access it on their own? And do you have any services or devices that track your kids' usage of technology? Also, do you have time limits you put on screen time?

Any help you (or your readers) can offer on this topic is much appreciated!
.
For starters… yes, our kids are currently quite young for me to have a very broad perspective on this topic. Nora is really the only one who even has a sense of how to work the iPad — and she's never used a computer or smartphone before.
The kids know how to turn the TV on and off, but since we don't have cable and only stream shows from Netflix, PBS Kids, Disney Jr, or other Apps, they can't actually watch anything unless they ask me first 🙂
We don't have any sort of gaming systems, we don't let our kids go on the computer (mainly because we're afraid they'd break something), and they are obviously WAY too young for phones or social media accounts.
Ahh… the joys of little people who are still fully under our control!
Anyway, we currently don't have any limits, restrictions, passwords, parental controls, services, or devices to help us manage our children's use of technology — but I'm definitely not opposed to any of those things once our kids get a bit older.
There are many days when the TV is never turned on (especially in the summer when the weather is so nice and we're outside a lot). But often, the kids usually watch 2 or 3 shows every day — usually while I'm making breakfast, lunch, and dinner — and we rotate who can choose the show.
Nora also gets to use the iPad on Sunday afternoons while the other kids nap. She has a reading app for school she likes to use, and she knows how to open the Disney Jr. App to watch Princess Sophia or Little Mermaid.
The boys really have no idea how to use the iPad, but every once in a while, they ask to watch a show on the iPad versus the TV. 🙂
Oh, and a couple times a month, we do Facetime with my sister. The kids think this is very fun!
I definitely realize we will need more rules, regulations, and guidelines as our children get older — but right now, we feel like things are fairly under control so we don't want to make it into a bigger deal than it has to be.
The one "tech" question Dave and I have recently discussed is the fact that we should probably get some sort of phone to keep at home — something the kids can easily use in case of an emergency.
Right now, they can't even access our smartphones because they are password protected — and I doubt a 3 or 5 year old could figure out how to push the emergency button, not to mention knowing which number to call if there ever was an emergency.
We don't want to get a landline or another smartphone, but we feel like we should get something — maybe an older flip phone or a track phone??
Any tips or suggestions on that are appreciated!
Like I mentioned above, I don't have much perspective on this topic because of the age of my children — however, I KNOW so many of you with older children have great ideas — and I'd love it if you would share those ideas in the comments so we can all benefit from your wisdom!
.
Also, our church's youth pastor recently sent out a bunch of information about kids and technology — I've included a few of those resources below!
How do YOU handle kids and technology?