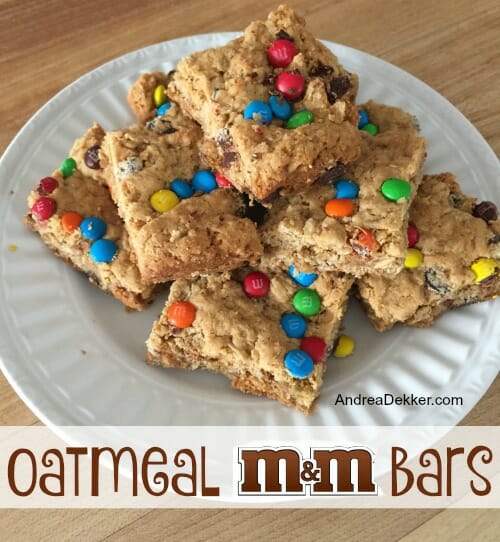 We've reached the point where Nora is often "too old" to be interested in the same things her little brothers are interested in. This is somewhat of a challenge for me on the days Nora is home because they want to read different books, do different crafts, play different games, watch different shows, etc. etc.
However, James is now old enough to hang with Simon, so on the 3 days Nora is in school each week, I have a lot more time (and energy) to do fun things with the boys while Clara is sleeping.
They LOVE to "help" me cook and bake, but when Nora is around, she often takes over since she's so much more capable than they are. Thankfully, I have lots of super simple recipes that even a 2 and 3 year old can help me with 🙂
Today's recipe is definitely an easy one — it's from my neighbor who also has 4 little kids — and it's a super yummy snack or dessert my kids love.
Recipe for Oatmeal M&M Bars
Makes a 9″ x 13″ pan of bars.
INGREDIENTS:
1/2 c. butter, softened
1/2 c. peanut butter
1 c. brown sugar
1 t. vanilla extract
1 egg
2 1/4 c. oats (quick or old fashioned)
1 c. flour
1 t. baking soda
1/2 t. salt
1 c. chocolate chips
1/2 c. M&M's
DIRECTIONS:
Preheat oven to 350ºF. Grease a 9″ x 13″ pan, set aside.
In a large bowl, cream together butter, peanut butter, brown sugar, vanilla, and egg.
Add in all dry ingredients (except M&M's) and mix until just combined.
Spread batter in pan and sprinkle M&M's on top.
Bake in preheated oven for 15 minutes.
Let cool before cutting into bars.
These bars freeze great (both as already-made bars and the dough) and could probably be made into cookies as well — but bars are easier in my opinion!
I am certainly thankful Nora's school is NOT peanut-free, but if you need to do peanut-free recipes, I'm sure you could substitute any peanut butter alternative with fabulous results.
It would also be fun to put holiday-themed candies on top depending on the time of year — because the candy is always the kids' favorite part of this recipe!
Or maybe it's licking the beaters!
What's your favorite recipe to make with little kids?
Visit my virtual recipe box for more simple, delicious, family friendly recipes!