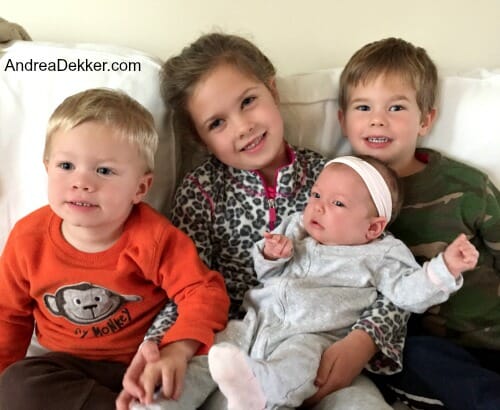 It's been SIX months since I shared a Peek Into Our Week Post — mainly because I shared Week In Review posts all summer long. However, now that I'm back to blogging full time again, I figured it was time for another peek into a week in the Dekker house!
When I thought about what my first Peek Into Our Week post would look like after having Clara, I figured it would be filled with sleepless nights and little to no productivity. So I'm thrilled to be able to say things aren't nearly that bad over here!
Clara is still quite fussy in the evenings and basically needs to be held/fed/bounced/shushed continually from 6:00pm until whenever she falls asleep for the night (usually between 9:30 and 11:00) but then she sleeps REALLY well! She regularly sleeps for 5-hour periods of time, and has occasionally given me a few 8-hour stretches too!!!
She's a happy baby when she wakes up in the morning and takes many short catnaps all day long — usually with one longer nap in there somewhere.
And… she smiles!
I had my 6-week checkup last week and everything looked good. I took Clara with me so we could weigh her, and she's roughly 12.5 pounds (up from 7 at birth).
I still have a little weight to lose, but I figure I'll just coast through the holiday season and worry about losing weight after the New Year! 🙂
I've had pretty low expectations for what I will accomplish each day, so I've been pleasantly surprised with the things I have managed to do over the past few weeks.
Here are a few of the "mini projects" I tackled last week:
cleaned out the one section of gutters that doesn't have a "gutter helmet"
filled the yard waste container
trashed a bunch of sand/pool toys, donated more outdoor toys, and better organized the garage
purged and reorganized our gift wrap (I'm sharing more about this project later in the week)
recycled the kids artwork that has been on display for a while to make room for new art
washed all our quilts/comforters
got all the kids' winter gear out and purchased a few items we needed
went through Nora's closet (with her) and pulled out anything that's too small or that she doesn't like
gave Clara's newborn clothes to her brand new baby cousin!
Yes, that's right… we were excited to welcome a new little baby to our extended family last Sunday. Dave's brother and his wife had a little girl (Thea), so Nora officially has her first girl cousin!
A sister and a girl cousin, all in a matter of weeks… she is so excited!
Nora's card for baby Thea: "God loves you Thea, so do I"
Speaking of Nora, she had 2 very "busy" weeks at school — celebrating Grandparents Day, going on a field trip to a local children's museum, and participating in Family Fun Night.
She's reading like crazy, having so much fun with our neighbor girls, doing crafts in all her spare time, and growing like a weed.
She also did several fun activities outside of school over the past several days — going on a train ride with my parents (and Simon and James), going to a children's symphony concert (with Simon), and spending time with many aunts, uncles, grandparents, and cousins.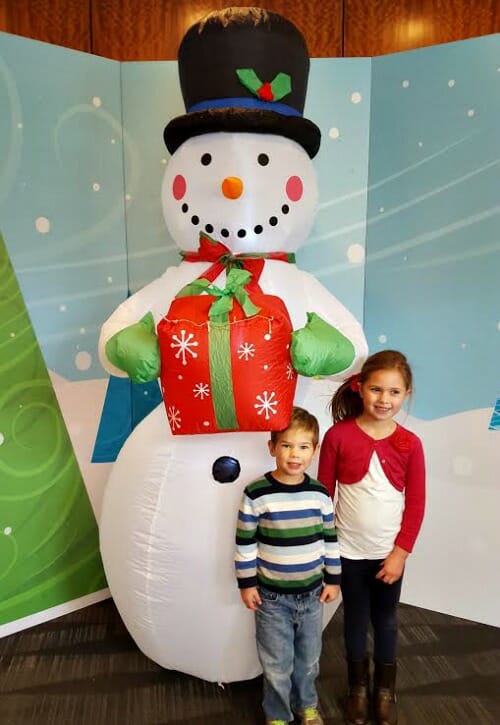 Simon has been busy, busy, busy preparing for preschool next year 🙂
He asks me when he gets to go school at least 5 times every day, and he has taken it upon himself to assign "homework" that he needs to finish each day! He has a little workbook that he considers his "homework" and scribbles on a few pages each day. It's very comical!
Simon sings and hums ALL DAY LONG — most of the time, I'm convinced he doesn't even realize he's humming or singing, but I certainly don't stop him. It's so sweet.
He is definitely the most interested in Clara of our 3 older kids — he insists on smooching her head many times every day, and is constantly telling everyone how cute his baby sister is.
Simon's current interests are playing "bad guy and police officer", reading Paw Patrol books, doing homework, cutting and gluing paper, and riding his bike.
James suddenly seems ginormous to me now that I hold Clara all day long.
He's still so sweet… but his "spicey" side is starting to make regular appearances these days! He has to do EVERYTHING himself and insists on wearing certain clothing and shoes and doing certain activities in a specific order. It's fun to see his individual personality coming through — but boy can it be frustrating for a mom with her own agenda!
He likes to go on the big boy potty, but is FAR from actually being potty trained. I'm hoping to work on that later this winter.
James' favorite pastimes are playing hide and seek, running "wewwy fast", eating lots of cheese, playing with gak, and reading Richard Scarry books.
Also, he does a REALLY good job keeping up with his older siblings!
.
Our Menu Plan
I get so many emails and comments from readers thanking me for providing such SUPER SIMPLE recipes… and as you'll see from my Peek Into Our Week Posts, we really do eat the recipes I share here on my blog every single week. I basically don't have any recipe books anymore because I just go to the recipe page on my blog when it's time to plan our meals!
We're doing a good job cleaning out our freezer — it has been fabulous having so many meals and pre-cooked ingredients ready to go!
MONDAY:
TUESDAY:
Leftovers as I was gone at my Dr. appointment
WEDNESDAY:
Sweet Potato Chili (from the freezer)
Chewy Oatmeal M&M Bars (recipe coming later this week)
THURSDAY:
Chicken Enchiladas (from the freezer)
Lettuce Salad
Chips and Salsa
Chewy Oatmeal M&M Bars
FRIDAY:
SATURDAY:
SUNDAY:
.
I've gotten out of the house a few times without Clara and it has been glorious!
I went to the grocery store after the older 3 were sleeping the other day and was amazed how quickly I could fill my cart without children with me! I also took the older 3 kids to Family Fun Night at Nora's school… and Clara took a bottle for Dave! Yahoo!
Small victories, my friends!
The next few weeks will be filled with fun school activities, Nora's birthday, Thanksgiving, Clara's baptism, and then… Christmas parties and preparation!
I'm excited to see lots of family and friends, but I know it will wear on me mentally (especially dragging a newborn along for the ride). At least she sleeps at night though!