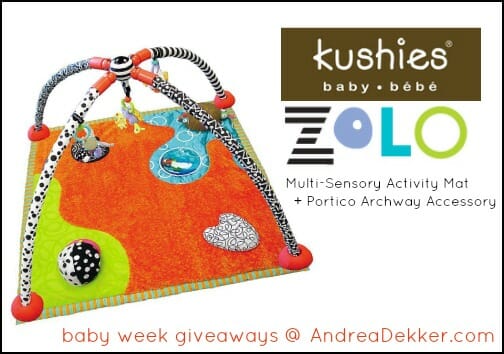 It's time to celebrate Baby Dekker #2 here on the blog, and what better way to do that than with a week of fun baby-related posts and giveaways!

Click here to view the 12 fabulous giveaways — all geared to make life with a new baby a little simpler, more organized, and more fun!
When Nora was a tiny baby, we quickly realized that she was not content to just sit or lay any which way — she just wanted to be held. We tried various swings, rockers, bouncers, etc. and in the end, she still just wanted to be held… ALL. THE. TIME!
However, I can vividly remember one night after dinner (she was about 1 month old). I laid her down on her back in the living room and propped up a few colorful toys so she could see them. She was silent! She looked at the toys for several minutes and even tried reaching for them. Dave and I were in awe, and blissfully enjoyed a few moments of quiet (which were very rare back then).
At that moment, I should have immediately gone to the store and purchased some sort of multi-sensory activity mat, but I honestly didn't even know they existed (oh the things I've learned these past 2 years!) So we continued to lay Nora on the floor and hang toys over her head — we even created a make-shift fabric bar that we could hang things on and then prop up between a chair and our ottoman. Not exactly conventional — but it worked!
So although I learned about these ingenious play mats after Nora was way too old, I vowed we would have one for any and all future children.
With that said, let me introduce you to the "king" of activity mats:
The Zolo Multi-Sensory Activity Mat & Portico Archway Accessory from Kushies: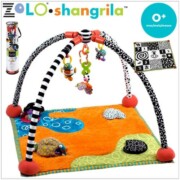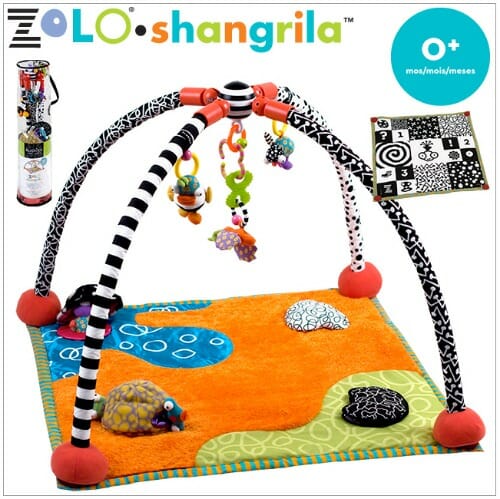 Not only is the mat itself EXTREMELY soft and fuzzy, it offers a variety of bright colors and textures to capture baby's interest. PLUS, the mat is reversible, with various black and white patterns, as you can see in the image below.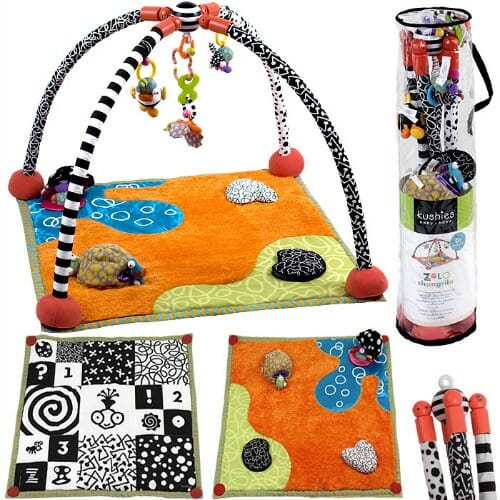 Another feature that I absolutely love (especially from an organizational standpoint) is that all the accessories AND the entire portico archway are fully removable via heavy-duty velcro. So not only can you just use the soft fuzzy mat on it's own, you can also fold it up for super easy storage in the nice compact carrying case that comes with it!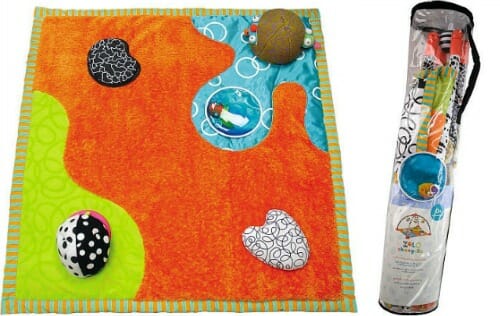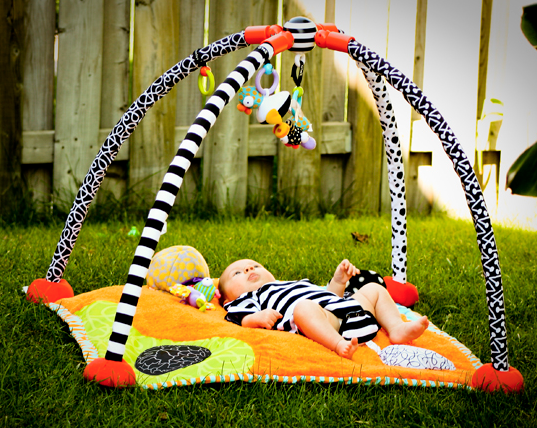 I can't say enough awesome things about this play mat — and I might have been wrong about Nora being "too old" for a play mat.
She has had SO much fun with Kushies Zolo Activity Mat — playing with the accessories, laying with her dolls, and putting various animals inside for their naps! She even said, "we should get another one of these for baby brother" so we'll see what happens when he arrives and takes over "her mat"!!
More about Kushies:
Kushies is based in Ontario, Canada, with U.S. headquarters located in Niagara Falls, New York. Trusted by moms since 1987, Kushies offers more than 350 superior baby products including stylish layette and playwear, washable diapers, the award-winning Kushies Zolo toy collection and a broad range of baby essentials.
Kushies is the worldwide market leader in reusable cloth diapers and takes great pride in operating as a responsible company and as an environmentally concerned member of our planet.
Visit Kushies on the web:

Website: www.kushies.com
Facebook: Kushies Baby
Twitter: @kushiesbaby
Pinterest: Kushies
Enter To Win This Giveaway!
Today, one lucky reader will win the Zolo Multi-Sensory Activity Mat & Portico Archway Accessory from Kushies!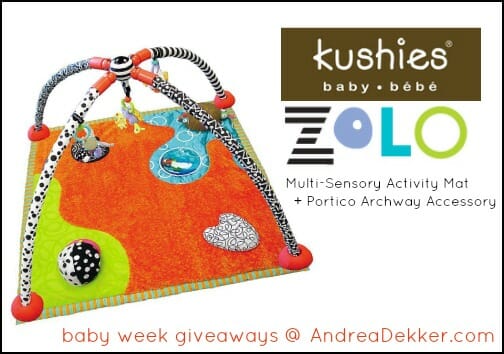 To enter, simply use the Rafflecopter widget below (it might take a second to load). This is a new way of entering giveaways on my blog but it will hopefully make things easier for me AND simpler for you!
First, enter your name and a valid email address (so I can contact you if you win) and click "log in" (you are logging into THIS specific giveaway, and I will be the only one who sees your email address.) Next, click "Enter to Win". Finally, click the big green ENTER button!
a Rafflecopter giveaway

All baby week giveaways end at 11:59 pm EST, Sunday, 2/16/2014 and are open to US residents, 18 years or older. The winners will be randomly selected via Rafflecopter and notified via email. I received a duplicate prize package in exchange for hosting this giveaway — but all opinions are 100% my own. Please see my full disclosure policy and contact me with any questions you have. Good luck!