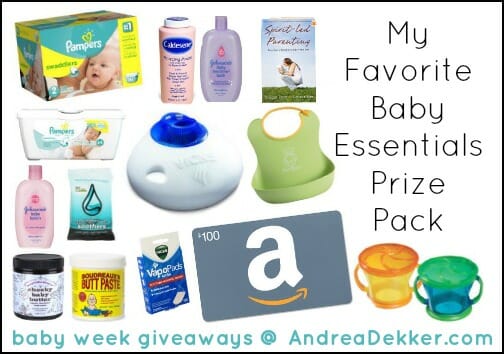 It's time to celebrate Baby Dekker #2 here on the blog, and what better way to do that than with a week of fun baby-related posts and giveaways!

Click here to view the 12 fabulous giveaways — all geared to make life with a new baby a little simpler, more organized, and more fun!
I have a ton of fun giveaways to share with you over the next two days… there will be 6 giveaways today and 6 more tomorrow, starting at 8:00am EST each day, and then every two hours after that until 6:00pm EST.
However, to kick off the giveaways, I thought I'd start it out with a Baby Essentials Prize Pack — complete with all MY favorite baby must-haves.
This giveaway is NOT sponsored in any way.
It is simply a way for me to say "thank you" for all the weeks, months, and years you have been reading my blog and sharing in my life.
awww… look how cute Nora is in that picture 🙂
I can't tell you how much it means to me to get so many emails, comments, Facebook messages, tweets, etc. all sharing YOUR excitement over the soon-to-be arrival of our baby boy.
You have all been so encouraging with the difficulties we've had with Nora these past few years — and honestly, I don't know how I would have gotten through everything without having this blog as a place to "vent" and to share. I'm sure my therapy bill would have been outrageous!
There is definitely something powerful about a community of people who (although I haven't meet most of you) seem to always rally behind me and offer up some much-needed words of wisdom at JUST the right time.
Yes, I get loads of unsolicited advice. Yes, I get rude emails and comments at times. But they pale in comparison to all the lovely notes and words of encouragement I get on a daily basis.
So thank you, thank you, thank you!
It really does mean so much to me and to our family.
So you want to know what I'm giving away?
Not everything is included in the photo below, but it's all spelled out in the list below the photo (and it's all in the top photo).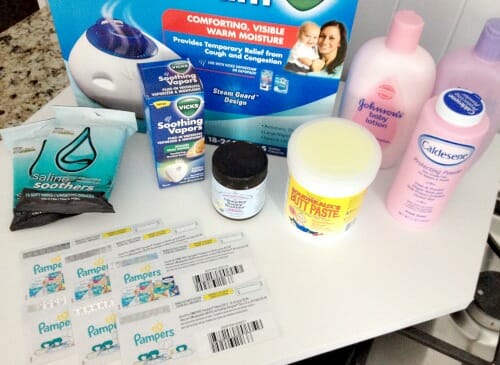 This prize pack includes all of the following items:
3 FREE coupons for Pampers Diapers
3 FREE coupons for Pampers Wipes
1 5 oz. bottle of Caldesene Baby Powder — the best stuff around, and although it's a little more expensive, it was totally worth it for us
1 4 oz. jar of Cheeky Baby Butter from the BabyBear Shop — this stuff is AMAZING (for moms too!)
A $100 Amazon.com gift card — for anything else you'd like to buy!
All of the items listed above have been regularly used and loved by me, Dave, and Nora for the past two years — and we're planning to use them all again with Baby #2.
We hope whoever wins this prize pack will be able to enjoy them as much as we do!
Enter To Win This Giveaway!
Today, one lucky reader will win a Baby Essentials Prize Pack filled with all MY favorite baby must-haves!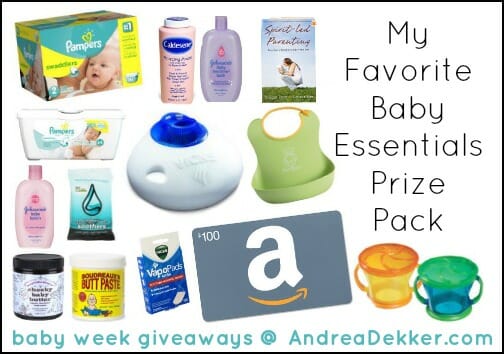 To enter, simply use the Rafflecopter widget below (it might take a second to load). This is a new way of entering giveaways on my blog but it will hopefully make things easier for me AND simpler for you!
First, enter your name and a valid email address (so I can contact you if you win) and click "log in" (you are logging into THIS specific giveaway, and I will be the only one who sees your email address.) Next, click "Enter to Win". Finally, click the big green ENTER button!
For some reason, Rafflecopter wouldn't post the winner for THIS particular giveaway (not sure why) so I'll just type it manually.
Congrats to Meghan VL!!
All baby week giveaways end at 11:59 pm EST, Sunday, 2/16/2014 and are open to US residents, 18 years or older. The winners will be randomly selected via Rafflecopter and notified via email. Please see my full disclosure policy and contact me with any questions you have. Good luck!