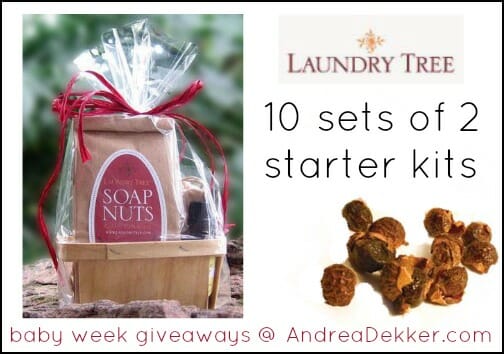 It's time to celebrate Baby Dekker #2 here on the blog, and what better way to do that than with a week of fun baby-related posts and giveaways!

Click here to view the 12 fabulous giveaways — all geared to make life with a new baby a little simpler, more organized, and more fun!
I'm going to take a guess and just assume that laundry is NOT one of your all-time favorite activities… am I right?
I actually don't mind washing the laundry — it's the folding and putting away part that tends to bother me more! But I do it every week — multiple times every week because piles of dirty laundry are more hated than folding clean laundry 🙂
However, there's one type of laundry I really REALLY look forward to doing — and that's when it's time to wash, dry, meticulously fold, and put away a fresh new batch of newborn baby clothes. Sure, in another few weeks it won't seem nearly as fun; but I just recently had a grand ole' time washing all of baby boy's clothes and figuring out just how to organize everything in his cute little closet (which I'll be sharing with you later this week!)
And when it comes to washing baby clothing (or really any fabrics), I like to use as gentle and as natural of a product as I can — WITHOUT sacrificing the quality of cleanliness. (Disclaimer: I have a mini obsession with bleach — so I do use lots of bleach on white things, but everything else gets the milder stuff!)
I've never been a fan of any of the organic or natural laundry detergents in the stores — and I just can't get into making my own laundry soap because it's so messy, stringy, time consuming… and just gross 🙂
So when I came across LaundryTree SoapNuts a couple years ago, I was sold. Not only are they natural, organic, non-allergenic, etc. etc. they are also VERY reasonably priced and not messy at all!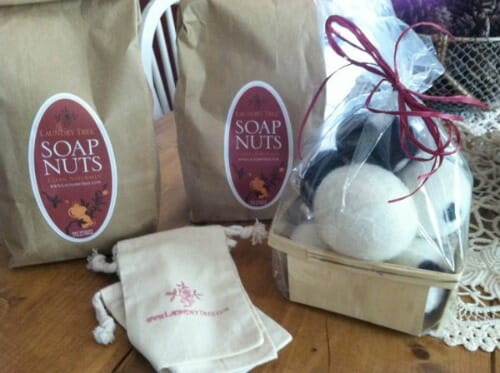 So what exactly are SoapNuts?
Soapnuts aren't actually a nut at all, they are the fruit of a tree found primarily in the Himalayas — and they are an EXCELLENT alternative to traditional laundry detergents and cleaners.
The outer shell of the soapnut contains saponin, a natural substance known for its ability to cleanse and wash — they've actually been used to clean all kinds of fabric for centuries, and are only now gaining popularity in the Americas and Europe as a powerful, yet natural alternative to modern detergents.
You can read lots on the LaundryTree website.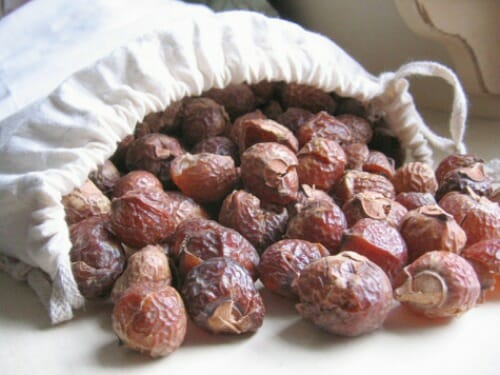 I've been using SoapNuts (and their wool dryer balls) for a couple years now — and it's amazing how long one package of SoapNuts will last us. It only takes 4 little "nuts" to do a load of laundry — and you can use those 4 nuts for 3 or 4 loads until you need to replace them.
So basically, I just leave the SoapNuts pouch in the washer and the dyer balls in the dryer all the time — and I don't need to worry about forgetting detergent or fabric softener (not that I've ever done that before!)
In my opinion, LaundryTree SoapNuts are the perfect laundry alternative for anyone who wants (or needs) natural, organic, non-allergenic laundry detergent that is safe for the environment, easy on the budget, and doesn't require shredding or boiling bar soap!
More about LaundryTree:
LaundryTree was born in 2007 out of a desire and necessity to find a laundry product that fit a "laundry" list of requirements:
Something without dyes or perfumes, to accommodate those with eczema and super-sensitive skin
Something without too many suds, to accommodate high-efficiency washers
Something with no harsh chemicals, to accommodate persnickety septic systems
Something without an over-inflated price tag, to accommodate… well, our under-inflated wallets
Sure, there were a lot of choices — but nothing that met ALL of these requirements — until SoapNuts! LaundryTree's SoapNuts are 100%, totally natural and organically grown. They are non-allergenic, antimicrobial, harvested in a sustainable way, and better for the environment than traditional detergents.
Visit LaundryTree on the web:

Website: www.laundrytree.com
Facebook: LaundryTree SoapNuts
Twitter: @LaundryTree
Pinterest: LaundryTree
Enter To Win This Giveaway!
Today, TEN (yes 10!) lucky readers will win TWO complete SoapNuts Starter Kits from LaundryTree — one for you, and one to share with a friend!
Each Starter Kit includes:
One 3.5 oz. bag of SoapNuts — enough for about 40 loads of laundry
One 1 oz. bottle of Essential Oil
Two reusable SoapNuts washbags
Usage instructions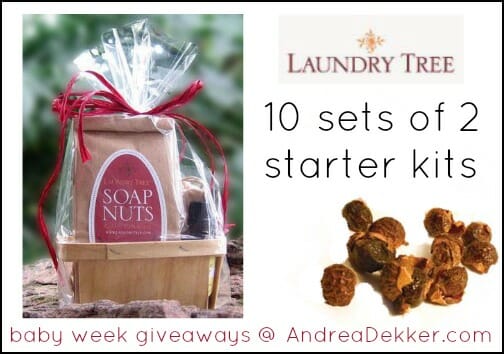 To enter, simply use the Rafflecopter widget below (it might take a second to load). This is a new way of entering giveaways on my blog but it will hopefully make things easier for me AND simpler for you!
First, enter your name and a valid email address (so I can contact you if you win) and click "log in" (you are logging into THIS specific giveaway, and I will be the only one who sees your email address.) Next, click "Enter to Win". Finally, click the big green ENTER button!
a Rafflecopter giveaway

All baby week giveaways end at 11:59 pm EST, Sunday, 2/16/2014 and are open to US residents, 18 years or older. The winners will be randomly selected via Rafflecopter and notified via email. I received a duplicate prize package in exchange for hosting this giveaway — but all opinions are 100% my own. Please see my full disclosure policy and contact me with any questions you have. Good luck!