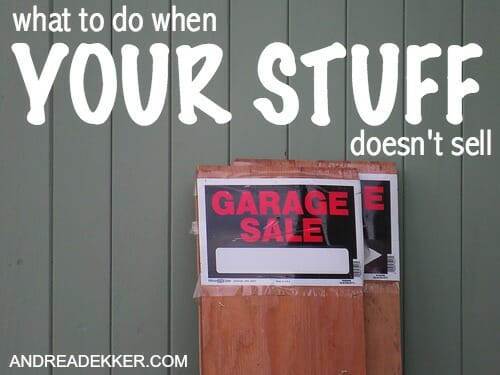 Almost every day, I take the kids for a walk. Out of habit, I usually walk the same route — which means we always pass the same homes.
There are 3 houses on our "walking route" that had garage sales way back in the beginning of May — almost 3 months ago now. And for 3 months, their garages have all been stuffed full of the leftover items from their garage sale. They can't park in their garages, they can't use their garages, and the stuff they were trying to sell is probably getting somewhat dirty after 3 months of sitting out in their garages.
I realize that I don't know any of these people personally, I've never even talked to them, and I don't have all the facts; however, I wouldn't be surprised if the reason they still haven't cleared out their garage is because they just can't bring themselves to purge. After all, they paid good money for the items, the items are still in great condition, they might need these items again some day, they could still try to sell the items and recoup part of the cost… and all those other silly excuses we make to hang onto our clutter.
But we all know that the vast majority of times, we never miss our cast-offs once they are out of sight.
Right?
.
I personally have never had a garage sale — mainly because I purge all year long so I wouldn't have enough stuff to make it worth my efforts. I prefer to sell larger items on Craigslist throughout the year and then donate smaller items to charitable organizations or to friends and family who want/need those specific items. Another reason I don't care to have a garage sale is because I know how stressful it can be to deal with all the stuff that doesn't sell.
I can't tell you how many emails I get from people asking, "What should I do with the stuff that didn't sell?" Often, they are referring to items that didn't sell after their garage sale — but many times, they are referring to items that didn't sell via Craigslist, Ebay, or a consignment shop.
I think deep down, they really do just want to purge and be finished with it all… but for whatever reason, they just can't (and yes, I totally understand the excuses. I make them myself some times!)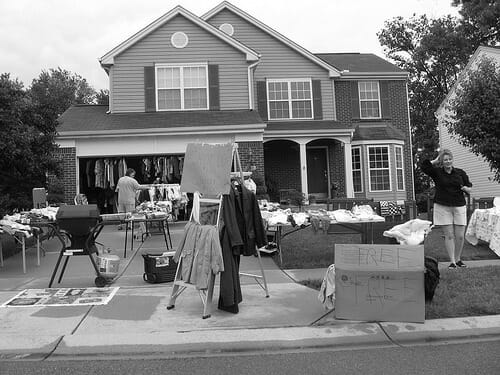 Although each email comes to me from a different situation, I almost always reply with the same simple response…
I start out by asking about the purpose of their sale.
Were they looking to declutter or was their primary goal income related?
I have come across a few people who were only selling items for some much needed cash, but the vast majority of sellers are simply looking to declutter their home. Maybe they are moving and want to purge before the move. Maybe they have a new baby coming and need more space. Maybe an adult child is moving back in and taking over the basement. Whatever the case, these people need less stuff in their home.
Then I begin "pushing" them a little 🙂
If their goal is truly to declutter, I encourage them to think about how they would feel if their home and garage were completely free of the stuff they were hoping to sell. I play 'devil's advocate' and oppose all the excuses they give me for why they should keep their stuff.
Finally, I share a few ideas of what they could do with their unsold stuff — here' s what I suggest.
Stuff that doesn't sell on Craigslist or Ebay:
Without even knowing what item is being sold, I can very confidently say that there are usually only 2 or 3 reasons why an item wouldn't sell quickly on Craigslist or Ebay.
1. It's a very unique item and needs to wait for the right buyer
2. It's a poorly written ad lacking enough description and quality photos
3. It's priced too high
If you've been unsuccessful selling items on Craigslist and Ebay (and it's not a unique item) I'd first suggest rewriting the post to include a detailed description of the item with at least 3 quality photos.
If that still doesn't work, then drop the price by at least third. If that still doesn't work, then I'd suggest significantly dropping the price again or posting it for free.
I personally try not to hang onto anything for longer than a month. If it's not gone in a month, I post it for free, donate it, or figure out a way to repurpose it into something I could actually use in my home or life.
Stuff that doesn't sell via a consignment shop or garage sale:
I'd first try selling a few of the larger or more expensive items on Craigslist, but I'd honestly suggest donating the rest.
Better yet, call a local donation place BEFORE you have your garage sale and schedule a time (preferably the day after your sale) for them to come pick up anything that didn't sell.
Yes, it might be difficult to get rid of everything.
Yes, I realize this might sound very "final".
Yes, I know this probably isn't what you want to hear.
BUT… if you were hoping to sell something, then you don't want it anymore. And if you don't want it, then why would you bring it back in your house again?
.
For the record, I have personally brought unsold consignment and Craigslist items back into my home after making various excuses as to why I should just hang onto it for a little bit longer. I totally understand how difficult it can be to part with your stuff — even if it's unwanted, unneeded, unused, and unloved stuff.
However, almost every single time I brought those unsold items back into my home, they sat there taking up space for several more months until I finally broke down and donated them. All the while I was annoyed that the items were still cluttering up my home, I was beating myself up about the fact that I brought them back into my home, I was mentally calculating how much money I could potentially get if I tried to sell them one more time, and I was thinking about how I probably wouldn't make the time to try to sell them one more time.
In each and every case, it would have been SO much better if I had donated the items immediately after not selling them!
.
So as the summer garage sale season begins to wind down, take a look at your unsold items and be honest with yourself.
Will you really need or use this item ever again?
Will you really make the time to try and sell it again?
Is it really worth the extra space it's taking up in your home?
Is it really worth the extra irritation it's causing you as you pass by it every single day?
If you answer "no" to any of those questions above, I'd guess that you too will be much happier if you simply donate those unsold items ASAP!
What do you think?